Arter Gallery Istanbul and Neues Museum Nürnberg have collaborated for the exhibition titled "Zamanın Kıyısında" (On the Edge of Time), which is organized with a selection from the Contemporary Art Collection of the Vehbi Koç Foundation. Curated by professor Thomas Heyden, the exhibition features the works of Bilge Friedlaender, Ahmet Doğu İpek and Füsun Onur. While Heyden prepares the exhibition in the theme of silence that he sees as the common point in the works of this trio, the exhibition is being presented with the concept of being on the edge of time, inspired from philosopher Michel Foucault and determines the exhibition's poetic scope, separating the past and present. The exhibition, which was opened on March 2 at Neues Museum Nürnberg, will continue until June 10.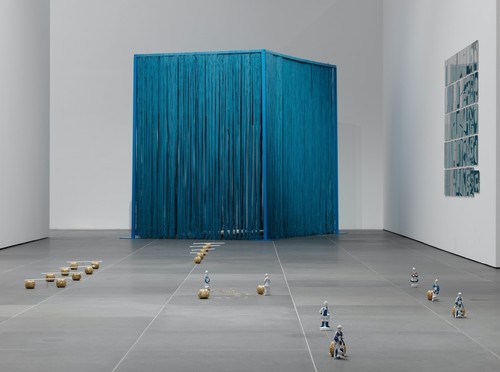 An important part of late Bilge Friedlaender's "Sözcükler, Sayılar, Çizgiler" (Words, Numbers, Lines) exhibition, which was curated by Işın Önol and Mira Friedlaender in Arter in 2016, was brought to Vehbi Koç Foundation's Contemporary Art Collection. These works, which were created by the artist in the 70s and 80s with watercolors, crayons, ink, wire and thread, handling concepts such as the relation between human and nature and skyline and gravity with a minimal and poetic approach, come together again at the entrance section of Neues Museum.
In the second section, the theme of silence continues with Fusün Onur, one of the pioneers in contemporary Turkish art, and her works that handle the concepts of time and space with an extremely authentic approach and are full of music, rhythm and poem. Fourteen works of the artist, such as "Zamanın İkonları" (Icons of Time), "Resimde 3. Boyut: İçeri Gel" (The 3rd Dimension in Painting: Come Inside) and "Fısıltı" (Whisper), which were exhibited in the "Aynadan İçeri" (Inside Mirror) exhibition in Arter in 2014, are on display in this section, which firstly welcomes visitors with Onur's "Opus II Phantasia" installation.
In the last section of the exhibition, "Yıldızlar" (Stars) and "Günler" (Days) of Ahmet Doğu İpek, who was born in 1983, take place. "Günler" is a serial of 157 pieces, which consists of black squares that the artist completed, using only the paper that he painted with black watercolor, with a performance of days in 2016. İpek creates a black diary that keeps the memory of a period without any references in this serial, where he prepared only a piece every day. "Yıldızlar," where İpek prepared a huge star cluster on a black paper, notching for days, is the final piece of the exhibition.