An illumination exhibition titled "Hiç'ten Gelen Dualar" (Prayers from Hiç) prepared by Nilgün Alp and students of Atölye Hiç (Workshop Nothingness) has opened at Yeni Mosque Hünkar Mansion in Fatih district as part of the ongoing Yeditepe Biennial organized under the patronage of the presidency, with the cooperation of Fatih Municipality, Traditional Turkish Arts Foundation (KTSV) and the global communication partnership of Anadolu Agency (AA).
Istanbul Governor Vasip Şahin, who attended the opening ceremony, spoke about the exhibition.
Illuminated manuscript artist Nilgün Alp told AA that she and her students completed the pieces in the exhibition over a seven-year period.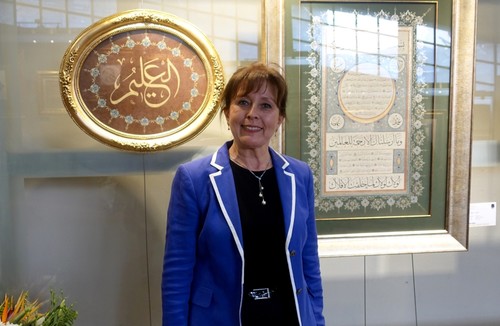 "For this project, we have cataloged prayers from the Quran with illuminated manuscripts for the public," the artist said.
Drawing attention to the fact that the catalog will be also a prayer book, Alp added: "We wanted to make something that could also use as a prayer book. Likewise, we wanted to create examples of illuminated manuscripts so people could get a better understanding of the art of illumination. We started this project seven years ago."
Alp, who continues her work in Ankara, said she is participating in the exhibition with 13 students and that the exhibition will also be on display in Ankara very soon.
Three different exhibitions
Serhat Kula, the curator of the biennial, said the exhibition is comprised of pieces where prayers from the Quran and the names of God in Islam are presented through illuminated manuscripts.
Kula also mentioned Ayten Tiryaki and her students' "Tiryaki Art" exhibition, which opened recently in the Süleymaniye Manuscript Library, and said: "There are nice examples of calligraphy and illuminated manuscripts in the exhibition. Opening an exhibition is actually the tradition of transferring knowledge from masters to students. We organized a ratification ceremony for four students today as part of this exhibition, as well."
Within the context of the biennial, Şehnaz Özcan and her students' "Kabus-u Azat" (Nightmare of the Released) exhibition, comprised of illuminated manuscripts and miniature art, also opened at Beyazıd Turkish Hamam Museum yesterday.
Referring to the fact that this exhibition metaphorically focuses on subconscious fears, Kula said, "We demonstrated how weird creatures, such as vampires and monsters, can indeed be beautiful in miniatures." The exhibition will be open until April 30.