It has been a very long time since a classical photography exhibition has made me as excited as Seydou Keita's exhibition at Foam (Fotografiemuseum Amsterdam). Foam mostly hosts innovative and contemporary photography, and their famous magazine of the same title is also one of the lead contemporary photography magazines that inspires many photographers. However, Malian photographer Seydou Keita's (1921-2001) exhibition, "Bamako Portraits," is part of a series at the museum: vernacular photography/historical studio photography. "Bamako Portraits" depicts the time period of the '50s and '60s, nearly the last 10 years of French colonial rule, so the beginning period of post-colonialism. Keita's archive of over 10,000 negatives came to light in 1992 after a discovery by Andre Magnin, the then-curator of Jean Pigozzi's contemporary African art collection, as stated in the press release. "Bamako Portraits" can be seen through June 20 at Amsterdam's Foam museum.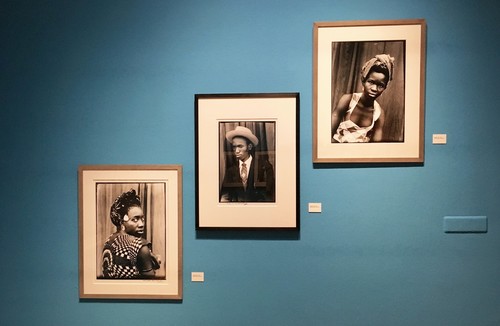 "Bamako Portraits" depicts the '50s and '60s in Mali, ruring the last 10 years of French colonial rule and the advent of post-colonialism.
When you want to do image-based research on colonialism, particularly of African countries, most visual materials that you encounter from the early and mid 20th century are mostly half-naked images of "uncivilized" people that have been recorded by colonial powers - research on the occupied African nations' territories. In his great book, "Orientalism," Edward Said examines the term as the same title of his book with examples from literature and paintings from colonial times to elaborate his notion: the representation of the East by Westerns. He defines orientalism as an "epistemological and ontological distinction between the West and East." This distinction is achieved by marking the East as half-naked (sometimes fully naked) "savages," "lacking the civil society, individuality, or secondary societies; all the sociological and anthropological properties that the West assumed to have." Oriental or non-western societies are pushed back in time and constructed as primitive or backward. Somehow, orientalism talks about the discursive dynamics that secure "sovereign subject" status for the West. It is about the cultural representation of the West to itself by a detour through the "other."
However, "Bamako Portraits" reverses the colonial fantasies we got used to seeing from the East during its time. Keita captures portraits of Malian people in their best, extravagant dress in various patterns with a large format camera. We often see people in their cultural dress as well as western style clothes to have the best possible portrait. In fact, it helps us to see daily life in Mali during the '50s and '60s; thus, they also carry evidence of historical document of their time. In particular, some of these portraits have revived my love of portrait photography. I remember the time that I was in a conversation about the future of photography with a friend. She said that photography styles changed a lot, no matter what; portrait photography is the only style that didn't get old; it is going to survive forever. When I saw the Keita's portraits, they triggered my feelings of love and joy; I understood again, why portrait photography is not going to get old.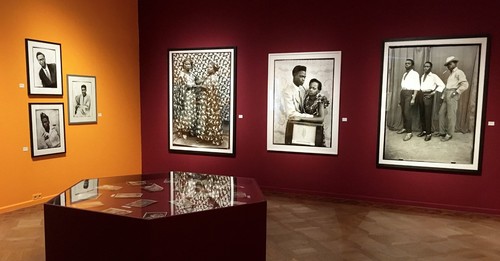 Keita captures portraits of Malian people in their best, extravagant dress in various patterns with a large format camera.
On the other hand, there is also an obvious point to consider in Seydou Keita's portraits with regard to the objects people hold or lean, such as a radio, car, bicycle, Vespa and safari hat. Collecting objects was a frequent practice among European colonial countries in their occupied territories. Colonial powers encouraged their citizens in the colonies to collect objects that would enrich the ethnographic collections of the country and document the material culture of societies under the influence of colonization. Most of the objects collected from former colonies ended up in European museums or private collections, which raises lots of epistemological and ethical questions. However, objects in Keita's portraits haunt the specters of colonial power, which was about to leave the country (France left Mali in 1960).
The curatorial achievement of Mirjam Kooiman is also quite essential when you visit the exhibition. Although there are many photographs in the show, it doesn't bore you. Her touch helps you to see all the portraits delicately. Kooiman curated the show based on the background cloths used in Keita's portraits. "They are often with vibrant patterns, which are the leading principle of the set-up of the exhibition. Keita often used the same background cloth for two or three years consecutively, which helped him roughly date his photos retrospectively, so that's why I grouped the photographs in the exhibition by background and presented them in a more or less chronological order," said Kooiman. I also found it quite important to bring a photographer from Mali, rather than showing a Western photographer who visited the country during that time. Because then we encounter the ethical problems of the "Western subject/African object." To put it in a nutshell, it is a different way of colonial consumption and Western representations of the East.