Established in 1910 by Frere Possesseur Jean and Frere Paramont-Felix, naturalist missionaries from a Christian brotherhood in Reims, the Natural Science Center will welcome the general public for the first time to coincide with the contemporary art exhibition Capsule in Saint Joseph High School until May 11. Every weekday from 3 p.m. to 6 p.m., knowledge-seekers from across the city and country may gape in wonder at the tens of thousands of plant and animal species preserved for study through taxidermy, six of which are endangered. Its biotic bounty is a petrified paradise. It is a garden of earthly delights for Turkey's next generation of biologists. And now, it is open for city dwellers to glimpse the wild past of the local region as well as for passionate ecologists, hobbyist botanists, amateur zoologists, recreational ornithologists and backyard entomologists who want to seize the day and examine such curiosities in a profound, enduring light.
Ahmet Birsel is the center's coordinator. An upstanding gentleman and host, he offers an informed, professorial guide through the spectacular array of flora and fauna that stand still and purgatorial, on the edge of where nature meets history. The vast majority of the fossils on display near the center's entrance are reproductions acquired from across Europe-the value of originals are exorbitant and beyond the small institution's means. Saint Joseph High School is distinct not because its natural history program is strongest in the nation, but for maintaining the oldest and most comprehensive collection of taxidermic specimens in Turkey. That said, the center is not a professional research outfit. Its interpretive halls, while utterly impressive to the average eye, are only meant to educate students from preschool to university. Birsel is eager to share his breadth of knowledge, forwarding a special appreciation for Turkish natural scientists like Nüzhet Dalfes, who is as important to the scientific heritage of Turkey as Rachel Carson and Carl Sagan are for Americans and the world.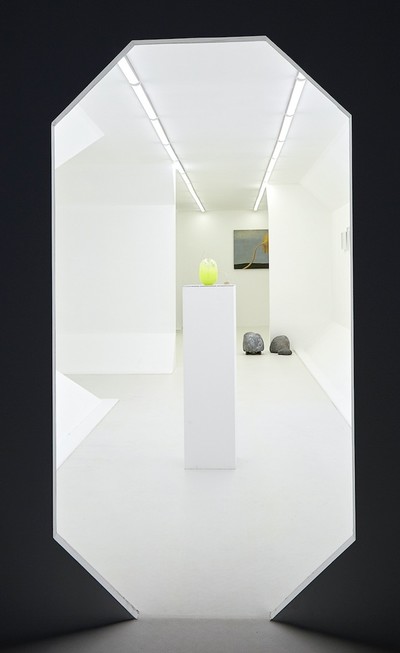 Capsule, designed by Fuat Eşrefoğlu and architect Aslin Ersan, is based on the Svalbard Global Seed Vault with its tiny aperture opening up to a contemporary art exhibition curated by Amira Arzık and Gizem Karakaş.
Encapsulating nature
"The church brothers came to the Middle East to teach French and the sciences, such as chemistry, physics, biology and mathematics. Now, the Natural Science Center is open for young people to understand the biology of nature, interactions between animals, different ecosystems, global warming, renewable energy and pollution. Climate change is now part of the curriculum in a light way. We don't usually let anyone enter the Natural Science Center for security reasons," said Birsel, amid the wide range of scales, furs and feathers, highlighting endangered and extinct species like the Mediterranean monk seal and an Anatolian leopard salvaged from a carpet skin, as well as other unique preservations from Istanbul's wilder past, like an elk from Belgrade Forest and a Eurasian brown bear who once danced for coins. "These species are what we have more or less today. The exhibition, Capsule, is about when we won't have animals left. They will be preserved, as in the Svalbard Global Seed Vault in Norway. It takes an angle on the aftermath of world collapse."
Walking through Capsule's space reminds one of the final sequence set from the film "2001: A Space Odyssey" with its blinding whitewash scheme opening as a portal into other times and dimensions. Fuat Eşrefoğlu designed the wooden construct like a true eco-futurist with architect Aslin Ersan. At its entrance, the art of the Turkish-American researcher Pınar Yoldaş lends the simultaneous, unsettling effect of enlightening and darkening the mood. Her piece, "Regnum Alba" (2015) is a light-box collage depicting albino animals named after its title meaning "White Kingdom." With her touch of investigative minimalism, she navigated references on the topic to emphasize how albinism, scientifically referred to as leucism, is caused by gene mutations linked to environmental pollution. As a professor at the University of California, San Diego, and especially after winning a Guggenheim Fellowship in 2015, she has gained certain well-earned notoriety.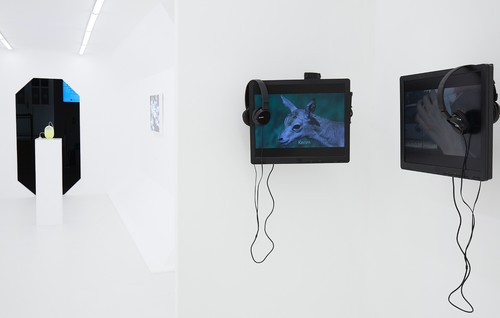 Istanbul Saint Joseph Private High School is holding the Capsule exhibition to coincide with the first-ever public viewing hours at its Natural Science Museum, which preserves Turkey's largest and oldest collection of fauna.
"Growing up in Turkey as a girl, you realize society perceives you differently than your family does. ... So I started to develop this awareness about my role in society as a girl, as a female, and reading [Ursula K.] LeGuin gave me perspective on how things could be different, both in the world of gender politics and more generally. ... She inspired me more than any visual artist," Yoldaş said in a 2015 interview with Ben Mauk for the magazine Guernica in which she discussed her intellectual upbringing in Denizli before becoming an artist and environmentalist. "I've met scientists so artistically gifted that it would make some artists look bad, and I've met artists so analytically gifted it would make some scientists look really dull. But I never received a decent art education, and I think that was a good thing in my case," she explained.
Across from her piece is "G.G. lemon" (2017) by Jeane Briand, a gamete of blown-glass run through with a sound cable. The metaphor of the gamete, a mature reproductive cell becoming fertile via an electric plug, inspires nonplussed reactions in its viewers whose brains are likely to scramble under the visual blend of unfamiliar futurism and mundane modernism. Such was the look on the faces of a tuxedoed party of silver foxes and glitzy matriarchs who stepped into the Capsule, themselves appearing to have surfaced from the past. More clearly stated according to the central theme of the exhibition, they stared blankly at "Svalbard" (2016) by Jonathan Brechignac, whose installation of 25 works has a chillingly beautiful ring of aesthetic detail that transports the mind to Noah in the post-biblical era.
Art in the biosphere
"Saint Joseph High School and the Natural Science Center are not accustomed to contemporary art shows, but they did it very professionally. Capsule was made by the school's in-house constructor and electrician. We started talking about the exhibition this winter and opened it during Francophone Week," said curator Amira Arzık, who has mixed feelings about returning to her old school, yet is proud of the realization of her designs with Gizem Karakaş. "I spent eight years of my life here. All of the emotions come back to you. It's nice closure to do a show here."
As one ventures deeper into the Capsule, the surreal feel of the naturalist artwork comes to life with surprising ingenuity. Brechignac reappears with his "Sailing Stone V1.0" (2017) to link robotic artificial intelligence with the more unbelievable of earthly phenomena. As the stones roll along the floor, seemingly self-propelled by an inner instinctual drive, the art brings into focus the indigenous folklore of the Americas, which defended stones as living beings, even as part of the genealogy of all life. They are the elder grandmothers, slowly shifting over the surface at a pace so slow they move unseen. And it is a myth based in scientific fact supported by close observations in a valley in the southwestern region of the U.S. where magnetic fields push and pull rocks in the sand. It is the only place on earth where it occurs. That sense of total singularity is found in the poignancy of the video "Sadland" (2018) by Bahar Yürükoğlu, capturing the depths of solitude with original sound design over a visual narrative chronicling the lifespan of a piece of land as it drifts from shore and is submerged under heavy tropical waters.