"Wall and Beyond" by artist Nursel Birler Carroll and photojournalist Coşkun Aralat showing at Türker Art is a special exhibition that makes us think about and confront the walls inside us, reveals hidden lives beyond walls and presents the futility of the walls that we build.
Türker Art, which conducts many projects supporting classical, modern and contemporary art in the art gallery in Teşvikiye, Istanbul, will host this special exhibition until May 30. In the exhibition, with which Carroll and Aral crowned their longstanding friendship, specially prepared, joint works of the artists take place along with their individual works.
Having become popular for her contemporary abstract paintings, Carroll brings the walls and beyond inside us to her canvasses with her simple patterns hidden between painting layers. Carroll managed to enlighten the walls with her brush strokes on bricks.
Immortalizing his different perspective through his lens, Aral chose from his works about hidden lives beyond walls among his hundreds of thousands of photos. In every photo, heroes tell their stories without letting hope disappear even if they are squeezed between walls or ignored.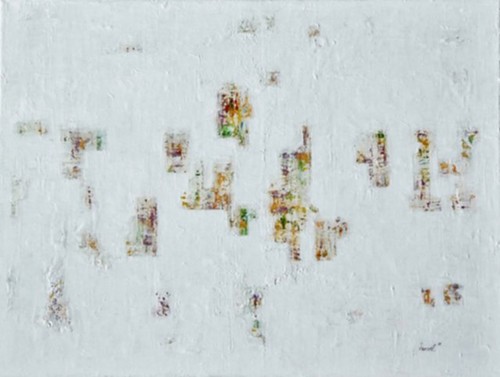 Nursel Birler Carroll, "White Wall," 46x61 cm, acrylic on canvas.
Pınar Türker Uygun, the curator of the exhibition, said that this exhibition would change the perspective of visitors on life. "There are some walls that we build inside in addition to the walls that we should go beyond in the external world. Walls that turned into a global concept have become borders recently. Peace, brotherhood and tranquility do not embrace the world anymore. Borders are on the stage now. While walls are rising in both inner and external worlds, it is getting harder to go beyond them. If we focus our eyes and heart beyond these walls and manage to fly over them like a bird, we can demolish them. The two precious artists focus on walls and beyond in this exhibition. We are curious about the secret stories in the paintings and photos and start to view the world with a different perspective. The Wall and Beyond exhibition will take visitors on an inner journey," she added.