American gothic is back in fashion. The genre has found expression mostly in true crime podcasts, such as This American Life's "S-Town." "S-Town" is about a man living in a small town in Alabama who contacts the producers about a murder that has not been properly investigated. The very successful podcast turns into an odyssey of false starts and strange monsters as we get to learn of the hapless people living in the kind of rural America we have little access to. In many ways, "Three Billboards Outside Ebbing, Missouri" employs the same method, by luring the audience in by promising a whodunit and then giving them a state of the nation panorama of lives lived in small town America.
For this concept to work, the protagonist of the story, the person who believes there is a story that must be uncovered, needs to be interesting and resilient. In "Three Billboards Outside Ebbing, Missouri" it is Mildred Hayes, played by the inimitable Frances McDormand, whose daughter has been raped and killed seven months earlier. The "action" in the film starts with Mildred renting three billboards outside her town of Ebbing and having three simple messages mounted on them: "Raped While Dying," "Still No Arrests" and "How Come Chief Willoughby?" The town is disturbed by the "brazenness" of Mildred's messages, and they try to convince her, not very nicely, to take the posters down. But she stands her ground, and these three billboards come to stand in for something greater than they are, almost like three recording angels at the entrance of the town to see whether the mortals they are watching care enough to bring criminals to justice. I was reminded of how certain commuters in Istanbul had called on the authorities to complain when they saw that a verse about the inevitability of death was written at the entrance of a cemetery on a busy road.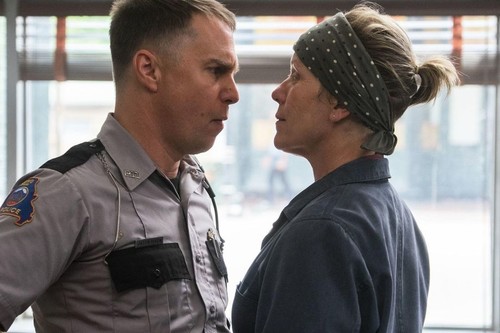 Sam Rockwell and Frances McDormand in "Three Billboards Outside Ebbing, Missouri."
Of course people don't want to be reminded of nasty things as they are driving into town. But another reason why Mildred gets censored is that she targets Chief Willoughby, a universally loved officer, by name. The audience learns that as usual, as the Turkish saying goes, "The people are more royalist than the king." While Mildred is ostracized for her behavior, Chief Willoughby himself pays her a visit, trying to explain to her that the police have done everything they can. The conversation they have about how to catch rapists may steer close to parody, but when considered with a cool head, what Mildred suggests is the only real and permanent solution. She says that all men above the age of 8 should have to give blood samples to the authorities and that whenever a woman gets raped anywhere in the world, the police should have access to this database and find the match. Willoughby's response may on the surface be incredulity, but his later actions and conversations reveal that he has taken Mildred's words to heart. He is, after all, a father of two daughters and has a loving wife. The film's genius is that a character we first encounter by name and as a negligent police officer turns out to be a genuinely good guy, played to perfection by Woody Harrelson.
Director Martin McDonagh proves himself to be a master not only of writing conversation and of photography, but also of casting and getting the best out of his actors. All the performances in the film are faultless, from the guy who runs the advertising agency, to the young man who sticks the posters on the billboards, to the mother of the local racist. Action is choreographed in very McDonagh fashion (those who have watched "In Bruges" and "Seven Psychopaths" will be aware), such as people being thrown out of windows, and offices being blown away while a warning telephone goes off somewhere.
As the confrontation between Mildred and the god-fearing folk of Ebbing escalates there are minor casualties, like the finger of the local dentist and the popularity of Mildred's son. We learn soon enough that Mildred has other responsibilities and grievances to take care of. The son, Robbie, is played by Lucas Hedges, whom we recognize from "Manchester by the Sea" and "Ladybird" and who delivers yet another great, understated performance. The antics he leaves to his father, a highly-strung man who has left Mildred for a much younger and dimmer woman. Mildred herself is trying to fend off the attentions of James, played by Peter Dinklage, a role diametrically opposite to the one we have grown to love in "Game of Thrones." Here, he is a soft spoken man hopelessly in love with a grieving woman, and who, despite all odds, manages to play the knight in shining armor for her.
I doubt if anyone in the audience finds Mildred's reaction to her daughter's murder excessive, even when her destructive tactics to get the police department to act almost gets someone killed. Still, the explanation as to why her reaction is quite so violent comes in a rather poignant flashback when we are shown her last conversation with her daughter, or rather, the last fight with her daughter that results in Angela leaving the house on her own, with no dependable transport to get back. That night Angela is murdered and clearly Mildred blames herself for it.
More and more, Mildred becomes an angel of retribution, revealing the rifts and character flaws in the town community. She becomes the instrument of the partial rehabilitation of the racist officer Dickson, by disfiguring his face. In an ironic twist, he ends the film as her fellow traveler, loading a pick up truck with guns, en route to taking the law into their own hands in the most American way imaginable. In that sense, the gothic pair become a pastiche of Grant Wood's famous painting, the pitchfork is replaced with a rifle, and Mildred becomes reincorporated in the American way of life, something we had been duped into thinking she had a problem with at the beginning.