Mona Hatoum stepped into the bunker. It was not the kind her compatriots know in Palestine, where her family originated and fled from Haifa to Beirut following the 1948 Nakbah. Instead, she went underground to the ambiance of classic jazz and good coffee, and with a big smile to greet her fellow artist, Ayşe Erkmen during her show last winter at Riverrun with Bernard Frize, named "Badminton on Meadow." It was an event as curious as the venue itself for the art world of Istanbul, where the names Erkmen, Frize, and distinguished guests like Hatoum and the French documentary feminist Agnes Varda, have turned heads.
The freshly opened Riverrun had only held one exhibition prior, with the conceptual installation artist Sarkis, a legendary name in his resident Paris, eminent as Füreya Koral's last curator before her passing, and a global attractor from the U.S. to Japan and three dozen countries in between. Not every gallery in Istanbul has the confidence to fly into the stratosphere of cultural achievement as it overlaps from Turkey into the greater world. But as Riverrun's owner Alpagut Gültekin, also publisher of Norgunk books, says with a frank ease: "We sell coffee and make exhibitions."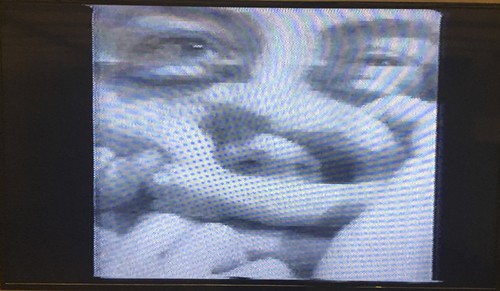 "So Much I Want to Say" (1983) is a video work from Mona Hatoum's days as a shock art performance artists, detailing the traumatic struggles of being a contemporary Palestinian woman.
Riverrun is not a true gallery, and so they are free from the burdens that hold most like-minded institutions fast to the spring-loaded affairs of representation and prestige. In the Bosporus chill, Mona Hatoum warmed to the good company of close colleagues and old friends. Her show "Displacements" with Erkmen occurred simultaneously at the Museum of Fine Arts Leipzig (MdbK). "Both artists integrate historical contexts of place in their art, and each finds unique processes of reflection about personal as well as global issues," reads the MdbK notes on "Displacements." In the out-of-the-way air of Riverrun's basement, beyond the spheres of spotlight and fashion, she found a place she liked; a home in the bunker, for her works, her life.
To curate a leading light
Bookish and keen, Gültekin and his partner Ayşe Orhun asked Hatoum if they might curate a selection of her art at Riverrun, and she gladly complied. An unfortunate incident involving overhead baggage led her to miss the preview. Riverrun took matters into its own hands, managing the curation themselves. When they sent back images, Hatoum approved. They had captured her essence for a mini/semi retrospective with pieces ranging from 1983 to 2017. While relatively unimportant in terms of her developing practice and its appearance under the radar of galleries, critics and markets, the exhibition "Every Wall a Door" is a welcome vitalization of her art for Istanbul's wanderers who are not lost.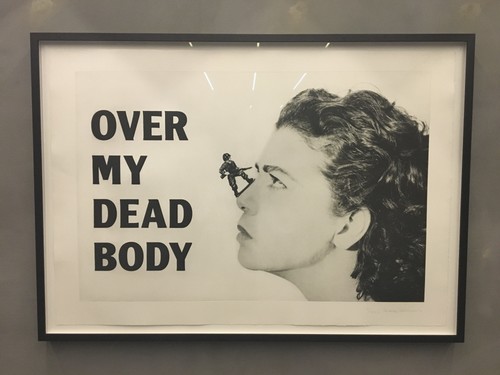 "Over My Dead Body" (2005) is an early print by Mona Hatoum of one of her iconic works that touch on her earlier performance work only with a sense of humor in the form of a billboard advertisement.
Hatoum began her life path as an artist by another stroke of kismet. In her early twenties, she was a disgruntled office worker and aspiring artist with an imposing father in Beirut when she went to London for a visit in 1975. It was fate that civil war broke out in Lebanon while she was away, and tragically lingering to ravage her birthplace for the next fifteen years. In the first nine months of the war, when she was unable to fly back home, she did not waste time, enrolling immediately at the Byam Shaw School of Art, and continuing without break at the Slade School. In 1981, as she finished her studies, she was already a working artist, performing with the London Filmmakers Co-op and the Institute of Contemporary Arts to name a few.
Traces of Mona Hatoum as a performance artist are present in the Riverrun exhibition, "Every Wall A Door," named after the centerpiece work, "Every Door a Wall" (2003). It is a visual play on the lack of public transparency with regard to the imprisonment of migrants. An x-rayed group of detained border-crossing Mexicans sit handcuffed against unreadable text as in an impressionistic haze. She clipped the image from a newspaper and printed it on a voile curtain, which Gültekin sharply curated as an entry point to the bunker, backlit with the video work, "So much I want to say" (1983). The effect of soft, television lighting behind a veil is a Hatoum motif, characteristic to the style of her profile. The delicacy in her choice of materials contrasts with the strength of her subject matter, as reflected in the eyes of its unflagging witnesses.
Throughout her career, she has repeated that she dislikes talking about her work. In an early interview following one of her more controversial performative works that she offered to the public a week before the Israeli siege of Beirut, titled "Under Siege" (1983), her maturation as a radical artist shines through with a comic edge. To relatively normal questions, she replied with an irony that only someone with the courage to be on view for seven hours at a time covered in clay could muster. After a series of short answers, many incomprehensible to the questioner, such as when she refers to Western news reporting as entertaining fiction, he finally gets solid material after asking her if she visits her parents often. "It's a nightmare when I do," she said before digressing into an account where she finds toy soldiers in the wreckage of her parent's home in Beirut who tell her they were only obeying orders.
From performer to craftswoman
For the next few years, unaware bystanders and art enthusiasts would watch with equal parts horror and fascination as she pursued such means to her artistic ends as wearing a black stocking mask and cutting it open with a knife before lying bagged and naked surrounded by newspapers (The Negotiating Table, 1983), trapping herself naked in a see-through container with running voiceover news commentary (Under Siege, 1983) and crawling in public on all fours to serve kidneys to witnesses from her bloodied clothes (Variations on Discord and Divisions, 1984). As a proud Palestinian woman living in the historic, imperial center of the West, she rode the waves of the shock art movement contemporary to her postgraduate years by reenacting the traumas of violence, torture, incarceration, migration and war.
Yet, at the time, she was still afraid to speak in public, despite voicing the Palestinian struggle through nonverbal acts of solidarity. After traveling to Vancouver for a show, she arrived all the way from London sorely unprepared and ridden with anxiety, throwing together her piece the day before. She was scraping by then and felt overwhelmed, personally, in her art and life. By the time she had the opportunity to work out of a studio at Cardiff Institute of Higher Education as a senior fellow in fine art in 1989, she dove headlong out of performance to use materials to craft her special brand of free expression.
The piece that could be seen as a direct leap from her performances to her medium-based works is "Over my Dead Body" (2005), which she cited as touching on themes from "Under Siege" as "a humorous reversal of power relationships" in one of the most comprehensive interviews that she has ever given, with art critic Michael Archer, published in the Mona Hatoum monograph with Phaidon. In the lower right hand corner of the work at Riverrun, it is cataloged as the third print of 35, which is significantly close to the first artist print. The word about town in Istanbul is that "Every Wall a Door" means that for the first time in many years, affordable works by Mona Hatoum are on the market. Usually her pieces are much larger and costlier, furnishing museums under representation by her sole gallery, White Cube in London.
Most of the works at "Every Wall a Door" are not only small in size, they are also faint to the eye. Her defining variation on themes of painful fragility juxtaposed against the meaning and context in the brutalities of war-torn exile require a specific visual acuity, one open to the vulnerability of the artist as the humanist center of the dialogue on conflict and displacement. She employs human hair, threaded through toilet paper, for "Stream (Rough)" (2013) and welded meshed crosshairs into parchment paper for "Drawing Heat I-V [4]" (2017), the latest of her ongoing efforts to visualize the unceasing struggle for a place on the delicate body of history, of the land, of existence.
One of her more sensitive chroniclers was a true elder statesman, the late Palestinian intellectual Edward Said, whose essay, "The Art of Displacement: Mona Hatoum's Logic of Irreconcilables" was first published at Tate Gallery in London for her 2000 exhibition, "The Entire World as a Foreign Land" and later appeared in the catalogue for her Arter exhibition in Istanbul, "You Are Still Here," which was seen through the storefront gallery window on İstiklal Avenue in the spring of 2012. "Familiarity and strangeness are locked together in the oddest way, adjacent and irreconcilable at the same time," wrote Said, the author of "Orientalism." "The sorrow and loss are real, but the sanctity of home remains beneath the surface, a place to which one finally accedes through love and prayer."