The miniature exhibition "Experimental-Traditional," which was prepared by artists Canan Demirel, Esra Karaduman, Hilal Arpacıoğlu and Yasemin Akyol, will open on June 2.
The curator of the exhibition to be held on the PerformansBir floor of Caddebostan Cultural Center is Ceylan Harmancı. Speaking to Anadolu Agency (AA), Harmancı said they have cooperated with four artists with unique styles for the exhibition.
Exhibiting authentic styles
Explaining that the artists were trained in traditional styles, Harmancı stated, "The artists have created artwork in the authentic styles they have mastered, using the techniques they embraced in the past without sticking to the strict rules of classical art and implied freely in their new experimental works."
She also mentioned that the artists have many works in various collections at home and abroad.
"The exhibition offers authentic styles, colors and
perspectives and the features poetic narratives of miniature art with designs created by different interpretations and materials with fine details," Harmancı continued.
She highlighted that Demirel has a perspective open to new ideas.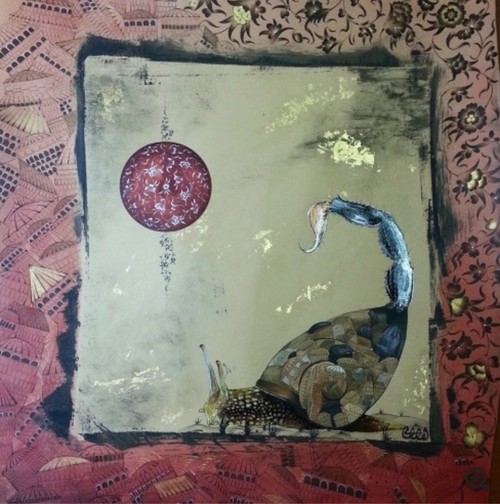 A work by participating artist Hilal Arpacıoğlu, titled "Yara."
"Demirel adapts works, adding miniature techniques to her graphic design experience. She interprets the Byzantine era, the Ottoman Empire and modern day in minimalist graphical designs with extraordinary detail and striking simplicity contrary to the stowing method that is commonly used in classic miniature," she said.
Miniature handled in a poetic way
Harmancı added that artist Karaduman also creates miniature art that documents historical events with a unique perspective in the exhibition.
"She reflects the books that affect her in her works," Harmancı said.
She also noted that Arpacıoğlu takes inspiration from nature.
"Arpacıoğlu chose the life, nature and the creation of snails. Blending surrealist style and traditional elements in harmony, the artist describes today's problems using allegories while questioning life," Harmancı said.
Akyol mostly focuses on the theme of Istanbul in her works.
"The city in Akyol's mind resembles a pomegranate. If we remember that the word miniature is derived from the word of 'miniare,' which means painting with red in Latin, we can say that the shades of red in Akyol's works are the reflections of the classical miniature," she indicated.
Part of the revenue from the exhibition will be given to the project "Güneş Umuttur" (Sun is Hope).
"The project brings together artists who want to share the beauty and goodness of contributing to the education of children studying in poor village schools. In Ramadan, we expect help from those who want to support us," Harmancı added. The exhibition featuring 50 new works will be open until June 7.