The show is meant to create a network for artists and reach out to a wider audience by taking art to the street by taking place in a van parked in various locations. Curated by Naz Balkaya it is co-organized by Performistanbul, In-Flux (founded by Balkaya) and Enclave Lab in London.
The first part of the exhibition took place from May 25 to May 30 and part two of the show titled "Situations" will begin June 9. The intention of the work is to reduce the gap between art and the public. One way to do this was to park the van in different venues to create connections with the public on streets and neighborhoods and to trigger communication between the artists and the community. The van was also parked at galleries and organizations which support emerging artists.
The main intention of the van was to create a non-linear space and refuse those economies in the art world that celebrate neoliberalism, conservatism, authoritarianism and xenophobia.
In the first episode "No Worries," artist Ekin Bernay of Performistanbul participated in the show "Re-enactment" along with co-artist Caterina Gobbi. The show explored the idea of a public space, performance and carnival as resistance. The artists created non-violent actions by recreating gestures used within combat. In this way the act of resistance turned into an act of renascence and also into a non-violent defense mechanism, belonging not to one space but connected to many. The re-enactment of these dimensions occurred as a form of celebration that constitutes a slogan to engage joy as a form of resistance in unity.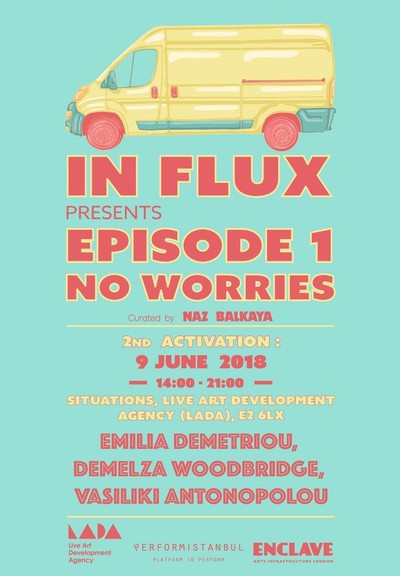 The second part of the show "Situations" is inspired by Hannah Black's collaborative book "The Situation," which was released last year. The book illustrates a censored conversation between Black and her friends around the topics of violence against blackness, patriarchy, racism, colonialism and the gap between subjectivity and collectivity.
Staying in tune to the subjects of the book, the show depicts censorship that institutions impose on artists. "Situations" is therefore meant to showcase the liberation of institutional dynamics. It is rejecting the stereotypical, rigid and traditional methods and roles that have been used within the governance of art institutions.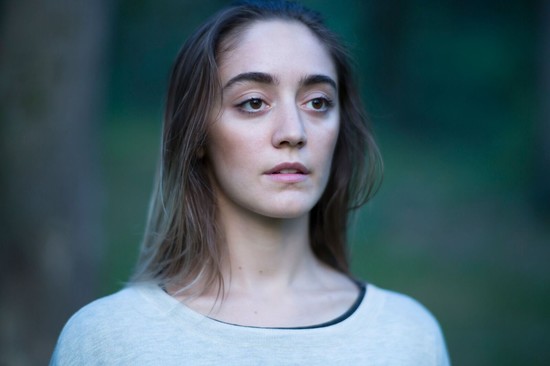 Ekin Bernay was one of the artists who performed in the show "Re-enactment."
"Situations" is collectively produced by Emilia Demetriou, Demelza Woodbridge and Vasiliki Antonopoulou. The show will be presented as a "flux of happenings" with performances occurring one after the other and merging in the end.
About the artists
Ekin Bernay was born in Ankara in 1987. She is a performance artist and a dance and movement psychotherapist, living in London. In her works, she is seeking truth, her main concern is based on the existentialist questions about now. She has 19 years of active dance experience, with previous performances at stages such as Sadler's Wells and The Place in London.
Caterina Gobbi is an Italian artist who lives and works between London and Milan. Her work roams between sound, sculpture and performance art. She investigates the relations that human beings have with and within their surroundings, concentrating especially in the exploration of sentimental relations. Using the internet and social media as research elements in her work, she creates performances that question the way we express our emotions, both on and offline. Recently, she has been concentrating on the notion of love in its different meanings.
Emilia Demetriou is a Cypriot artist currently based in London and the co-founder of the Panicattack Duo art collective. Even though, Demetriou mostly works with performance art, she also uses media such as sound, video, photography and writing. Her work illuminates the current conditions of being female and misogyny. Some topics she has explored are labor and exploitation in terms of working class conditions and its psychological effects. Her recent work exposes the situations of social housing conditions in London.
Demelza Woodbridge is a multidisciplinary artist who engages with performance, sound and collaborative tactics of resistance against cultural dominance and male leadership. Her feminist criticism challenges the western notions of neutrality, universality and linear evaluation. Woodbridge uses the method of dominance as a mirroring affect. She mimics the notion of dominance by downplaying socially endowed images through exaggeration and the realization of the "mask." The mask represents gender clichés and stereotypes of the past and the present.
Vasiliki Antonopoulou is a Greek artist who grew up in Saudi Arabia. The experience of being here and there allowed her to investigate and discuss issues such as displacement, migration and shifting identity politics. Living in three different cultures and her confrontation with them are the core themes of her work. One of the most important element of her works is that she takes political risks and breaks social rules and impositions.
About In-Flux: Founded by Naz Balkaya, In-Flux is a nonprofit project space that belongs to the public by disregarding "high art" and its perception. It deploys art as a social value to reach out to all humankind by not being stable and not being committed to specific people, neighborhoods, funding or location. Instead, it aims to be fluid and adaptable in order to transport the moral value of art to all type of occasions. In-Flux adopts a process of constant transformation through a flux of multiple happenings. Thus, it is a space that is not reflecting a specific state, race or nation and has a nomadic state of being and becoming.