Durul Bakan, 47, sold his truck seven years ago and became a sculptor. He now uses the wood he collects from different locations to create his artistic works.
Married with two children, Bakan, sold his truck in 2011, after he was not earning the income he expected to in the logistics sector. While having been in the business since 1999, Bakan decided the trade was not for him and turned to sculpture art, something he had been addicted to since childhood.
Collecting wood from seasides and canyons in Antalya, Bakan creates many human and animal figures, including horses, bulls and eagles.
His work, sticking wood together with a nail gun, has managed to draw the attention of many people. It has been bought by famous businessmen like İnan Kıraç, as well as institutions and organizations who deal in environmental projects.
Art lovers from foreign countries, such as Germany, Greece, Taiwan, Dubai and Qatar, have bought his extraordinary works, as well. Bakan told Anadolu Agency (AA) that there is great demand from abroad.
Bakan totally dedicated himself to art after leaving the logistics sector, "I tried to find myself for a while. I understood that I could not deal with the logistic trade and decided to not to be involved in monetary relations. I question everything and read a lot. I am a dreamer. I was in a search (for something) but did not plan to sculpt. I was going to seasides and canyons, sitting and thinking for hours there. Then, I saw the wood of trees. Their aesthetic forms affected me deeply. I started to collect them. Later, I realized I had a lorry-load of wood pieces."
Recognized at EXPO 2016 Antalya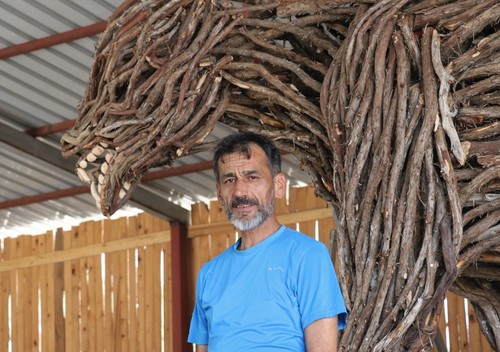 Noting he has been interested in sculpture since childhood, Bakan said that he started to make statues in his workshop in Antalya and took part, for the first time, at EXPO 2016 Antalya.
He met the founder of Lisinia Natural Project area in Burdur at EXPO and has continues his work in the area while gearing up for EXPO 2018 Taiwan. "I create work for those at home and abroad. I sent one of my sculptures to Greece last year. I sent an eagle figure to Dubai in last month and I received an order for Qatar's symbolic goat as well," says Bakan of the kind of work he has created. Bakan says he wants to produce art for public areas where children play. He determines the price of each work in accordance to the project's structure and the value of his work.
The art he produces for commercial projects, and the work he creates for social responsibility projects are not usually in the same price range.
Bakan adds that he does not see his art as a job. "Sculpting is something like playing and having fun for me. The period of collecting my materials is really joyous. My shopping mall is nature."
'I get excited when I see wood'
Examining the anatomy of the animal which he turns into a statue is a part of his job, Bakan says, "I have two rules in my life. Life is beautiful with simplicities and flaws. Flaws are an identity. The wood in these works are defective. If you put their flaws into the right places, you will have a strong work whose aesthetical value is high. I have no education in sculpting. The secret of my works is strong desire and love. When I see wood, I get excited. I cannot take anything unnecessary from nature. I know that I will use every single thing that I collect in my work one day. I am very jealous of my statues and the materials with which I create them. I cannot describe my relationship with these tree branches. They are like a part of my family."
Bakan stated that he has been really busy recently because of the orders that he has received. A work needs one and a half month at least to be completed. The artist sold his cheapest work for TL 23,000 and most expensive one for TL 150,000. He lastly mentioned that everything develops as a rhythm in his works and he does not use carving or cutting methods in them.