This year's Cappadox theme is "Silence" and will be held between June 14 and 19, in the special landscapes of Cappadocia, hosting contemporary artists as part of its rich music program.
The Contemporary Art Program of Cappadox 2018 will feature 14 works produced by artists and groups on the subject of "silence." There will also be a photography exhibition about Ortahisar, as well as thematic walks and contemporary art tours.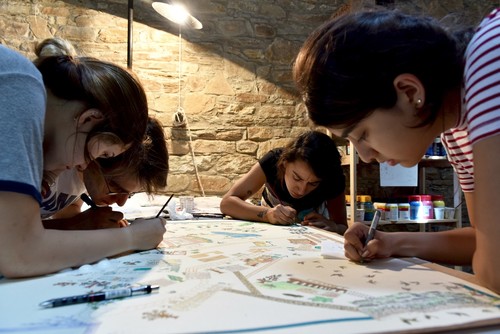 Curated by Fulya Erdemci and Ilgın Deniz Akseloğlu as assistant curator, there will be context-sensitive and location-based special projects - from sound and light installations to sculptural installations and video works. The invited artists will seek answers to different interpretations and metaphorical meanings of "silence." The works of the artists will focus on the silence of invisible histories, on the oppressed and on conflicts. They will bring to light what it means to stop and listen to the silence.
The Cappadox Contemporary Art Program focuses on different districts and valleys of Cappadocia each year. The town of Ortahisar in the Balkanderesi Valley between Uçhisar and Ürgüp, was chosen as the center of the Cappadox Contemporary Art Program this year. The town, which dates back to a thousand years, takes its name from the Ortahisar Castle - which is the largest fairy tale chimney in the region - dominating the landscape. Ortahisar, was regarded as the citrus and potato storage of Central Anatolia, thanks to its deep caves providing natural cooling and protection, which were used as warehouses.
Some artists to be featured at the contemporary art program:
Aydan Murtezaoğlu and Bülent Şangar
Aydan Murtezaoğlu and Bülent Şangar, who introduced their first retrospective exhibition to viewers at SALT Beyoğlu in Istanbul, will transform a traditional music format into an art performance for Cappadox 2018.
Their works have two main themes: Questioning the role that contemporary art plays in capitalist and closed systems of thought and to prove art's power and role in social change. Their works involves viewers as participants in performance-based interactive works and consist of trends shaped according to social justice and cultural praxis. Perhaps the most important feature of this work is that it question the function of contemporary art through real life situations and issues.
Cansu Çakar
Cansu Çakar uses traditional Turkish art and craft techniques based on "miniatures" to tell contemporary stories in reverse. The symbolic dialogue she creates through her work points to the insignificance of continuing traditions in the modern world, and by doing so, the confrontation it creates. Çakar uses traditional forms of art as a muse and by reversing them points to the dilemmas created by Turkey's modernization. In addition to working with traditional styles, the artist's interest in collective production and the tradition of thought lies at the center of her work.
Çakar's workshops teach traditional arts and crafts in an atypical way. These workshops are a kind of anarchic revivals of traditional Turkish painting to reveal today's stories, problems and ideas. For Cappadox 2018, Çakar will organize a workshop with women from Ortahisar.
İnci Eviner
İnci Eviner was selected for creating an installation at the Turkish Pavilion for the 2019 Venice Biennale, will be creating new work at Ortahisar's library building.
Eviner's works tackle how ideas shape the notions of cultural and social identity, particularly women and the female body. Eviner uses various media forms - from drawings to installations, videos to performances and photography. She asks the viewers to notice both the individual and the collective. Eviner's social or cultural interpretations are uncensored and neutral; her works are shaped around a single unique subject because this subject does not have a single narrative voice, it offers more than one main character and various interpretations.
RAAAF
RAAAF, a philosophical perspective of art and architecture, was founded in 2006 by Ronald Rietveld, who holds the Rome Prize for architecture (Prix de Rome) and by philosopher Erik Rietveld. Their work is location-specific and context-sensitive, with a philosophical and architectural perspective. Their working style is based on multidisciplinary research that brings in scientists and other experts into the process. They will produce a three-part project on the life of the Ortahisar Balkanderesi Valley for Cappadox 2018.