Back in 2013 during a Reddit Q&A Benedict Cumberbatch's answer when asked what other literary character he would like to play was Patrick Melrose. It's no wonder that soon after he was approached to play him, and also got on board to produce the series. Who, then, is Melrose, that he holds a fascination not just for Cumberbatch but for many men of his generation and background?
Patrick Melrose is the name of the downwardly mobile upper-middle class character whose misadventures the British author Edward St Aubyn started to chronicle back in 1992 - I suppose at a time when Cumberbatch was just coming of age.The books are fictionalized accounts of St. Aubyn's own life - a fact that adds to the horror of this story of abuse and addiction. The story starts with Patrick's childhood, in his family's summer house in France, and it is hardly a spoiler to say that he is raped by his father, and the reader is fed more and more instances of his father's cruelty and Patrick's struggle with addiction throughout the five novels that make up the series.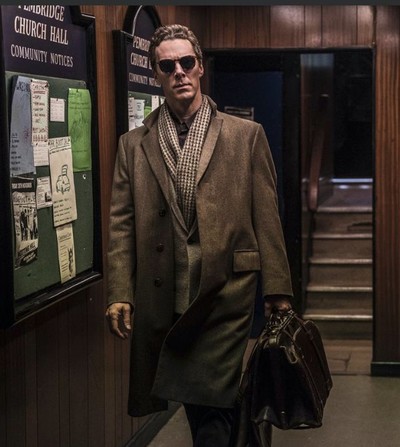 Benedict Cumberbatch in "Patrick Melrose."
Although not a household name, St Aubyn is revered in literary circles, and it is no wonder that these books were entrusted to David Nicholls for adaptation, as Nicholls already has several popular books and film scripts to his name. Nicholls has chosen to introduce Patrick to TV drama audiences at the moment when he learns of his father's death - the very first scene that is described in "Bad News," the second volume of the series. It is a gem of a scene: a youngish man who is clearly high on something receives a phone call informing him of his father's death, a strange smile breaks on his face, and then we see a small bloodstain on the arm of his shirt. It encapsulates all the mysteries that will unfold through the story.
After this poised beginning, though, Nicholls, Cumberbatch and the director Edward Berger take the viewer on a ride the like of which I have rarely seen on television. We get to travel in New York City in the company of a heavily drugged Patrick, the camera tilting this way and that, putting us in his shoes, making us hold on to walls that seem to be sliding to be able to walk to the nearest toilet. This delirium is accompanied by a volley of words and mimicry by Patrick, played with uncanny precision by Cumberbatch. His performance in this first episode has rightly been called "virtuoso," and it is one of the reasons that had me rush to the books, to see how much of it was the perfect marriage between Nicholls' writing and Cumberbatch's craft, and how much came from St Aubyn's novel. It is gratifying to see that all the words are there in the book, including a whole section in which Patrick takes on different voices in a play-script in which even the TV gets to speak - a scene not unlike the Circe section of James Joyce's "Ulysses." This production's genius is to make those words come alive in a way that makes one feel as if there has been no change of medium. From the written text of 1992, to our screens in 2018, it feels like a transposition that seems effortless - a sure sign of how much work must have gone into the production.
The first episode, strategically chosen to be the second book, acts like a high-inducing drug, making the viewer come back for more. The second episode "Never Mind" is the difficult one, where we have to encounter the devil that has put Patrick into his current helpless state. The clarity of the photography and lushness of the colors that served the high speed content of the first episode seems even more intense in the second episode, as we spend time with the Melroses in their summer house in France. Jennifer Jason Leigh is on top form as Patrick's disintegrating mother. Hugo Weaving's evil David Melrose will feel fitting for those who associate him with Agent Smith of "The Matrix," but I found notes of Douglas Jardine of "Bodyline" in his performance, not least because of the colonial anecdote that is told and retold in the series to describe David Melrose's uncompromising character. We see him abuse Patrick in all kinds of ways and when it comes to the final stroke, the abuse which happens behind closed doors, we get an understanding that rape is first and foremost an assertion of power, and has very little, if anything, to do with sexuality. David wants his son Patrick to belong solely to him, to make himselfPatrick's god.
The reputation of the Melrose novels do not, cannot, naturally, rely solely on the masochism of the protagonist's father. There are very incisive observations about the class system, about what is considered vulgar and nouveau riche. "In his world it was better if a person 'could have been Prime Minister' than if he was Prime Minister: That would have shown vulgar ambition," says Patrick, talking about the "wasted potential" that people like to attribute to his father. The concerns about class flower fully in the third episode, when we are invited to mingle with the upper classes at a lord's birthday party. Malicious witticisms fly off the wall, as good as anything out of a Nancy Mitford novel, and far superior to anything that was attempted in "Downton Abbey." The people gathered for this pompous occasion are called "the last of the Marxists" because they think everything can be explained by class. This is the episode in which Patrick finally speaks of what his father did to him to his friend Johnny, whose physical appearance is not specified in the books as far as I am aware, but in the series is played by Prasanna Puwanarajah. The supreme whiteness of the Melrose story must have seemed too much to handle for the producers, for they have also cast the exquisite Indira Varma as Anna, the one grownup from Patrick's parents' circle who seems to have had compassion for him when he was growing up.
Sharing the truth with Johnny as a signal of rehabilitation could have been where we leave Patrick's story. But then, in 2003, St Aubyn put pen to paper again and started writing about a marriage that was unraveling in the south of France, realizing only later that he was actually writing the fourth installment of the Melrose novels. In "Mother's Milk" we get to see what happens to Patrick after that glimpse of hope at the party. Patrick is visibly older, face a bit more padded, married, with children. His skin looks pretty bad and he is sinking into alcoholism and adultery while trying to claim his inheritance, which his mother is bent on leaving to a new age cult. The episode condenses several scenes from the book and leaves huge chunks out, as the camera spends more time exploring how Patrick has started to resemble his father in certain attitudes and postures - a realization which drives him to drink even more. Having done away with certain strands of the narrative in the book, the series takes more time in weaving the experiences of the adult and child Patrick together, providing visual refrains that connect the five episodes. The staircase, the gecko, the well, the dinner parties. The other thing that the director Berger does is to go back to certain incidents, and give us either a minute before or after that incident, expanding the moment just a little more, reminding us that there is always more to a story than the first version of it we have heard.
The final episode is modeled after the fourth, as we dip in and out of Patrick's life non-chronologically, watching him wreck his marriage and then try to make amends. We are also given glimpses of his conversations with his mother, crucially when he tells her about what his father did. The mother's response is shocking, proving what a self-centered woman she is, and rallying the audience to Patrick's rage, almost making us forgive him the mess he has made of his marriage. There could, one feels, be yet another episode, giving us more of these scenes of revelations and confrontations from Patrick's youth and childhood. Although almost all the flashbacks have a sinister tone, when at the end of episode five Patrick needs to muster the courage, from somewhere, to live a normal life, he goes back to a memory which we have seen different momentary sections of in the previous episodes. In this last episode all the pieces of this incident are put together and we see it as a whole, possibly as a metaphor of Patrick piecing himself together again. Much as we may be tempted to blame Patrick's current state on the abuses he suffered as a child, it is again the memory of the defiance of that bruised little boy he takes courage from, to get himself out of the hole he has dug later in life.
The addictive nature of the series stems from these little moments of revelation, as the viewer expects to be confronted with yet another bit of disturbing information around the corner. There are many more of these moments in the novels, which this production has decided not to get into. The harrowing scenes from the first years of Patrick's parents' marriage, for instance, explain his mother's indifference and the bloated ego of his father. By the end of the series you will not have had enough of Patrick Melrose. Luckily there's more of this stuff where it came from.