Murat Daltaban's "Rhinoceros" isn't your average play -- in fact it's not even close. The play has been getting a lot of attention since its opening night at the Lyceum Theater in Edinburgh and it's a production that will stay on everyone's mind long after their final bows.
Daltaban, the artistic director of DOT, one of the leading addresses of independent theater in Turkey, co-produced the play for the Royal Lyceum Theatre Edinburgh and Edinburgh International Festival in association with DOT Theatre, Istanbul.
Last week the play was nominated for seven Critics' Awards for Theater in Scotland (CATS) and took home four of the nominations.
While Murat Daltaban was chosen "Best Director" his play took home the "Best Music," and the "Best Production" awards. Robert Jack, meanwhile, won "Best Actor" for his role in the play.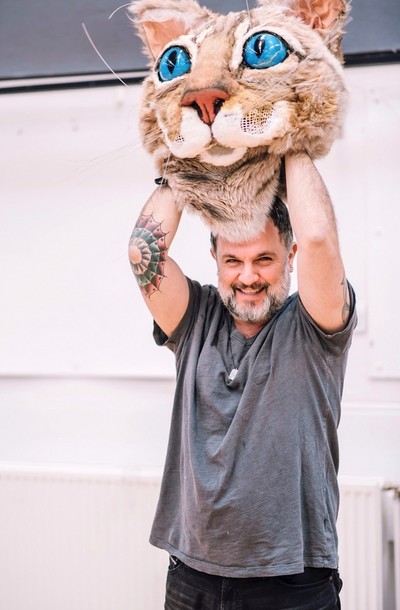 Rhinoceros is one of the most important plays by French playwright Eugene Ionesco, one of the earliest authors representing absurd theater.
The play, re-interpreted by Zinnie Harris, is directed by Daltaban. For the first time within the scope of the Edinburgh International Festival, tickets were sold out for a play.
Oğuz Kaplangı, the play's music director, talked with Daily Sabah about his latest achievements.
"Music has always been in my life. My father, Cemal Kaplangı, was Caddedbostan's rock 'n' roll guitarists in his youth. In addition to that, Barış Manço and Ahmet Güvenç were my role models and respected members of the family impacted me greatly," Kaplangı said.
"My school life was full of music in Ankara. I am an ODTÜ (Middle East Technical University) graduate and I am one of the founders of Radio ODTÜ. After graduation, I moved to Istanbul to pursue a professional music career, and since then for over 20 years I have been in advertising and film music. I can say that I took a step towards theater music in 2002 with the music I created for Murat Daltaban's project, Damage Inc.," he said.
He said that the love for theater brought the musician to Scotland through collaboration between Turkish and Scottish theaters.
"I first came to Scotland in the summer of 2017 through the play 'Rhinoceros,' which we performed in the Edinburgh International Festival, in partnership with The Royal Lyceum Theater and DOT Theater. I love being in the theater. As it is widely known, the U.K. is where the heart of theater beats. The interest in my work here has made me proud. I saw a future in terms of my theater music career in the U.K. and I settled in Edinburgh along with my family earlier this year," he explained.
Creating music for a theater play has its own process. The script, approach of the director and watching the rehearsals all contribute to the creation.
"First I read the play. The first ideas about music begin to appear in my mind at this stage. With what the director has in mind in terms of style and approach we bring out the style of music by the mutual exchange of ideas and by listening to examples. The music proves clearer at the rehearsals and takes the final turn according to the play and the acting," Kaplangı explained.
Before his successful work in Edinburgh, the musician had already left his mark on Turkish theaters. Last year he created the music for a Turkish play called "Nefesinizi Nasıl Tutarsınız? " (How to Hold Your Breath) and performed it live on stage.
"I was nominated for the best stage music in the 'Afife Theater Awards' with the music I composed for the play. Then I created the music of the play 'Şafakta Buluş Benimle' (Meet Me at Dawn)." That play was also of great interest and the music I made was released as a digital album. Both plays were written by Zinnie Harris, staged at DOT Theater and directed by Murat Daltaban.
Receiving the CATS in Scotland is very prestigious and having received the "Best Music" award last week, Kaplangı is deservedly proud.
"You are nominated by a jury of theater journalists and critics and then awarded by them. It is very important to me that I have won this award out of the 180 plays this year. It has not been six months since I settled in Scotland, and such a beautiful surprise made me very happy," he said.
Daltaban and Kaplangı have worked together for years, which Kaplangı finds to be a lucky cooperation.
"I have been working with Murat for many years. Since 2002, I have written many scores for his plays. As a composer, I very much appreciate Murat's vision. Over the years we have created a good team who understand each other very well and open up in front of each other as two professionals resembling in style and musical taste. Murat is a very prominent director with his knowledge and experience in the theater field, who works very meticulously and has a very good relationship with the actors and actresses due to his own acting experience," he said.
Besides good directing and music, the play is a quite interesting one in that it coincides with rising fascism in the World, with an absurdist approach.
"Rhinoceros, written by Ionesco in 1959, is the outcome against fascism that had risen after World War II. At the same time, it is one of the best examples of absurdist fiction in theater. The play starts in a small village when people start turning into rhinos one by one. In this day and age, once again ascending ideas of fascism, populism, alienation and deviation of common sense are topics of the play. In its music, on its stage and setting, many references to the mentioned topics can be found," Kaplangı said.
"Thus, I believe the play can shed light upon recurring history and learning from humanities mistakes, for the audience," he concluded.