"Immortality," a joint exhibition of Turkish and Iranian artists opened recently at the art gallery of Istanbul's Adahan Hotel.
Organized by the Contemporary and Modern Art, and Blue Rhino Art, the exhibition is curated by Tima Jam.
An artist herself, Jam said she has been working in Turkey for five years now and follows the Turkish culture and arts scene very closely.
She added that they have organized the exhibition to express cultural union and solidarity. The theme of the exhibition is "immortality."
"The exhibition features the works of 11 Turkish and 11 Iranian artists. I have witnessed the production process of these works, visiting all artists in their workshops. Ten Iranian artists continue their works in Iran while only one of them lives in Turkey," Jam said.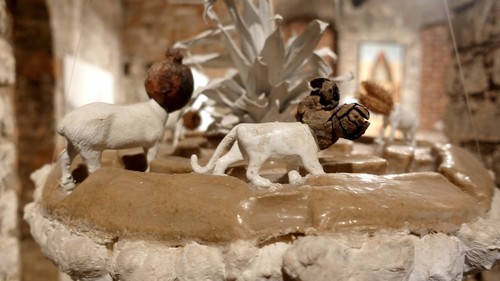 She said that she the artworks were chosen based on the exhibition's theme and added that some of the artists produced new works for this exhibition.
"This exhibition tells the story of continuous rejuvenation, reincarnation and lasting existence of nature. It also reflects the continuous cycle of pieces which are stable and unchangeable," Jam explained.
One of the artists featured at the exhibition, Cengiz Yatağan said two of his works were at the exhibition. "These works are epoxy ones. I generally produce things that create spiritual, Sufistic feelings. When my thoughts and the materials I use combine, different interpretations and techniques appear."
Yatağan, who mostly uses construction materials in his works, said: "I prepared the work for this exhibition with epoxy and coloring materials that I developed. It makes people perceive the reflections of light differently and has a great depth. We can call these materials technological chemicals, as they are found in digital technology and computers. This creates a technological sense in the chemicals. It also focuses on the formation of the world and development of the universe."
Cultural unity
Another artist, Mustafa Horasan's three different portraits are being featured in the exhibition. He said that he has been working since 1986. "I have worked as an academic at different universities but I still earn my living from painting, producing artworks at my workshop."
Referring to the fact that he mostly produced figurative works, he said: "We can describe my works as figurative expressions. My two portraits in the exhibition are based on photos while I made the other from my mind. We can say these paintings are the face between the real and unreal."
He noted that it was important to have come together with Iranian artists. "For me, the cultural union and empathy between cultures are important. We can feel the geography where they live and they can feel ours as well. This is really important. Iran has a deep cultural root. However, we do not know it very well since we rarely visit this culture much. We only know of Iran through some film directors and poets. It is a new experience to see artworks coming from that country."
"Immortality" features works by Barış Sarıbaş, Dilara Matarcı, Erhan Özışıklı, Ferhat Salman, Gökhan Deniz, Görkem Usta, Gülveli Kaya, Özge Enginoz, Seydi Murat Koç, Afshin Hosseinzadeh, Ali Motamadian, Dariush Hosseini, Fatemeh Divandari, Hamid Asadi, Morteza Khosvari, Navid Zafaralizade, Reza Hosseini, Saeed Asaidi and Saghar Daeiri.
The exhibition will be open until July 8.