Two New museums will be built at the Sinop Fortress Prison - one for the famous man of letters, Sabahattin Ali, and another for the historical development of women in the region.
Used as a prison between 1887 and 1999 and later turned into a museum, Sinop Fortress Prison is renowned for the many literary geniuses that served time there.
One famous name who spent time in the prison was poet and writer Sabahattin Ali, who wrote the verses "Crazy waves outside, washing on the walls, these sounds amuse you. Don't mind anything, my heart," which later became the lyrics of a famous song. Now, a museum will be built to honor his legacy and his well-known lines penned in the prison.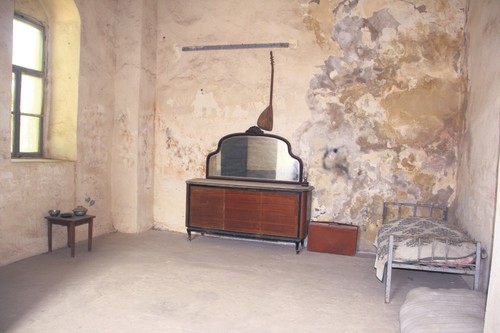 Sabahattin Ali's bağlama, bed and other items used by him will be included in the exhibition.
As a prison, the structure was known as the "Anatolian Alcatraz" and still carries the marks of its history. It is also a popular spot for dark tourism, a tourism sector in which tourists visit locations where disasters or scary events have taken place.
Along with the Sabahattin Ali Museum, a women's museum featuring facts and artifacts from Seljuk- and Ottoman-period women's daily lives will also be built.
Provincial Director of Culture and Tourism Hikmet Tosun told an Anadolu Agency (AA) correspondent that the museum is an important tourism center hosting an average of 300,000 visitors annually.
Among the items on display, Tosun said, "Sabahattin Ali's bağlama, bed and other items used by him will be included in the exhibition."
Restoration on the historical prison has been ongoing since 2007. Though it has seen some progress, it has impeded for different reasons.
The restoration work, supported by the European Union with a budget of 6 million euros, will commence again in the first quarter of next year.
"The project was completed though joint efforts in line with criteria set by UNESCO. We have spent about 3 million euros. We will start the restoration work in the first quarter of 2019. The Undersecretariat of Treasury determined this schedule. There will be new museums inside the prison after the restoration. Sabahattin Ali's bağlama, his bed and other items used by him will be exhibited in the museum. In addition, his poems and photographs will also be displayed," said Tosun.
About the women's museum, Tosun noted that it will reflect the daily lives of women in Sinop during Seljuk rule and Ottoman times.
Tosun also noted that after the restoration work to be carried out on the historical Sinop Fortress Prison's 13,000 square meters, they are expecting to increase the number of visitors to one million a year.