In the Kalk district of Cologne, a theater group, which aims to develop theater artists of all age groups along with offering professional acting training, has founded the KomediaTurk theater group. Their goal is to create cultural bridges by performing Turkish theater in German and in English along with Turkish.
Bahtiyar Engin and Songül Karaca, who had their first performance in Cologne in Germany with KomediaTürk want to introduce Turkish theater culture to the world.
Speaking to Anadolu Agency (AA), Bahtiyar Engin noted that by establishing the theater group they wanted to say "We are in this arena in Germany as well."
Engin continued, "The people here have always seen us as foreigners, people who never existed in arts and culture, but we know that this is not true. We are the children of the Aegean, we know their stories and we have richer stories beside their stories. We are from a country which brings together culture and arts but have yet to show it to the world."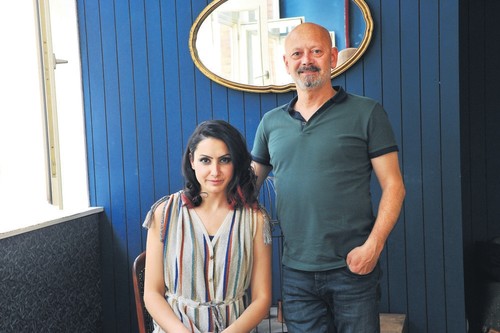 Bahtiyar Engin (r) and Songül Karaca want to introduce Turkish theater culture to the world.
Engin also noted that they wanted to reach out to everyone interested in theater, from the man on the street to those who actually like theater. Thus, they want to change the points of views and attitudes of those in the West.
A deep and rich culture
Engin further explained that they intend to introduce Turkish theater culture to the world and added, "We can create great plays, we can raise students here as well." It was necessary to draw people who are from here, who live here, who will say goodbye to their lives here and whose children were brought up here, to the game. That is why KomediaTurk was created. We have a culture of a thousand years beyond the lands of the West or modern theater as we know it. We have Hacivat and Karagöz, theater in the theoretical village plays. This is what Bertolt Brecht placed in the West as epic theater. We want to combine them. And we want to create an environment where people from different religions, languages, races and colors come together and share something."
"People love the theater"
Cologne-based artist Songül Karaca said they are offering theater courses for different age groups, for children, young people and adults, and they have produced small shows to give them stage experience at the end of these courses.
Karaca said, "There is a longing, people really love the theater. People are really interested when things are done right. For example, today, the adult group had their first performance and those who wanted to watch the show filled up our room completely. Two weeks ago, the kids went on the stage for the first time."
Saying that theater is not an easy job but those who love it, who make efforts for its development, may create a difference. Karaca invited everyone who is interested in the theater to attend the courses and workshops which are broken up into six or eight months or yearlong courses.