It is only after partaking in healthy doses of irony and suspicion when the intended meaning behind certain conceptual art becomes clear. Once overarching motifs and inner metaphysical designs are grasped, the art itself is to be redeemed for the mental keys to unlock a transformative process, one suggesting an act of fresh, creative thinking. In passing, understanding such work would seem too much of a stretch, not only for the intellect itself, but also for its emotional aspect, testing the limits of intellectual pride.
With only a momentary, footsore glance, the artworks would not likely be respected as art, but instead just another trivial experience by normal everyday assumptions, especially to those who might feel that they are missing out on some obscure inside joke. Such members of the general public, aptly termed uninitiated moderns, are liable to receive the uncomfortable sensation that they are being deceived of greatly-valued time, and that what they have come to see is in fact, nothing short of painfully ridiculous.
It is not without a sense of humor that Nazlı Pektaş curated "İntihal Mi? Hal Mi?" (Appropriation? Case?) for the posh and gleaming, ultramodern institution on İstiklal Avenue known, by the literal translation of its name, Yapı Kredi Culture Art, a new outcropping of the bank-backed, and in that way relatively financially secure, publishing house that is synonymous with literary refinement, as its insignia is nearly ubiquitous on neat bookshelves inside every well-bred Turkish home.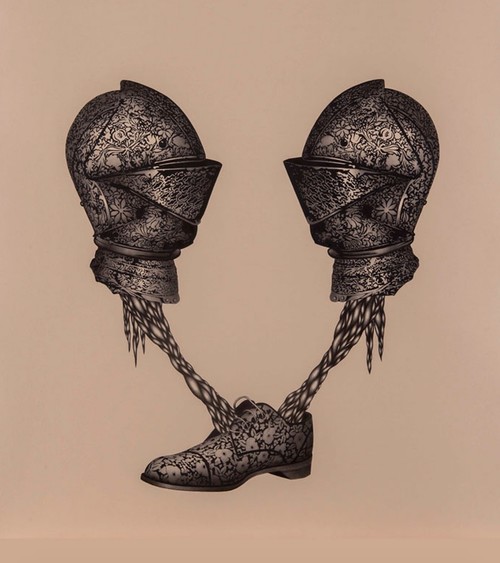 "Dikefalos" (2018) by Erinç Seymen.
If the seemingly thoughtless name of the establishment is any indication, the art held inside its exquisitely furnished three gallery floors might be entirely unoriginal, or worse, conventionally corporate. Instead, the movers and shakers of Istanbul's potent art scene, Pektaş among them, have risen to the challenge of aesthetic dignity and world-class poise with intelligent tongue-in-cheek intrigue for the current mixed exhibition, ending July 29 with a pair of photography shows that fertilize the visionary field where history is preserved and made.
Of fakery and novelty
The very definition of art has been mined for all that it is worth, and has, in turn, transcended value to the point where the absolutely arbitrary foundation of currency is revealed as equally blameworthy of an existence by popular demand. In the same way as money itself is one of the greatest objects of human desire, so art, particularly the conceptual, has a lasting place in contemporary society.
Concept-driven art has aligned conveniently, whether purposefully or not, to the essential abstraction that happens to be one of the chief and fundamental principles of historic civilization, arguably the most important in today's capitalist zeitgeist. Just as money only retains value when it represents real material wealth, so the central story of modern art remains relevant in its struggle to identify human creativity as truly subjective, personal, individual, and by that meaning original, independent and free.
In traditional European thought going back to the ancients, the idea of art was always posed against its progenitor, that being nature, the ultimate source, where the muses were born and fly back to on a whim. Postmoderns, as contemporaries, still reflect deeply on the line where art and nature meet in the soul of the artist. Going one step further, so as to gain much needed perspective, Pektaş curated a vision of art as sourced in itself.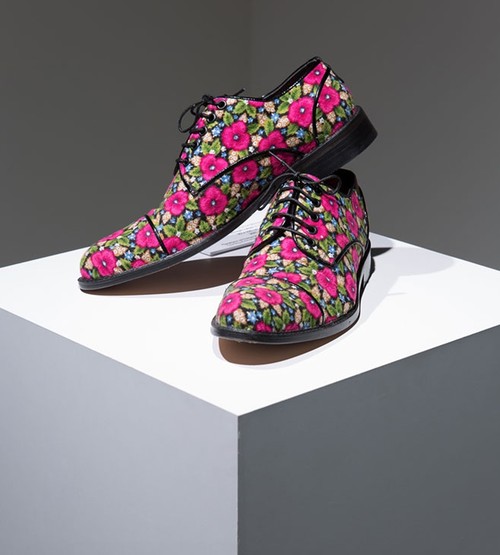 "Shoes" (2015) by Mehtap Baydu.
Her intuition is based on the haunting, lingering notion that art, in fact, has consistently found inspiration within the spiraling world of its own peculiar, internalized makings. To state her concept in the open air, she has proven a few points in the meantime under the upscale, highbrow gaze of Yapı Kredi's gallery space. "Appropriation? Case?" is a revolving dialogue between the seven artists whose works fall into one another's histories, mutually emerging anew with persistent questions about how to define originality, how to contrive the contemporary from the sneaking inevitability of sheer absorption in the past and its omnipresent repercussions.
The work of the works
There is an industrial monstrosity on the third floor at Yapı Kredi Culture Art, some kind of oversized vise out of the gothic imagination of Hieronymus Bosch at the apocalyptic end of the medieval world as it met with the power-hungry factory inventions that set the inhuman pace of modern life. It is an installation titled, "After Surprise Witness" (2018) by Ferhat Özgür, simply listed as mixed media. The bearings and fixtures of the thing are mammoth, deeply in contrast to the subtleties of the finer works around it, as from the pen work from which it took shape in the mind of its original artist.
Özgür gleaned the concept for his utterly material piece from Erinç Seymen's surrealistic ink drawing on paper, "Surprise Witness I" (2011), which is curated in video form, seen with a gliding zoom over the psychological landscape of fantastic arboreal and fungal specimens, with a couple of drifters loafing contemplative in its wild, otherworldly backdrop. They seem to not care a jot for the boldly contradictory, mechanical press machine dropped as from a space station onto the strange, hyper-organic realm.
Erinç Seymen makes his next appearance at "Appropriation? Case?" with his more recent ink pen drawing on paper, "Dikefalos" (2018). With stunning documentary realism, Seyman materialized the twin helmets of a 19-year-old 17th century Danish prince, embossed with elaborate floral imprints. Beneath these symbols of masculinity lies the Oxford shoe style of a metropolitan dandy mirroring the work. They are the very wearable and handmade, size 40 flower shoes of Mehtap Baydu. His piece, "Shoes" (2015) belongs at a fashion shoot. They are propped up and backlit for the sweet amusement of gawkers in for a bout of visual rivalry between the feudalist and the flaneur.
And then, in a curatorial cycle that only Pektaş could fathom with her mediation on the artistic genealogy of innovation, the work of Özgür appears again, this time with the absurdist video, "Heal me!" (2007), the inspiration for the work of Baydu, for her video, "Preparing for the Day" (2018). In his piece, "Heal me!," an elderly woman in pajamas looks out of her apartment building window to the street below, but she does not lower a bucket on a string to get groceries from the corner store as is common in many neighborhoods throughout Istanbul.
Özgür's camera cuts to her chained in a wacky series of events that begins with a man on a round metal dish in her kitchen unlocking her from bondage. She next proceeds to a bedroom where she blindfolds herself and awaits the young sir, who flattens himself out over two beds so that she can trace a clothes iron over his back. Similarly, in her "Preparing for the Day," Baydu irons a mock-up of herself in the form of a collage of composite photographs. Robed for the morning, she flattens out the wrinkles of her papery likening, nonchalant in her figurative mood.
Pektaş curated "Appropriation? Case?" like a waltz, in three-time. The first three beats fall on the works of Özgür, Baydu and Seymen before shifting registers into a different aesthetic trio with artists Çağrı Saray, Özlem Günyol & Mustafa Kunt, and Necla Rüzgar.
Çağrı Saray explored the reaches of public perception with his profoundly meticulous drawing on paper, "Spaces of Memory: Haydarpaşa Train Station" (2016). Interestingly, the work by Necla Rüzgar, her video, "Fibrillation" (2018) showcases a related visual effect, tearing at the seams of sight and sense with an experiment in unfocused self-awareness, as the subject of her vision melds between woman and dog, both asleep in a state of fluid consciousness. It is an image unresolved and shaken by the vibrating, interdependent mystery of being that characterizes the imaginative spirit throughout "Appropriation? Case?"