Inside the bewildering cornucopia of long-lost finds at Istanbul's thoroughly glorious and enlightening Archaeology Museum, forty photographs by Mimmo Jodice are curated under a half-replicated Persian temple, built in the classical style with Greco-Roman influence that likely came with the Anatolian conquests of the 6th century B.C., when the Achaemenid Empire had crushed all of Asia Minor in its fleeting grasp.
The contemporary exhibition of Jodice's photographs was gleaned from the prestigious Cotroneo Collection, approximating a total of 220 of his pieces, including the "Mediterraneo" series in its entirety. Longtime family friends and admirers of the artist, they first met at his 1990 show at Saint Elmo Castle in Naples, "The Invisible City." It was the start of a decade consummating a revolution in Jodice's creative process, as he dove into black and white landscapes and art photography, developing wholly original techniques that rendered his native perspective all the more authentic before the everlasting sea where so much of his Italian, Neapolitan identity was sourced. And from there, he flew around its double edges.
He had begun his artistic rediscovery of the Mediterranean in 1985 after shifting from documentary faithfulness to his subjects as the man with the camera, to becoming more subjective himself, transformed into an artist, a visionary, and a metaphysician. His old baroque tarantella touristic hometown of Naples was fertile ground to inspire his originality, as he defied its worn-out, pizza piazza exploitation. In the 1960s, he had brushed up against heroes of the avant-garde, Andy Warhol, Joseph Beuys, Gino De Dominicis, Joseph Kosuth, Sol Lewitt, Jannis Kounellis, Hermann Nitsch to name a few. He later befriended many of them, notably Warhol.
The curation of a sea change
A selection from "Mediterraneo" is displayed at the end of a series of halls on the first floor, introduced by a labyrinthine tunnel extending to the outdoor entrance by a narrow passageway of white canvas, another example of the unending, sprawl of renovation efforts to preserve the immortal cosmopolis that welcomes time explorers from every walk of life across the encircling, winged globe to transcend space by appreciating the past with fresh, unwavering eyes.
From outside, ambling for a midsummer wander amid the enchanting complex of Ottoman-era museums and a shaded garden of Byzantine ruins, the building with the Jodice show is unmarked as such, almost inconspicuously situated across from two dusty but spectacular institutions, one dedicated to the Ancient Orient, with its impressive scope of pagan cultural achievements from Egypt, Arabia, Persia, and Mesopotamia, and the other the Tiled Kiosk, housing the city's Museum of Islamic Art.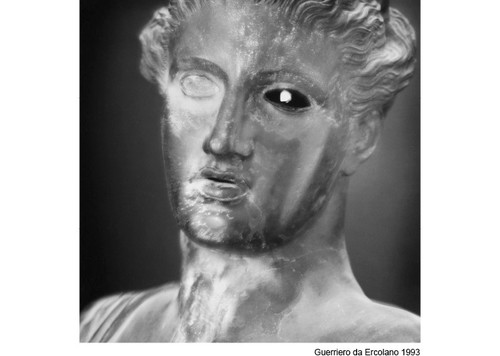 Roman bronze sculpture, Ercolano, Naples, Italy (1990-1995, 37x37cm) by Mimmo Jodice.
The ambiance of the understated, though monumental plaza between Gülhane Park and Topkapı Palace has an artful, esoteric resonance, imaginably sheltering a collective muse who asks for a price. It is not the admission fee, but more like an offering in the spirit of a ceremonial worship rite from antiquity, when to give an object symbolically was to await grace under the hypnotic spell of the land's memory, as a seeker at the gate of oracular tradition pining for an unearthly voice to issue divine wisdom in the starlit dark, surrounded by a roofless colonnade deep and high in the remote wilderness.
There are hearts that beat today who feel the enduring press of mystery from worlds beyond the veil of modernity. It would be too simplistic to heap them together as postmodernist. Instead, they are a rare breed whose lifeblood comes alive with a vital pulse only when reaching for the aesthetic ideal that is more like the peculiar sensation of total harmony through right perception of nowness, the moment in real time, what Zen sages call "ordinary mind," uniting the trinity of past, present and future into a holistic consciousness of being.
The eye of the world
Jodice achieves a union of ancient and contemporary through his photographic light, developing the figment of time itself into a fixed image of human creation by visioning the anthropomorphic character of the Mediterranean. In his masterful lens, the region's landscapes and the enduring arts and ideas that it has cultivated over the ages, and continues to nurture, surface from the darkroom of modernism with undying life and personality, what the ancients might convoke in deference to a god.
The curation of "Mediterraneo" at the Archaeology Museum has a powerful design, opening with a Neapolitan seascape tinged with the soft radiance that is characteristic of Jodice, a muted white gold, a platinum blonde darkened by a nocturnal complexion, yet cloudless and unobscured as a sheen of metallic promise. Aside it are his pictures of the crop of ancient statues that have grown from the land like its roots, only preserved as perfectly alive as the subjects that once inspired them. He conveys the immortal essence of the creative mentality that thrived in the classical world, survived by figurative sculptures that he lights with his practically cinematic, though wholly idiosyncratic effects to pronounce dramatic, human expression.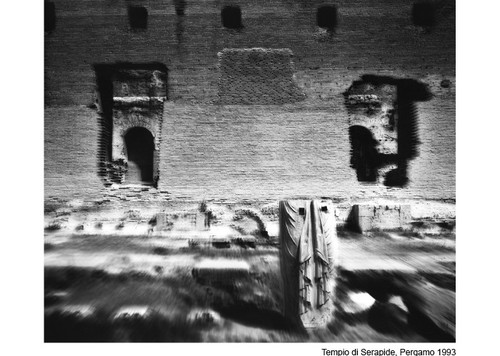 Temple of Serapis in Bergama, Turkey (1990-1995, 37x47cm) by Mimmo Jodice.
Filmmakers employ a certain visual technique by moving the camera forward while zooming back, or vice versa, that Jodice instills with genius potency, subtly as in his single 1990-1995 photograph of a bronze sculpture from the National Archaeology Museum in Naples, and more emphatically in such works as that of the Temple of Serapis in Bergama, in Turkey's İzmir province, famed for its antique architectural bounty. Jodice shoots bronze with a singular knack for paranormal luminosity, metamorphosing apparently lifeless sculptures into effulgent souls that weep and glow with human emotion.
If it's an empty space, Jodice will catalyze its slightest sliver of light into an angelic yawn of the vast, immeasurable firmament. And he does not merely gravitate to obscure places on which to shine his infinite light of ancient religious persuasion. His pieces draw from popular destinations like Petra in Jordan and even the Greek section at the British Museum, but he converts ready-made public presentations into matchless examples of his lifelong pursuit as an artist devoted exclusively to the medium of film.
The sighting of dawn
The process that crystallized with the 1995 publication of "Mediterraneo" by the distinguished, New York-based Aperture photo book publisher rose out of Jodice's upbringing as a child of interwar Naples, toughening his resolve to make himself new and relevant out of the ash and rubble, to retrace the footsteps of his cultural origins.
From that dim shore, he started to carve his stamp, ultimately prompting his peers and critics to see aspects and hints of his beloved birthplace in all of his works. "Mediterraneo" in that way linked Naples to the greater spiritual ecology from which it emerged to gain a namesake and heritage all its own.
Although renowned as an autodidact who became proficient as a sculptor, painter, set designer and actor, he did not learn photography until well into his 20s. That was the late 1950s, and thinking in logistical terms, toward the advancement of his career in the arts, he merged his aptitude for individual expressiveness in his work with the craft of photojournalism. His highly emotive pictures soon landed him the Guggenheim Museum, with the "Italian metamorphosis 1943-1968" group exhibition. It immediately catapulted his name into the pantheon of contemporary artists, Robert Rauschenberg and Jasper Johns among them. A year before "Mediterraneo" was published, he ended a 24-year post at the Academy of Fine Arts in Naples, where he taught and mentored Italian students in photography as new media and as a mode of personalized, in that way universal, artistry. When he was interviewed by Vogue Italy in 2010, he said that even though he was in his seventies, he still had many things to say using his traditional techniques. The absorptive quality of his photographs have the immediate capacity to merge subject and object, creature and creation, humanity and nature, past and future, into the unity of opposites through heightened perceptions of time.