The 20th anniversary of the registration of the ancient city of Troy on the World Heritage List of the United Nations Educational, Scientific and Cultural Organization (UNESCO) was declared as the Year of Troy. Çanakkale continues to be a center for culture, art, science and sports events with international collaborations throughout the year.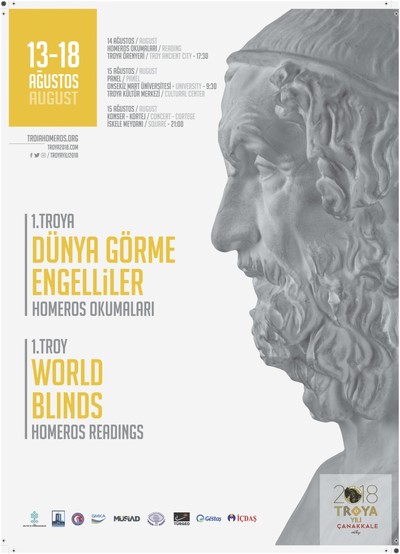 The First Troy World Blinds Homeros Readings to be held on Aug. 14-15 for hundreds of visually impaired people from Turkey and across the world in the ancient city of Troy is supported by the Ministry of Culture and Tourism, the Çanakkale Governorship, Çanakkale Onsekiz Mart University, the South Marmara Development Agency, the Independent Industrialists' and Businessmen's Association, the Association of the Blind in Turkey, GESTAŞ Marine Transportation Inc. and Istanbul Steel, Iron and Smelting Industry Inc.
The program starts with readings from Homer on Aug. 14 and continues with panels on Aug. 15. The Legend of Troy in Homer's "The Iliad" is accepted as a symbol that unites blind people in the world. Special booklets have been prepared in the the braille alphabet for the Homer readings to be read by visually impaired participants on the lands that inspired the legend in the mystical atmosphere of the Troia Archaeological Site, which brings together past and present.
Messages of tolerance and peace for the world
The Çanakkale Governorship hopes to inspire brotherhood in the world in memory of the visually impaired bard who wrote the legend of Troy and hosts visually impaired people from the member countries of the United Nations, the Turkish region of the Balkans and the four corners of Turkey. Throughout the event, special Turkish nights will be organized along with readings from Homer to introduce the country via local foods, music and dances.