Gülcan Aydın is an illuminated manuscript artist who lives in the Düzce province. Aydın creates this art along with water marbling
with the paints, papers and brushes that she produces after processing natural materials which she collects from nature. She uses these all natural objects to create her art supplies, such as producing ink from fruit, paint from soil, stones and plants, paper from trees and brushes from bird feathers.
She is a senior student at the Traditional Turkish Arts Department of Erzurum Atatürk University Fine Arts Faculty. After collecting materials from nature, she pestles them in order to thin them at her 10-square-meter workshop located in the attic of her house. Pestling for an hour or sometimes for days, Aydın crushes the materials with patience with a tool called "destiseng," which was used in the Ottoman period to crush traditional paints.
At the end of this process, the senior student separates the paints that come from nature in line with their colors and uses them in illuminated manuscript and water marbling.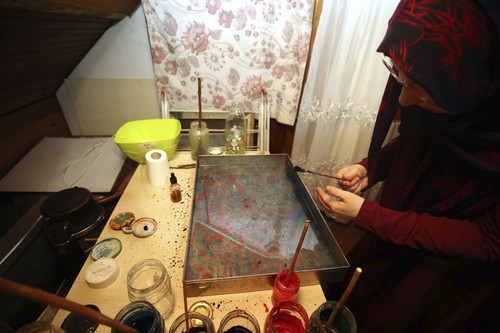 Speaking to Anadolu Agency (AA), Aydın said that she tries to transfer her art to the next generations and to produce real artworks.
Noting she did an internship on marbling with İbrahim Sami Özen during university, Aydın explained, "I have continued this training for four years. Later, I focused on material production [which was] different from my friends."
She said she received certification in 2016, and added, "I was mostly dealing with the production of materials while my friends were advancing in marbling. I could not feel satisfied with only marbling, my heart always wanted to do the production part. I loved it and I was really curious. So, I continued with material production. How are paints produced? Can an illuminated manuscript artist produce his or her own brush or paper? These were all the questions from which I started my journey."
Aydın said the techniques that she applies were used by our ancestors centuries ago. "I made my paints from soil, stones and plants. I produce my own paper and brush. Actually, our ancestors did it centuries ago. When I do all of them, I know that the materials are 100 percent natural. It is not possible for such work to disappear with these materials. The works that we produce with such materials will carry over. Therefore, we can totally say that we produce artworks. When you look at traditional art [today], there is nobody who produces his or her own materials. A paper is produced in 10-15 days; paint is made in a time period that can take an hour to a week. You need to know what feather you should use to produce a brush. The difference between the one who produces all of these and others who buy everything is really important," she said.
'My works are literally mine'
Aydın highlighted that technology develops quickly, but the equivalents of the materials that were produced centuries ago still cannot be produced. "Some people say that this artwork was produced centuries ago, and there is no possibility to make it again. But, it is not true. It is not something like that. Artists can produce enduring works. My mission is about this. I want to train equipped artists who can produce all of her or his stuff after I finish my school. We need artists who know what to bring together."
"For me, you can say that she produces her own works from stone. My works are literally mine. I know every process of my works, I know how I make them, which processes they go through, which problems I have during their production and which level they will be at years later," said the artist.