Contemporary Istanbul (CI) is celebrating the best examples of contemporary art in its 13th year from Sept. 20 to Sept. 23. Some 83 galleries, 54 foreign galleries, 650 artists, of which 400 are foreign, will be at the exhibition with approximately 2,000 works.
Most of the art at the exhibition will be on display for the first time in Turkey. Art lovers will be able to see galleries, artists and collectors from Europe, America and Asia as well as other regional galleries.
'The interest is high'
Artistic content, aesthetic attitude, a VIP Program and the highest level of customer satisfaction adds value to Istanbul according to Istanbul Contemporary's Board of Directors Chairman Ali Güreli.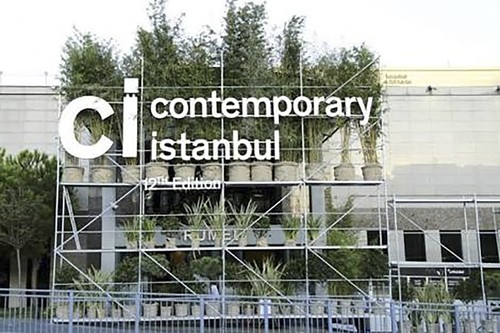 "It is pleasing that 54 of the 83 galleries participating in this year's exhibition are foreign. More than half the galleries participating in the exhibition being foreign, shows the confidence of the international art market in Istanbul and Turkey. Gallery managers understand the position and the place Istanbul has in the art world and they believe that they too should participate in it. Being in Istanbul and participating in Contemporary Istanbul is gaining more importance each year for foreign galleries," said Güreli.
"On the other hand, we also need to find ways to make sure that foreign galleries are satisfied when they are leaving Istanbul. Therefore, we informed foreign galleries that they need to offer reasonable and flexible prices. When compared to Contemporary Istanbul from two years ago, the number of foreign collectors and art lovers who want to participate in the fair is very satisfactory and motivating," he added.
He added that it was pleasing to see that the global art market follow Turkey, Istanbul and Contemporary Istanbul closely.
"We also have many Turkish collectors, which not many other countries have, and we believe that this number will increase. Therefore, we believe that the local art world will see positive consequences from this exhibition. We will continue our promotion work both in Turkey and abroad in order to improve and help in the growth of the Turkish art world and for Istanbul to be one of the global art centers of the world," Güreli said.
Gallery Support Program
The Gallery Support Program, which was initiated for art-loving business people with investments abroad has been extended this year. The program, which aims to support the participation of galleries at Contemporary Istanbul, covers five countries this year. In addition to Romania, this year, galleries from the Netherlands, Portugal, France and U.S. will be attending Contemporary Istanbul and the program aims to support and diversify the Turkish contemporary art scene, as well as connect with the art scenes in different countries. An impressive 17 galleries from five countries are coming to Istanbul under the Gallery Support Program.
New media art at Plug-in
Contemporary Istanbul's Plug-in section organized since 2013 is the only contemporary art fair event that brings art lovers together with new media arts. The Plug-in section to be held at the exhibition area will ensure that a new generation encounters the arts and will open new areas for collectors. The works to be exhibited in the Plug-in this year are around an "Extra/Ordinary" theme.
Artists attending Plug-in are: Felix Luque Sanchez from Spain, Ryoichi Kurokawa from Japan / Germany, Lia from Austria, Joanie Lemercier from France / Belgium, Can Büyükberber from Turkey / U.S., Paul Myo from the U.S., 1024 from France, Fernando Velazquez from Uruguay / Brazil, Ursula Berlot from Slovenia, Jonathan Monaghan from the U.S., Nicolas Bernier from Canada, Selçuk Artut from Turkey, Mary Sibande from South Africa, Saint Machine from Romania, Sebastian Lacomblez from Belgium, James Clar from the U.S., Ali Miharbi from Turkey and Daniel Iregua from Columbia / Canada.
Prix Pictet coming to Istanbul
Founded in 2008 by the Pictet Group, Prix Pictet has become one of the world's leading awards in photography and sustainability. Seven competitions have been organized up until now. The exhibition in Istanbul is planned to take place from Sept. 18 to Oct. 17 at Global Karaköy.
First CIF Dialogues
The CIF Dialogues are organized by the Contemporary Istanbul Art, Culture and Education Foundation this year. The CIF Dialogues became new structures in both design and content under the consultancy of Vanessa Arelle. Unlike previous years, the CIF Dialogues will be held at the Sofa Hotel at Hall Arts, Autograph Collection on Sept. 18, under the theme "Sensibilities" before the opening of Contemporary Istanbul. The CIF Dialogues will be tackling themes of design, cultural heritage, technology, innovation, art and architecture and being a collector.
A special presentation
Another event held by Contemporary Istanbul Arts, Culture and Education Foundation, Murat Akagündüz's "A Special Presentation" exhibition will kick off on the same day as CIF Dialogues. The exhibition at the Sofa Hotel Istanbul, Autograph Collection from Sept. 18 to Oct. 22, is inviting visitors to a special presentation of past and present works of the artist. Along with the new works, the Kaf series of the artist highlight a mythological narrative of Kaf Mountain and the paintings are named after coordinates on Google Earth. While offering the peaks of Alp-Himalayan mountain ranges on three continents, Akagündüz gives us the coordinates of the Kaf Mountain and examines the minimum conditions of visual representation through the precision of digital mathematical mapping, alongside single color tones that challenge white perception.
Students' design honored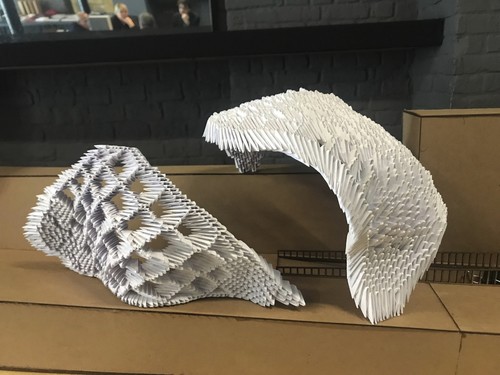 The "Curvegami," will be displayed on the facade of Lütfi Kırdar International Congress and Exhibition Center throughout the exhibition.
Like last year, Contemporary Istanbul's general visual planning was carried out together with Tabanlıoğlu Architecture. The facade of Contemporary Istanbul, a co-project of Contemporary Istanbul and Tabanlıoğlu Architecture, was designed by architecture students.
The "Curvegami," which won from 27 other designs at the competition by first year students from the Faculty of Architecture of Istanbul Technical University (İTÜ) will be displayed on the facade of Lütfi Kırdar International Congress and Exhibition Center throughout the exhibition.
The jury, evaluating 27 different projects produced by 90 students, chose the design "Curvegami" by Mehtap Çaldıran and Hasan Basri Saltık. The design will be exhibited on the facade of the Lütfi Kırdar International Congress and Exhibition Center and the mockups of the other 26 projects will be displayed at the exhibition.
Designed from recycled paper
The design of "Curvegami," consists of 1,600 modules, and is being produced at Duran Doğan Basım ve Ambalaj Sanayi A.Ş.'s facility from recycled paper.
Mehtap Çaldıran, 21, who won the competition, said architecture is considered as the relationship between "concrete and money" but it is actually a branch of art.
"Our aim was to create an artistic structure, to re-emphasize the relationship between architecture with art in a strong manner. The environmental impact of our 'temporary' work was important and therefore, we are producing this design with recycled paper and when it is removed it will be recycled again," said Çaldıran.
Twenty-year-old Hasan Basri Saltık, who was also involved in the design noted that it is one of their largest projects. "It is now being implemented. Some 120,000 people are expected to visit Contemporary Istanbul in 2018. We are very proud that so many people will be able to view our work. We are very excited," said Saltık.
Tabanlıoğlu Architecture
As in previous years, Tabanlıoğlu Architecture, which supports Contemporary Istanbul in terms of concept, architectural design and planning, has determined a routing language that can be read on the ceiling, floor and walls starting from the entrance, down to all other common areas via colors, graffiti and illumination in order to offer equal visibility to all parts of the galleries, on different floors and for easy access to visitors. In addition, a staircase similar to last year's amphitheater will be established in order to enhance access to the exhibition area.