The Pera Museum presents a contemporary art exhibition exploring the multilayered architectural, historical and sociocultural significance of the Galatasaray High School on the occasion of its 150th anniversary. The exhibition will run from Sept. 14 to Nov. 25.
"School Square Galatasaray" aims to gaze into the past from the vantage point of the present through artworks by 10 artists and groups that relate to the location, function, history and space of Galatasaray High School by means of painting, sculpture, installation, photography, video, sound and performance.
Curated by Çelenk Bafra, the exhibition brings together new productions by Antonio Cosentino, Barış Göktürk, biriken, Burak Delier, Elvan Alpay, Hasan Deniz, Hera Büyüktaşçıyan and Vahit Tuna along with Ali Kazma and Cemal Emden's recent works.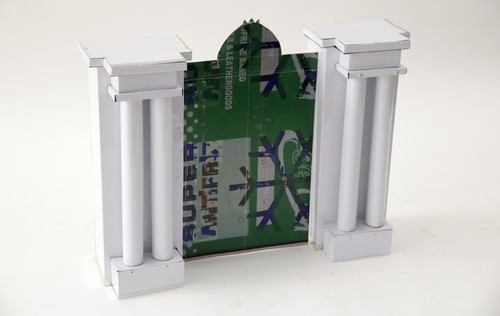 Galatasaray High School, which has roots going back to 1481, opened to service as a high school under the name Mekteb-i Sultani on Sept. 1, 1868 by Sultan Abdulaziz. It not only considered one of Turkey's most esteemed educational institutions; but also as its first secular state school integrated with Europe.
In the 19th century students of the Imperial School (Mekteb-i Sultani), most of whom came from families who had embraced modernization, were taught a French style of education, and their school was located in a Western neighborhood of Pera, upon the Grande Rue de Pera.
With a mission beyond merely raising well-qualified students for posts in the academy, bureaucracy, diplomacy and business world, Galatasaray High School hosted many cultural and artistic events.
With countless performances, conferences, festivals and exhibitions involving theater, film, music, literature and the visual arts, it has become a meeting point or "square," almost a public ground for cultural and artistic circles.
Since the school was first established as the palace (saray) of the Galata area, the square might have taken its name from the school. Yet in time, the square's name took on a significance beyond its location in front of the school, becoming a crucial public space in Turkey's social memory, even among people who have never seen it.
The exhibition catalog of "School Square Galatasaray" includes essays by Çelenk Bafra, Besim F. Dellaloğlu and Murat Alat as well as photographs by Cemal Emden.
Although an insider's look of the graduate artists of Galatasaray High School and the reflection of their personal experiences on their artistic practices have been considered valuable, Çelenk Bafra emphasizes the attempt to make room for perspectives to be brought in by artists looking upon the school, an organic part of the city for 150 years, from the square - namely, from the outside.
According to Bafra, "School Square Galatasaray" exhibition "attempts 'squarely' to expose the school's interior as seen through the eyes of artists, thus opening it up to the public through artistic discourse" and with its catalog and public program the "School Square Galatasaray" will prompt a (re)discovery of this iconic school that has stood for the past 150 years through contemporary visual arts.
The exhibition is on view at the Pera Museum until Nov. 25.
About the curator
Upon graduating from the Beyoğlu Anatolian High School, Çelenk Bafra studied political science and public administration at Galatasaray University after completing two preparatory years in social sciences in French. She carried out her graduate studies at Universite Aix Marseille in the cultural mediation of art and at Istanbul Bilgi University in cultural and intellectual history. She received academic and professional research grants for curatorial studies from European art institutes. A member of AICA Turkey and CIMAM, Bafra was appointed by the French Ministry of Culture as a member of the board of directors of the Museum of European and Mediterranean Civilisations (MuCEM), in Marseille, during its first four years.