Ursula and Yusuf Katipoğlu's exhibition, "Accumulation," will be on display at Gallery Diani as the season's opener between Oct. 6 and 27. As can be understood from the title of the exhibition, the series comprises of works displaying the two artists' togetherness in life and art.
The paths of the Katipoğlus crossed 38 years ago. The logic of "opposite poles attract" became is especially true for this couple.
Ursula Soltermann Katipoğlu says that colors are everything for her. She thinks with colors first before reflecting her artistic language on the canvas and then uses the harmony, contrast and light balance to create her artwork.
After living in Istanbul for more than 30 years, she looks at urban change from a different perspective. She draws city views like memorial statues, slightly admiring skyscrapers that cover the city.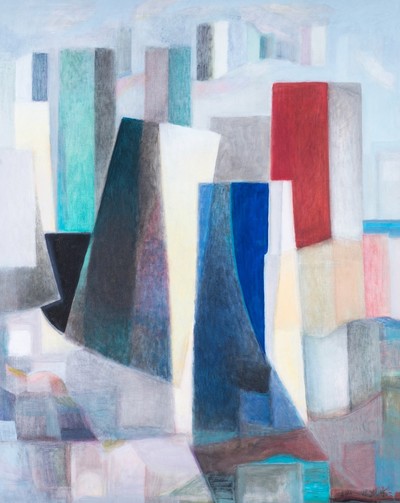 "City" by Ursula Soltermann Katipoğlu depicts city views like memorial statues.
Yusuf Katipoğlu, who is an artist full of life, always starts a painting with newfound excitement. His thinking is that every painting should be a fresh breath, voice, smell and pattern.
Even if he says his paintings are about simplicity, he decorates his canvas until he finds what he is looking for like a treasure hunter finding a treasure chest.
Katipoğlu is an artist who produces his art by focusing on life in Istanbul while mixing his experiences of being from the Black Sea region.
On Oct. 20, a conversation will be held for the couple's exhibition where artists that Gallery Diani traditionalized in the last six years, critics and spectators will be in attendance.
About Ursula Soltermann Katipoğlu
Ursula was born in Switzerland's Valais region. She graduated from Sion Fine Arts Academy Painting Department. Katipoğlu worked at a stained glass workshop, Maeder, in Zurich for three years and deepened her color perspective.
Working as an art teacher in Valais for three years, she joined many group exhibitions. Her first solo exhibition was opened at Gallery Jodok in Brig town. She moved to Turkey in 1980 and opened nearly 30 solo exhibitions here. Her works take place at various collections at home and abroad. She still continues her art life with her husband Yusuf Katipoğlu at their home workshop in the Kuzguncuk neighborhood in Üsküdar, Istanbul.
About Yusuf Katipoğlu
Yusuf Katipoğlu was born in 1941 in Trabzon. Completing his secondary education there, he started the State Fine Arts Academy Bedri Rahmi Workshop. He graduated from the workshop in 1968. He was an art teacher in Trabzon for a while until he established the Trabzon Fine Arts Gallery in 1975 and became its director.
He studies mime together with Ergun Kolbek. After marrying Ursula, they advanced in their art life. He opened more than 50 solo exhibitions and attended various group exhibitions.