Edoardo Tresoldi, one of the most important representatives of contemporary art in the world will be coming to Istanbul this year for "Design Explorers Beyond Time."
The event will be held for the 6th time at Istanbul Technical University (İTÜ) Maçka Campus on Oct. 9.
Edoardo Tresoldi uses transparent wire mesh surfaces and industrial materials to create visual dialogue between art and the world. Tresoldi plays with transparency to overcome the size of space in his art and eliminates physical limitations between art and the earth.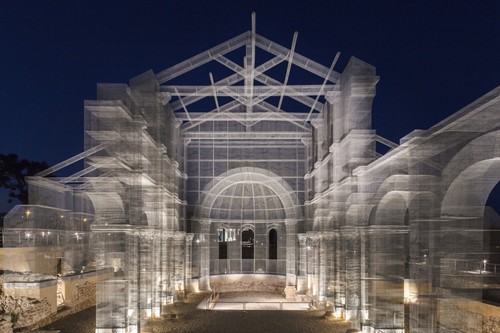 In Istanbul he will meet with architects, architecture students, engineers and designers. Tresoldi will give a speech titled "From Absence Material to Metaphysical Ruin," after which he will answer questions. Tresoldi, who will explain the details of the projects he carried out in the public sphere for the brand Geberit. The 2018 project under the motto of "You are not alone with a good partner," sees Tresoldi play with transparency of industrial materials such as mesh in exceeding the dimension of space and size of space. He will share with audiences how he came to work with with such a different discipline as architecture.
Since 2013, Tresoldi has been involved in public space projects based on "genius loci" (the soul of space) and landscaping elements. He was deemed as one of the 30 most influential European artists under 30 by Forbes in January 2017.
Living in Italy, the artist creates sculptures, stage designs and sometimes even more extensive installations. One of his latest works was for a royal event in Abu Dhabi with the collaboration of Dubai-based Designlab Experience. The work "Archetype" is a garden where architecture and nature are intertwined. The design covers a total area of 7,000 square meters. Domes, columns and arches suspended from a hanging wire illuminated from both the bottom and top are semi-permeable and have a ghost-like appearance.
Tresoldi has also lifted an early Christian Church in Siponto Archaeological Park (Italy) by using wires. This restitution work called "Basilica di Siponto" offers visitors an experience of light and shadow puppetry with a transparent space created within the space.
Edoardo at Coachella
Tresoldi became the focus of attention at the Coachella music festival in California with his installation "Etherea."
The installation was displayed for two weeks, unlike his other work, and was seen as a space that allowed participants to interact with the space yet create their own dialogue. The three transparent sculptures were inspired by Neoclassical and Baroque architecture and while they were identical in space they were on a scale of different heights at 11, 16 and 22 meters.