The Circle, defined as an exhibition area, a creative workshop, an academic research platform, space for music and bringing together practices of life and business along with being a collaborative group focusing on architecture, design and art, opened with the "Kalp Olmak Ne Ola?" ("How It is To Be a Heart?") exhibition of Slovenian artist Joni Zakonjsek in Istanbul on Sept. 14.
Curated by Sanja Jurca Avcı, the exhibition includes works of the artist, who is inspired by Zen Buddhism, that focus on the possibilities of finding poetic harmony between nature and the cosmos. The art of Zakonjsek is a part of her quest for finding harmony in life and her paintings are the result of her exploration and meditation process.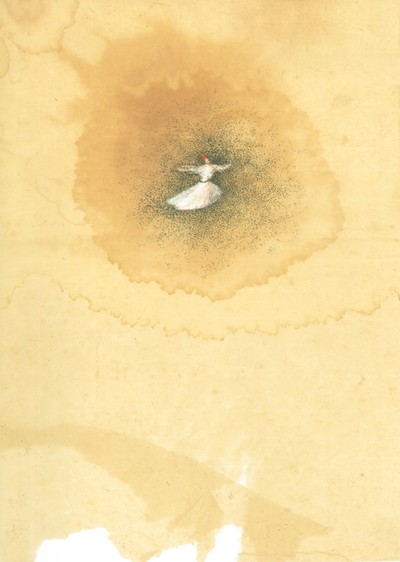 A piece from the "Dervishes" series.
This meditative approach determines Zakonjsek's technique and approach to materials. Prioritizing self-creation, Zakonjsek's figures, shapes and colors are formed naturally on paper or canvas. This self-creation allows hidden vibrations in nature and in the mind of man to be recorded. The artist does not create a sight to look at, but a new way of seeing.
The works in the exhibition consist of four groups. The first group, "Dervishes," is a result of her admiration for the Sufi tradition with its poetry, philosophy and music. The euphoric state of dervishes who rotate around like planets on their own axes has inspired the artist, who had the opportunity to follow the ceremonies at dervish lodges in Istanbul and Konya in 2016, to interpret the poetic vibrations of the dervishes in her paintings.
Joni Zakonjsek uses a special technique, as well as watercolors and a mixed technique. She allows tea to spill on rice paper and depicts small dervish figures on the background. It is possible to say that this technique is not just an artistic process, but a ritual.
The second group, "Circular Poems," reflects the cyclic, poetic movements found in the natural seasonal cycle and throughout the universe. The haikus of Vlado Skafar accompany these "visual" poems. This poetic interest is also seen in her work "A Poem for Hafez," a special commitment to the Iranian poet, Hafez.
The third group titled "Scenes from Tassajara" focuses on spontaneous poetry in nature. In these watercolor paintings, physical scenes are deemed as "the space of the soul" or as a reflection of a spiritual outlook. It is possible to view these scenes as spiritual images rather than physical ones. The fourth group titled "Trees" focuses on the meditative effects of trees around the Tassajara Mountain Zen Temple.
Joni Zakonjsek invites visitors on a journey that will open your heart to new possibilities and change the way you see the world with sensitivity shown by the poetic aspects of human life and the silent, eternal vibrations of nature.
The exhibition will be open until Oct. 14 at The Circle.