Organized in collaboration with Istanbul Design Center and Istanbul Metropolitan Municipality (İBB), the 4th International Workshop on Geometric Patterns in Islamic Art has started.
With this year's theme aptly chosen as "Geometric Designs in Wood and Tile," the workshop at Haliç Congress Center is being coordinated by Polish mathematics professor Miroslaw Majewski.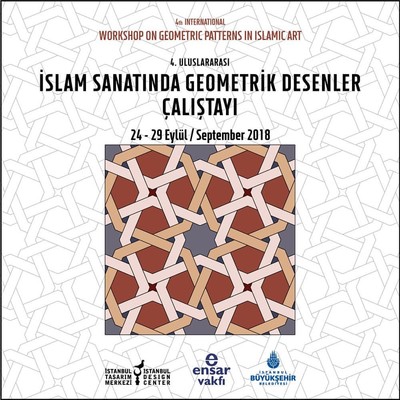 Speaking at the opening ceremony, Ayşe Taşkent, a member of the Ensar Foundation Board of Trustees, said that the best examples of geometric patterns in Islamic art are in Turkey.
indispensable Geometric patterns for Turkish art
Taşkent said that geometric patterns are the most important factors of Turkish architectural tradition.
"Although many workshops in both the academic level and sectoral sense are held in various countries across the world, especially in Europe and the U.S., we witness that this is an issue which is not paid much attention to in Turkey," she said.
Taşkent also claimed that the civilization of Islam appreciates math and geometry more than any other civilization.
"Geometric patterns in Islamic art, where math, especially geometry combined with art, stand as an issue about science and math history as much as it is related to art history in the classical period Islamic world. Therefore, we do not think the level which is reached in science, art and math of the Islamic civilization can be understood if these patterns and the mathematical background of them are not searched enough," she explained.
Noting that they want to make the geometric patterns in Islamic art the current issue in accompany with foreign experts, Taşkent added, "We hope to make an interdisciplinary work in order to open up for new projects. We also need to announce the basic aim of the Istanbul Design Center. It aims to tell the architectural and aesthetical richness of our history and tradition and to transfer how this richness can be reinterpreted."
'Comment is limited in geometric system'
Art history professor Selçuk Mülayim told Anadolu Agency (AA) that the workshop continues every year, by advancing.
"There are new suggestions and discussions here. This job is about design before the matter of the artist. Your right to comment is really limited in geometric systems. If you do not have a right to comment, it is a little bit hard to create your own style," he stressed. Highlighting that a geometric system can turn into a work with ornaments, Mülayim said, "When you take the figures on geometric patterns out, what is left is boring. On the hotel lobbies, balconies and bridge sides, there are decagons. They are so boring that people are disturbed by them. Therefore, they should not be repeated. That is, a shape or a composition is beautiful when it is together with others." He remarked that today there is a need for geometric patterns in Turkey and wished those competing in this field luck. After the opening, the coordinator of the workshop, Majewski gave a speech titled, "What makes geometric shapes geometric?"
About the international workshop
The workshop was held by the Istanbul Design Center in 2013 for the first time with the title, "Historic Process and New Tries." It was organized for the second time in Istanbul and Konya in September of 2014 under the title of "On the Track of the Seljuks." The third workshop was in Istanbul and Amasya between Sept. 24 and Oct. 1, 2016 with the title, "Patterns Engraved on Stone."
The first day courses of the workshop will be provided for free.
The workshops, which started yesterday, will continue until Sept. 28. They will be provided to a certain number of participants at the Istanbul Design Center.
This year, 15 experts from the U.S., U.K., Poland, Uzbekistan, Iran and Turkey have been invited for seminars and workshops.
Participants comprising of undergraduate and master's students in architecture, math, physic, social sciences and art and people from the business world will be taking part in the event.
At the end of the workshop, a tour will be organized to Bursa province, and the participants and experts will have an opportunity to examine the pattern applications in some of historical places in the city.