Storytellers from different regions of Turkey meet in Mardin, a city known for its tolerance, where people from different cultures, religions and languages live in peace together to participate in storytelling. The traditional Anatolian storytellers, who came to the city with the efforts of the Mardin Museum, will tell stories and tales to citizens of all ages, especially to children, and will be at museums, schools, historic bazaars and social areas of the city for five days.
Speaking at the opening ceremony in the garden of Mardin Museum, Provincial Director of Culture and Tourism Alaaddin Aydın reported that the storytellers' coming together in Mardin, a city of people from different ethnicities, is really important. Implying these types of events are proper for this city, Aydın said, "We will enjoy five days of listening to tales from the real storytellers in the historical city."
'Tales are proper for this city'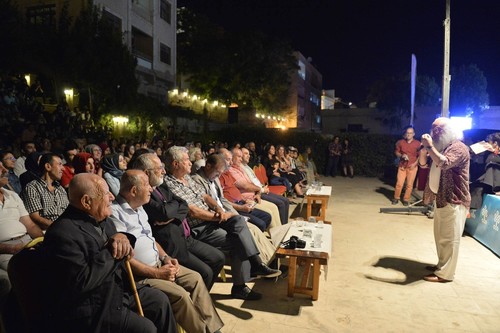 Mardin Museum Director Nihat Erdoğan remarked that they organized the event for the third time in Mardin, which itself like a city from a story. Explaining that 49 storytellers will tell tales, meeting local storytellers, Erdoğan continued, "Tales are told to children so that they sleep and to adults so that they can wake up. It is said that if you want a child to be smart, you should him or her a tale. We are the transporters of cultural values that are not concrete. As long as we continue to tell tales, these pieces of literature will be sustained. This is why we have been hosting storytellers for three years. We try to transfer tales to the society. The storytellers will be welcomed by the people of Mardin in the schools, social areas, museums, streets of the city and the rooftops of the houses. The people of the city will tell tales to visitors and the storytellers will share the tales that they know. Tales will be talked about in the tale-like city. They are proper for this city."
Erdoğan said that everyone is invited to the storytellers meeting. Storyteller Sezia Sarıoğlu, one of the attendees of the event, came from Istanbul. Sarıoğlu expressed his happiness in attending such an event and added, "Mardin is a tale-like city. We will tell tales here sometimes and point toward a moral sometimes."
After the speeches, some storytellers told tales to the many guests present in museum garden.
A story circle will be created in the organization, which will continue until Oct. 7. Workshops will be held, concerts will be performed and various exhibitions will be presented to people.