Sarp Özer is one of five from the young team that makes up AVTO, a pithy outfit in the shadow of the Galata Tower down the jutting cobblestone street of Serdar-ı Ekrem, surrounded by a hollow hive of sleek storefronts, boutique clothiers, uppish cafes, trendy artisans. It's an appropriate place to raise a colorful and steady flag for new reserves, and to heft it vigorously against one of the most controversial fronts of gentrification in Istanbul, where the old Genoese character of the historic downtown district is increasingly extinguished in favor of an internationalist makeover that ends up characterless, like the first wave of fashionable commercialization everywhere, ultimately turning its soil vulnerable for corporate demolition crews to bear the fangs of more impersonal brands of business and development that await, crunching numbers like dreams.
But as Özer knows, there are alternatives. He had learned as much in Milan, where he studied visual arts under Bert Theis, and remains speechless with awe at the thought of him, considering his unorthodox teaching methods. "He was my teacher. He had a huge impact on me. He was not only an artist. Down-to-earth wouldn't describe him. He was a super curious person. When I went to the [New] Academy [of Fine Arts in Milan], I was 24. I had prospects and ambitions. He wanted to talk with us all day. He wanted to listen. He tried to learn from us," said Özer with emotion, and with a Turkish accent streaked with the Italian largo after his many years living, studying, working in the center of Milanese cultural life.
"Bert taught visual arts, but it was more like an experience to listen to him. He was always talking about everything else besides art. It wasn't a visual arts course [with him]. It was more like self-negotiation. His artistic practice was not ornamental, or solely about exhibiting. It was mostly about participating, about engaging with the public. His thinking was not for an ad hoc kind of utility. He wanted to contemplate. He wanted to think, as an individual."
In Italy, Özer also studied under Marco Scotini, a curator best known in Turkey for his work on the all-important Disobedience Archive at SALT Beyoğlu in 2014. He returned to Istanbul in 2016, the year Theis passed away at the untimely age of 64 due to cancer. Özer then worked at SALT, which, with its two, state-of-the-art, grandiose core locales, has become the pinnacle of the contemporary art establishment in Istanbul, rivaled by Istanbul Modern's renovations and Arter's upcoming museum in Dolapdere slated to open in 2019. Theis, a Luxembourg-born artist celebrated for his "fight-specific" community activism in Isola, Milan, continues to be honored by the international arts community, not only in Istanbul at AVTO, but by the prestigious Luxembourg Museum of Modern Art, who, acquired one of his well-known works for its permanent collection, a piece from the 1990s titled "Philosophical Platform," which will be exhibited in April next year. It is a public installation piece offering a venue for anyone and everyone to stand and be recognized, to do what they will, however they might.
Istanbul's endangered, independent arts
The "V" in AVTO is a Latinate character replacing the usual English, "U." AVTO tempts newcomers to think through the word, "auto," in a conceptual, linguistic context. Last year, AVTO held two exhibitions, hosted a collective to translate the Xenofeminist Manifesto into Turkish and ran a series of lecture performances, all under the scope of programming research-based projects as an alternative to the monthly show turnover of a typical gallery. The idea is to activate the space, in the interest of dialectic community, as opposed to merely opening the doors for the occasional pair of eyes to drop in and pop out.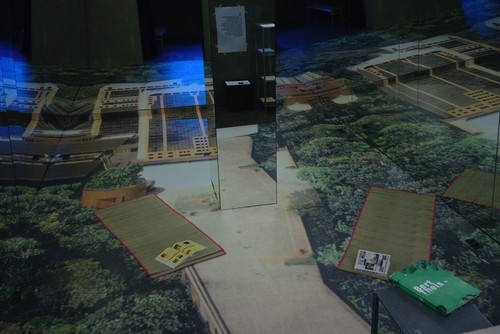 At AVTO, the five-strong team includes Sarp Özer, a student of Theis in Milan who specializes in archives, accelerationism and science fiction based on his studies in gender and feminist theory.
The quintet at the helm of AVTO each focus on different research themes. Özer specializes in archives, accelerationism and science fiction, especially based on his studies in gender and feminist theory. Doğa Yirik also works on archives, oral history and image theory. Oya Kalkavan concentrates on photography, and both have a past with Özer as fellow students in Milan, at the Nuova Academia di Belle Arti, which had one of the only two curatorial studies courses in Italy when they were there. And lastly, Görkem İmrek distills Ottoman and oriental manuscripts as a scholar of Neo-Turkish identity, while Verda Tınımaz studies philosophy and focuses on theory-fiction and accelerationism.
Informally, AVTO has simply become an excuse to gather resources and energy. Together, they upend art show conventions towards a brighter, clearer and more interactive future in which to appreciate and practice art in Istanbul. It
is the case that one of the most popular avenues of creativity, likely second only to music, is too often flattened between sterile walls, and lifeless institutions that generally make most people draw a blank before wandering on devoid of lasting connections, thoughtless and inane.
AVTO makes subtle, though effective pedagogical efforts toward collectivism and a greater social awareness in the public with techniques that are specially relevant to the background story of "Provisional Green Space," named after the designation of parklands in Isola that were slated for destruction by real estate projects, are that are now entirely paved over. The exhibition is couched in the history of Theis's practical concept of "fight-specific" artwork to strengthen the presence of the Isola Art Center in Milan's contested core. In fact, the horizontal, leaderless organization branched out into the Office for Urban Transformation (OUT), also a project designed by Theis, and succeeded in overturning city efforts to transform the neighborhood into a fashion and design district. OUT also stopped the construction of a shopping mall in Isola on two occasions, although the building eventually went up, along with the Unicredit Tower.



AVTO is a young, independent, nonprofit space for exhibitions, research and performance, currently showing "Provisional Green Space", a survey of the late artist and activist Bert Theis till Oct. 29.
"Provisional Green Space" catalog notes are punched with holes for regulars to file a dossier of works shown at AVTO. The floor is draped with comfy bamboo mats for readers to ogle over many of Theis's writings, such as in "Fight-Specific Isola," published by Archive Books in 2013, which analyzes the dramatic confrontation and ultimately the losing battle that the local community and artist collective of Isola faced against waves of gentrification.
The story of Theis and Isola recalls the documentary, "Citizen Jane: Battle for the City," screened at SALT Galata last year. Although from Canada, and a female journalist in a world of men during the 1950s, she defended the neighborhood integrity of New York City for generations to come. Cities are communities, she emphasized, not buildings. It is a success story that, sadly, Theis could not parallel through his revolutionary pedagogy and socially reflective artistry. Yet, his utopian, eco-urbanist ideas continue to influence his students, peers and a growing movement of city dwellers looking for ways to preserve historic aesthetics, and integrate the styles of the present before the overburdening future.
An underground hall of green mirrors
The interior design at AVTO, considering the angles at "Provisional Green Space," has the effect of an optical illusion, as its lighting and mirrored walls give way to a screening room past the photo-montage installation flooring after the Bert Theis work, "Aggloville," which conceives the notion of the concrete jungle as a type of urbanization integrated with vegetal regeneration. In his vision, streets are lush with edible plants, and the buildings grow with fruit trees. It is an ironic affront to the reality of his beloved Isola Art Center in the core of Milan, which, in 2009, was defaced as the result of a municipal sale to a private American firm, ultimately becoming the grounds for a controversial, pseudo-ecological residential complex called the Bosco Verticale.
In the backroom at AVTO, natural light refracts from broken brick and unfinished concrete into "Provisional Green Space" where the documentary "Isola Nostra" (Our Isola) is on loop. Mariette Schlitz completed the 60-minute film in 2007 in close collaboration with Theis, as it chronicles community resistance efforts in Isola, where Theis was a fixture. Schlitz spliced clips from 27 exhibitions featuring 200 artists from Italy and abroad at the Isola Art Center, which had a neighborhood-wide presence. The utopian dream of Theis streamlines urban traditions of landscaping, commerce and art in neighborhood life in the face of belligerent, top-down gentrification. His ideas thrive in the works of his impassioned students, as at AVTO, which is already planning for next year's program to include Isola's fight-specific artists and the Errorists collective, who contributed significantly to the life and legacy of the Isola Art Center.