Compiled and translated by the famous orientalist writer, academic and voyager Antoine Galland, "1001 (Arabian) Nights" has gained a place in world literature. Translated by Galland, who lived for 15 years in the Middle East and visited İzmir many times, the book's fame extends beyond the boundaries of Europe and has been translated into several languages. It had an undeniable effect on the improvement of fantastic literature in the 18th century.
From past to present, "1001 Nights" has inspired visual, decorative and performing arts. From theater to opera, ballet, painting, sculpture, textile and cinema. Inspired by the tales in the saga, every artist fed and improved the next generation of stories with their own unique touch.
With its previous multidisciplinary exhibits, Arkas Art Center now welcomes the magical world of "1001 Nights." Open until Dec. 30, the exhibition exposes the tales' effect on various branches of art. In addition to pieces from the Arkas Holding Collection, the Arkas Art Center in İzmir will present for the first time in Turkey world-famous ballet costumes, such as costumes from "Ballet Scheherazade" designed by world-renowned French designer Christian Lacroix and pieces designed for "Ballet La Bayadere" by Italian costume designer Franca Squarciapino.
There will also be pieces from special collections and prominent museums and corporations such as Opera Garnier, Comedie-Francaise, the National Center of Costume and Scenography, the National Library of France, Müziksev and the Antik Corporation.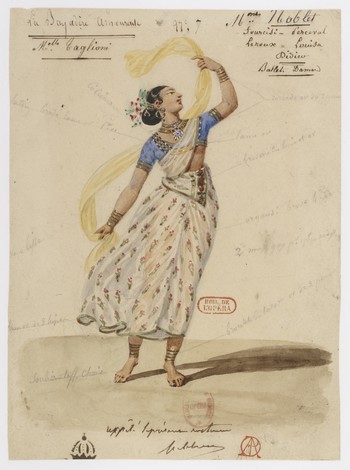 The exhibition, which also has works in various disciplines by contemporary artists such as Felekşan Onar and Suhandan Özay Demirkan, embraces many outstanding pieces of costumes, accessories, decorative objects, paintings and sculptures. In the content-rich book, especially prepared for the exhibition, there are articles by Luc Maeso, Martine Kahane, Emmanuelle Peyraube, Sylvette Larzul and Mathias Auclair and valuable visuals.
Speaking at the opening ceremony of the exhibition, Arkas Holding CEO Lucien Arkas discussed the creation of the exhibition. "We work to make people get rid of their daily problems and witness beauty. At first, we thought that the 1001 Nights concept was irrelevant to our former work; however, Maeso managed to bring some very important ballet costumes of the time in France. Making use of his relations in France, Maeso contacted prominent museums and collections there. This is how we set to work."
Speaking of "1001 Nights," which stars Scheherazade and was compiled by Antoine Galland, Arkas added: "It's a great pleasure for us to organize this exhibition in İzmir. We really want students to come and see the exhibition. The art of love, when aroused in the early years of life, goes on for a lifetime. We try to reach all the children of İzmir."
Exhibition curator Jean-Luc Maeso said: "As you will see at the exhibition, '1001' Nights affected many branches of art: opera, modern art and ballet, not just literature. With its quite privileged theme, '1001 Nights' takes the reader on a journey to real and dream worlds. The reader is attracted to Eastern Arabic countries and lands with very precious goods such as spices and scents. By visiting the exhibition, you will be one of those who find themselves in the middle of those extraordinary tales.
It was a great success for the writer to arouse interest in the east at the time. This exhibition will take visitors back to the world of "1001 Nights." Arkas Art Consultant Müjde Unustası said: "We contacted other corporations to create a first of its kind exhibition in İzmir. Many costumes come from the costume museum in Moulin. Our aim was to offer an exhibition focusing mostly on performing arts, and we succeeded. I also think that this exhibition will be quite attractive for children." With its content, which is refreshed on a monthly basis, Arkas Art Center Children's Workshops await young art lovers for the "1001 Nights" exhibition.
In the workshops, children will have the chance to build their own tales, transact their imaginations on paper and create their own extraordinary designs.