Dating back to the 17th century when Istanbul's Kuruçeşme district was a coal market, an Ottoman-era Turkish bath has been transformed into a multifunctional art hub after careful renovation. The 300-year-old bath once catered to coal store workers who wanted to clean up after a long, dusty day in the marketplace as well as a place for them to rest and socialize. The structure is now a focal point of service of art and art lovers as the Hamam Arts Hub (HAH).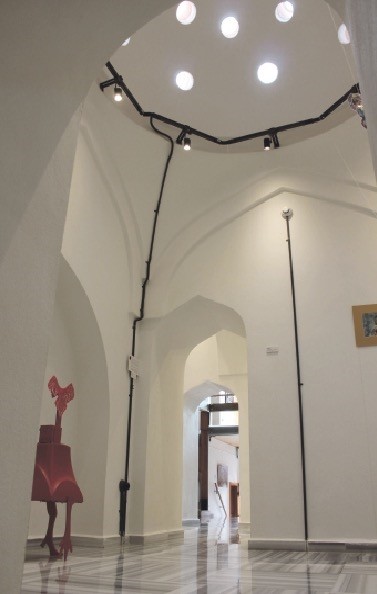 Standing out among its peers for its architecture and inspiring atmosphere, the Hamam Arts Hub is notable not only as an art gallery, but also as a diversified, multifunctional ecosystem that harbors art in its center. The Hamam Arts Hub, which serves a broad spectrum ranging from classical to modern and digital art, will also present opportunities for young artists to work and produce together.
At the arts hub, a space that encourages entrepreneurship and creative production, will also serve as a creative center by offering art classes and national competitions in addition to its gallery, where collectors can buy art pieces. In addition to its design shops, the hub will also feature Artcafe, a meeting and social hub for art lovers.
New-generation center for art
The key figure behind Hamam Arts Hub is Ersin Pamuksüzer. Expressing that they are excited to offer a new art hub to Istanbul thanks to the renovation of the historic Ottoman bath, Pamuksüzer said: "We describe the hub as a new generation attraction for the arts. The main function of the building as a venue is hosting exhibitions; however, we will also offer a space for artists who want to practice creative productions.
"Hamam Arts Hub's main function is to hold exhibitions on classic art and holding digital art exhibitions, enabling practice areas and holding conversations and workshops on creative production. It would actually be better if we called it a meeting center. Our main aim is to harmonize the old, stereotyped notion of art with its new version and present it to the masses. At the same time, we also work for standing as an e-commerce hub on an international scale. We work for enabling a world where both African and Chinese artists coexist. We dream of a new world, where people talk to each other and bounce ideas of each other. When you look at the world, our organization would be among pioneering ones in the international arena."
Pamuksüzer stated that the Hamam Arts Hub will serve also as a platform where artists and art consumers will interact and added: "It wouldn't be wrong to describe the hub as a marketplace. On the other hand, the platform also acts as a social entrepreneur in a way. We will work to maximize the ecosystem and modernization, preserving it for the future. We operate the Hamam Arts Hub as a start up."
'Waterschool' still on display
Gallery Binyıl, one of the art centers of Hamam Arts Hub, is hosting the exhibition "Waterschool" under the context of "A Schools of Schools" co-organized with the 4th Istanbul Design Biennial in mind. The exhibition focuses on the architectural concept of buildings and will be open until Nov. 4 at Hamam Arts Hub.