Known for her human sculptures filled with emotion, ceramic artist Melis Kolyozyan is meeting art enthusiasts at Nail Bookstore in Istanbul's Kuzguncuk district with her third exhibition, "Over the Rainbow.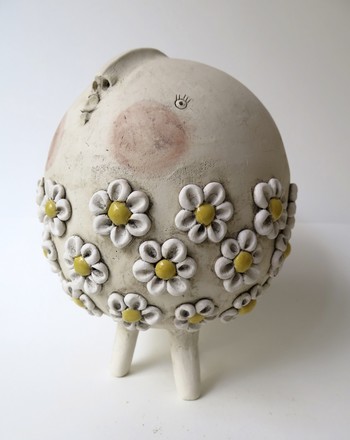 The exhibition invites visitors to a dream world full of emotional, colorful and happy characters from the artist's inner world.
As it is obvious from her two former exhibitions, Kolyozyan aims to make art lovers smile with her sculptures and promises them a poetic journey. Inspired by people, their dreams, emotions and thoughts, the artist presents ceramic, which is quite a stiff material, in an unexpectedly soft form.
Egg sculptures that she made with reference to Faberge eggs and her bell designs, which were placed in the competition at Art School of Douai in France, are also among the pieces in the exhibition.
Expressing that her exhibition, presented in rainbow colors, will touch upon the children living in the hearts of all, Kolyozyan said, "If a sculpture I make makes me smile and happy, I get satisfied with the piece. I love the human figure in its purest and rounded form. It makes me happy to have a soft piece of art by using a stiff material."
The exhibition, which embraces art lovers with its title "Over the Rainbow," is open to visit until Nov. 3, 2018 on weekdays and weekends between 9:30 a.m. and 7 p.m.
About Melİs Kolyozyan
After completing her business management education in France and some experience in the sector, Kolyozyan started to work in ceramics - which is her passion - at Aslı Aydemir Ceramic Atelier in 2009. She practiced ceramic art in all the details and with all the difficulties for five years and she decided to go on working in the area by maximizing the pieces after her training from French artist, Sophie Gilloen.
Her custom-designed bells were placed in the competition at the Art School of Douai in France and were exhibited there. She started to learn painting, being taught by illustrator Beril Ateş, to nourish her three-dimensional works with two dimensional ones. She created scenes and sculptures with a combination of the two different forms. The artist doesn't consider a work completed if it doesn't make her smile and happy.