The eclectic triad behind the Oddviz collective all hail from Ankara, and were born in the same year, 1983, placing them as three among a generation who remember life before the omnipresent pervasions of digital experiences and personal computers, when growing up meant dirty hands, scraped knees, backwoods forts and getting lost. By the time academia bared its sterilizing fangs enough to calm the wild spirit of youth during that pre-digitized paradigm into formal training in standardized disciplines, the early waves of new media had begun to crash ashore on the teenage consciousness of the 1990s, with the affordability of handheld video cameras and other recording and playback devices with which to possess and remix reality.
That old world flowed past human eyes with a slow fade. Contemporaries then embraced the fleeting quality of existence with a full heart, void of virtual alternatives, immersed in direct perception. Audiovisual stimuli were not as thoughtlessly dismissed within instantaneous, prefabricated frames built to take and trash the increasingly trivialized present, influencing bad habits since popularized to abandon by social media addicts and the reckless consumerism of the global middle class.
As artists with an intuitive sense for the evergreen quality and creative pliability of contemporary knowledge, Oddviz uses digital technologies to conceive photogrammetric virtual installations. It's a concept that combines a variety of shared, technical, and artistic skills in new media software and equipment, allowing the collective to mine the formative curiosities of millennial youth with a common knack for computer innovation.
Oddviz are the elders of an increasingly auto-digitized generation, inspired by efforts to document and visualize the rapidly changing fronts of destructive urbanization around the world. Erdal İnci, for example, is a painter by education and generally the best known artist from the Oddviz crew, gaining notoriety in the nether world of Tumblr GIFs in 2013 and with the recent Times Square installation of his video work, "Centipedes" (2015). He experimented with digital media as early as 2002, and previously worked with Art On as an individual artist, yet has since dedicated himself to Oddviz and its Inventory containing hundreds of photogrammetric models to create virtual installations.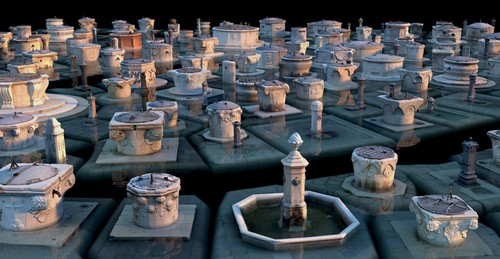 "Venice II," 2018, fine art print, 80 x 175 cm.
Oddviz reclaims the preemptive drive of millennial youth to prompt digital revolution, employing its latest advances towards hardened, photorealist insights into the vanishing cityscapes of the globalized world, in the process spotlighting zones of collective amnesia and public negligence that come when people are oversaturated with streams and threads of vivid online content, yet do not even seem to notice, or at least remain silent, when the physical reality around them is altered overnight, or slowly disappears, whether by a sleight of overreaching human hands, or by the foreboding changes expected from the planet as a whole.
Serkan Kaptan, an environmental engineer by training, also has a strong background in artistic disciplines such as sculpture, and Çağrı Taşkın is the architect of the clan, yet each individual in Oddviz holds the skills of the collective, fully capable of producing the creative work of the group alone.
An odd artistry
Oddviz began as a trio of high school friends in Ankara. On entering university and later the professional world, they pursued separate paths apart for a decade, developing themselves in the diverse fields that they now bring to the table in Moda when hashing out the next concept with interdisciplinary approaches that have made for an exciting visual blend for the contemporary art world in Istanbul, foreshadowing a highly international presence.
In 2016, they went on a trip together to Mardin, packed a surveillance drone and DSLR cameras, to produce a 3D model of the ancient, hilltop city in Turkey's southeast. Executing techniques in photogrammetry brough them together to form Oddviz, the umbrella identity that they have posted behind on various platforms, including Twitter, which features the collective's entire project chronology since its inception at the Dara necropolis in Mardin, uninterrupted and solely dedicated to creative works.
A day after first posting on social media, Oddviz began to experiment with the 3D form of Mardin's old town, which they captured using photogrammetry in just a single day, folding its shape into a virtual cube. The initial series that they produced was called "Contextures," also starting with models of Istanbul's abandoned Jewish orphanage in Ortaköy, the El Orfelinato. A similar work released as the first official Oddviz artwork in May of 2017 unraveled the interior of a hotel in Nişantaşı with 10,000 photographs, earning the young collective a clip in Time Magazine. Its design involved a dynamic manipulation of virtual lighting, which is central to the meticulous vibrancy exhibited at the current show, Inventory.
While the techniques used by Oddviz are also employed by archaeologists, architects, geologists, and mapmakers, the collective focuses its efforts in the visual arts context. In fact, although the three artists are extremely well educated as academic researchers, Kaptan, for example, holds a doctorate from the Ecological Sciences Institute at Boğaziçi University, they gained working knowledge of photogrammetry and 3D modeling simply by watching instructional YouTube videos.
"It's a technique for the new generation. It's 3D, photorealistic. We manipulate the models using Agisoft PhotoScan. We stitch them all into a 3D model with photographic texture. Our first works were architectural works. For the last year, we have been working on the Inventory series. Taking pictures in a building requires bureaucracy, permissions from the owners, limited time, therefore we started shooting in public space," said Kaptan, standing proud with İnci before the photogrammetric virtual installation "Kadıköy I" (2018) mounted on an acrylic Diasec print, relishing in the fruit of his labors with his old chums from Ankara, now exhibited brightly inside the core downtown gallery at Art On Istanbul only a few steps from Pera Museum.
In Kadıköy, they started circling the painted, concrete bollards that, until recently, complemented the tram-lined thoroughfare of Bahariye Avenue, central to the neighborhood for its cultural vitality, photographing them at every angle.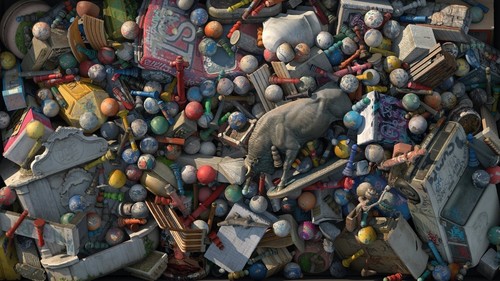 "Kadıköy I," 2018, diasec print, 150 x 266 cm.

They did the same with quirky landmarks iconic to locals, like a graffitied car junked for seven years along a street famed for its night life until it was towed away only months ago, not long after Oddviz photographed it. Sadly, the radiance of the bollards has faded. Once the medium for artisans and craftsmen who beautified them with traditional Turkish floral patterns and hand-knit yarn, the public objects were recently covered with monochromatic paint, courtesy of the municipality. The accompanying piece, "Kadıköy II" (2018), another photogrammetric virtual installation, further condenses such bygone aesthetics of public good into a kaleidoscopic ball pool intermixed with street stands.
A global visualization
The gleaming photorealism exhibited by the eight stills and two video works at Inventory is accented by the spontaneous spectrum of inner city life as it douses and smears every last surface with the mark of unselfconscious, collective human expressionism. It is a repetitive, eye-popping effect ingeniously realized by the pieces from New York City especially. The sculpted form of the bull appears paralleled from Kadıköy to Wall Street in "Manhattan I" (2018), a photogrammetric virtual installation keying on the fire hydrant as a symbol for street culture in the Big Apple, where cutouts of sidewalk are raised to the heights of skyscrapers, upending the classic visualization of wealth inequality in the city that is sleepless for many reasons.
As a moving image, "Wall Street" (2018), a 4K resolution single channel video loop, trains the eye to reimagine light as a purely digital phenomenon using Global Illumination (GI) technology. A day of moving sunlight passes in under three minutes above the confrontational pair of cast bronze guerrilla installations "Fearless Girl" (2017) and "Charging Bull" (1989).
In Venice, the 4k single channel video loop, "Acqua Alta" (2018), exhibits the technical artistry that Oddviz advances in its digital rendering of water, which, in comparison with the light of the New York piece is not as riveting, though what it lacks in visualization, it makes up for in its statement. According to predictions formulated by climate change scientists, rising water levels along the storied canals of Venice are due to sink the entire open-air museum of a city in a matter of decades.