Having held more than 20 exhibitions in Kyrgyzstan, Russia and Kazakhstan, painter and decorative glass artist Kaiyrgul Kazybekova is now in Istanbul with her exhibition "Art Engraved on Glass" which opened on Nov. 17 at the Topkapı Turkish World Cultural Site. Showing until Nov. 25, the exhibition offers necklaces, earrings made of engraved glass, and abstract and still life paintings in addition to charcoal drawings by the artist.
The exhibition opened with the support of the Istanbul Metropolitan Municipality Culture Company, the Consulate General of Kyrgyzstan in Istanbul, Baktıbek Umetov and Head of the Turkish World Cultural Site and Panorama 1453 Historical Museum, Salih Doğan.
The General Secretary to the Union of Municipalities Fahri Solak and many art lovers attended the opening ceremony.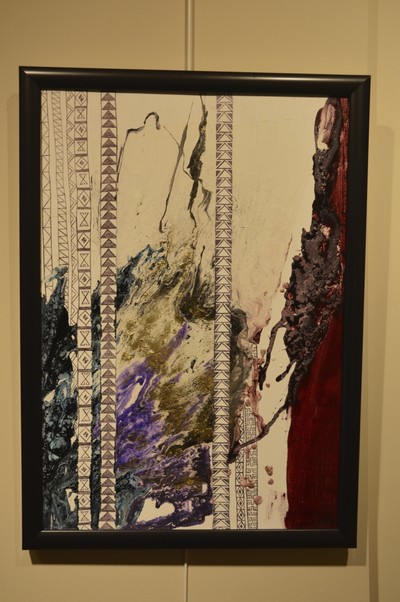 One of the paintings made by glass artist Kaiyrgul Kazybekova.
In addition to glass engraved jewels, abstract and still life paintings and charcoal drawings, the artist also produces custom-made designs such as special home decors, chandeliers, tables, coffee tables and paintings.
Kazybekova's work is part of the private collections in Asian countries, the U.S., U.K., France, Korea, Canada, Germany and other countries.
The exhibition is on until Nov. 25 between 8 a.m. and 5 p.m.
Kaiyrgul Kazybekova
Born in Osh, in Kyrgyzstan, Kazybekova graduated from the Chuykoy State Faculty of Arts, Decorative Department in 1991 and Osh State University Faculty of Fine Arts and Sketch in 2003. She is a member of the Kyrgyz Republic Association of Artists.
The first practitioner of the art of glass painting in Kyrgyzstan, Kazybekova was interested in the art of graphics at first and produced 150 delicate works in total. Exhibited in the 1990s, the works are titled "Family," "Suleiman, Too Sacred Mountain," "Birth of the New Life" and "Metamorphosis." Her personal exhibitions held in Osh and Bishkek, offer pieces that reflect the inner world of the artist and about meaning of existence, temporary moments of happiness, hope, expectations and failures. Creating a different area in addition to charcoal and oil painting, Kazybekova combined her master drawings with the technique of glass painting.