It was only by chance that Ömer Erkaraman discovered his talent for wood carving some 20 years ago. The 65-year-old retired architect from İzmir has since devoted himself to producing intricate wood engravings. The Ministry of Culture and Tourism has recognized his craftsmanship with a certificate of mastery.
At first, Erkaraman, who is married with two children, would work at the weekends with a fret saw that he had found lying around the house. First, he drew a layout on a piece of wood and tried to cut out patterns using the saw. And he was quite happy with the work he created. He started off with big and rough sketches before moving on to patterns with fine details.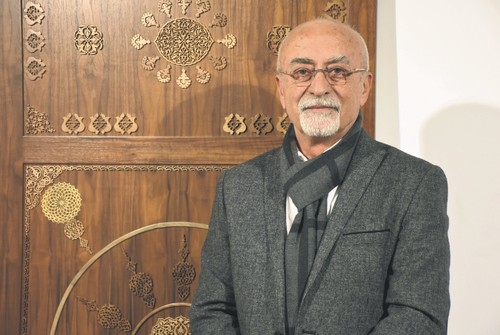 The retired architect said that he wanted to transfer his mastership to young people and he teaches various courses in Izmir.
Erkaraman does not have any formal training and only improved himself through practice. He was eventually accorded a certificate of mastery by the Ministry of Culture and Tourism.
He focused more on wood carving following his retirement. Now he is patiently and laboriously working on motifs from the Ottoman and Seljuk periods.
Speaking to Anadolu Agency (AA) in Gaziantep, where he opened a new exhibition, Erkahraman said, "The art of wood carving is known as 'naht.' I use wood from walnut, olive and pear trees in my works."
He thinks the essence of this art is patience. "It is not something you can do if you do not like it. It is not a job that you can finish in an hour. For example, a door can take up to six months. Even the simplest table can take at least two years. If you are patient and love doing it, you can perform. Otherwise, it will be like a torture," he said.
'I started this art by chance'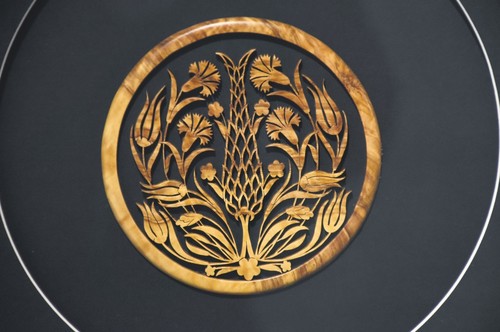 Ömer Erkaraman has been patiently and laboriously decorating his pieces with motifs of the Ottoman and Seljuk periods for 20 years.
Erkaraman said that it was a pleasure to discover the art on his own. "I was doing something with a fret saw. I could cut with it and liked the patterns I had made with it. As this talent improved in time, I started doing patterns with fine details. I started woodcarving totally by chance. I did not have a master and learned everything through trial and error," he said.
So far, he has had eight exhibitions in Istanbul, Bursa, Muğla, İzmir, Gaziantep and Karaman, receiving very nice responses from visitors.
Like treatment with rehabilitation
The retired architect said that he wanted to teach his craftsmanship to young people and started giving lessons seven years ago.
"So far, I have created more than 90 paintings, I have made more than 10 frames. I have been teaching this art at public education centers and in various places for seven years now. I continue to teach with the help of Karşıkaya Municipality. When you perform this art, your whole relationship with the world is cut. Consider it like a treatment by rehabilitation after you concentrate on the work. There is no other appropriate explanation for it. It is a kind of treatment that is an occupation. It is very comforting," he added.
Erkaraman said he wanted to do engravings for a large door. "If the authorities are interested, I would like to make a door for the Çamlıca Mosque on Istanbul's Çamlıca Hill. It will be a great honor for me," he said.