Simply standing up for equality, feminism has always been misjudged throughout its history. Some discredited it while others were just mocking. However, it should be accepted that it served as an ideology that paves the way for gender equality and creates awareness in the topic of women despite all the misconception.
There have been many pioneering women who put up a fight for women's rights for decades within the context of feminism. From Mary Wollstonecraft, who wrote one of the earliest works of feminist philosophy, "A Vindication of the Right of Woman," to the Suffragettes like Emmeline Pankhurst, from Victoria Woodhull, the U.S.' first female presidential candidate, to writer Virginia Woolf and actress Katharine Hepburn. All of these women contributed to visibility of women as an equal sex.
After all these efforts, feminism also developed itself and feminist waves occurred in time. While it was evolving, it had already penetrated into many fields including art, which affected artists.
The art of ceramics, which is on the rise nowadays, can be an example as an art field the artists of which are under the influence of women's issues. The history of this art dates back to ancient times. When human being discovered clay, formed and fired it, the base of this art was laid.
In time, ceramic art has gone through a profound transformation. While it was considered less important than other art fields hierarchically, many artists, especially contemporary ones started to produce ceramic artworks to express themselves or their ideas in the modern world.
Chinese artist Ai Weiwei can be a model artist in this group. One of the most influential figures of contemporary art, Weiwei opened a porcelain exhibition at Sabancı University's Sakıp Sabancı Museum in Istanbul. His porcelain artwork mingled traditional art with modern interventions.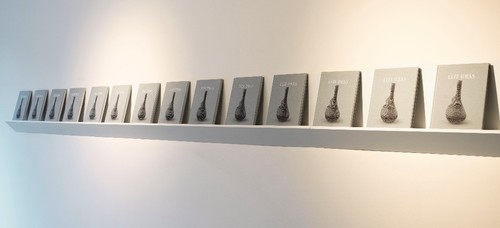 Elif Uras' first monograph comprises of essays by internationally acclaimed writers such as Ahu Antmen, Amy Smith-Stewart, Kathy Battista and Merve Ünsal.
Maybe the aspect of bringing traditional and modern perspective together in ceramics art was one of the features that have made it popular recently. In this context, Turkey has a rich culture in both traditional and modern ceramics.
Turkish-born artist Elif Uras is one of the artists who have been contributing to this rich culture with a large number of works. Uras comes to the forefront with not only being an artist who deals with ceramics but also one who focuses on women issues in her craft.
Having been born in Ankara province in Turkey, the artist attended Brown University and Columbia Law School before receiving a bachelor's degree in arts from the School of Visual Arts and master's degree in fine arts from the Columbia School of the Arts. She started her career in art with painting.
Speaking to Daily Sabah, the artist said that she applied paste on canvases before reflecting her stories with various colors on them. In this way, she had a brighter painting that reflects the pigments of colors.
Uras stressed that she started to think that maybe it was possible to make such an image on ceramics due to their structure. Thus, her journey in ceramics started. She first went to İznik, Bursa more than 10 years ago.
As mentioned, Turkey has a rich culture in this field, and İznik appears as one of the important places in the country since it is well known for its famous ceramics. The town is the place where the most renowned tiles and ceramics of the Ottoman Empire were produced centuries ago.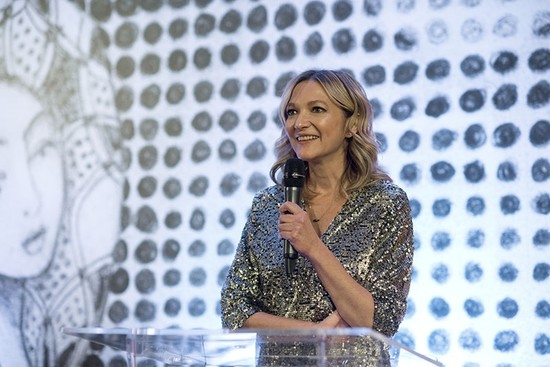 Starting work at the İznik Foundation, Uras highlighted that she wanted to see what she could do with ceramics. Her initial works which were about women and domestic figures were actually a hint for what was to come in her later works.
She was learning the techniques and tradition of ceramics in İznik but she always desired to create her own language. She began to prepare her own style after being influenced by motifs and different techniques in the town and by installing woman figures in her works. Like in her previous paintings, Uras explored specific ideas, such as the status of women in the context of the East-West conflict paradigm and shifting gender and class structures in a globalized neoliberal world where culture is often infused with consumerism. In this connection, the artist contributes to the topic of women in art like all the other feminist women mentioned before.
However, her perspective in her artwork was not just women. As the combination of tradition and modernity made ceramics a shining star in the art world, Uras further addresses the conflict between modernity and tradition in her art.
Her "Belly" series, comprising of ceramic vases, can be seen as a good proof to these two perspectives. Uras remarked that it was impossible for her to be away from Turkish tradition while creating these vases in İznik.
For example, the "Line Belly" in the series is a curl vase with lines on it. The artist was inspired by both Western minimalism and also a tankard that was made in İznik in the 16th century while creating the artwork. That is, the vases are affected by both traditional and modern forms as well as being a synthesis of East and West. However, another interesting thing about her artwork is their shapes. Uras prepared them in a curved shape to point out a woman's body, which reminds us of her general dominant perspective.
After long and productive years, Elif Uras' first monograph was prepared as part of Kale Group's 2018 project. The project comprises of essays by internationally acclaimed writers such as Ahu Antmen, Amy Smith-Stewart, Kathy Battista and Merve Ünsal.
Edited by independent editor, curator and writer İpek Ulusoy Akgül, the publication investigates the feminist undertones of her works and the diverse traditional techniques utilized in the ceramic objects. Kale Group President and CEO Zeynep Bodur Okyay said that it gives an opportunity to witness the imagination of the artist.
"I believe that the artist, who carries the traditional traces of our geography, leaves a permanent work to the world with this book," Okyay added.
The monograph provides extensive visual documentation and also includes a recent conversation between the editor and the artist. Examining the works of the artists starting from the 2000s, it presents different entries to her practice. Ahu Antmen focuses on the women figures of Uras' paintings and ceramics questioning modernity, consumption and tradition and relates them with the works of modern pioneers in her article.
On the other hand, Amy Smith-Stewart refers the variety of the artist's references and resistant side of her works in the context of social gender relations and critic art practices. Similarly, Kathy Battista creates a parallelism between the women figures of the artist and the second wave feminism. Lastly, Merve Ünsal speculates how Uras approaches her materials, representations and perspectives.
Uras stressed that they wanted to present this special monograph somewhere other than an ordinary exhibition space. She said they chose a place next to the Galata Greek School because it has cultural and historical importance and a different atmosphere. Uras also prepared a site-specific installation titled "The Source," realized under the leadership of Galerist and again within the frame of Kale group's project.
Exploring ideas of shared heritage, cultural hybridity, tradition and pluralism, "The Source" features a functioning ceramic fountain, a tiled wall, and new drawings presented in ceramic frames. An extension of Uras' spatial explorations, her tiled wall composed of 2,500 mosaic pieces gets inspiration from the Çinili Köşk (Tiled Kiosk) in Topkapı Palace. Her anthropomorphic sculpture is a feminized version of the fountains in the Ottoman Imperial garden of the palace.
In dialogue with the female figure in her fountain, the artist's works on paper portray female protagonists presented to us with their gifts. The installation, which was opened on Nov. 24, will be on display until Dec. 30.