Tens of thousands of people prepared to spend the night in the open under a chilly and thundery sky after a powerful earthquake shook Nepal on Saturday, killing over a thousand people, collapsing modern houses and centuries-old temples, and triggering a landslide on the slopes of Mount Everest. Officials said the death toll will rise as more reports from far-flung areas come in.
The magnitude 7.8 earthquake, which originated outside the capital Kathmandu, was the worst tremor to hit the poor South Asian nation in over 80 years. It was so powerful that it was felt all across the northern part of neighboring India, Bangladesh, Tibet and Pakistan where a total of 50 people died, whereas the death toll passed 2,000 in Nepal.
Several buildings collapsed in the center of the capital, including centuries-old temples, said resident Prachanda Sual.
He said he saw people running through the streets in panic. Ambulance sirens blared and government helicopters hovered overhead.
The earthquake in Nepal has killed 1,457, the Nepalese Army, Finance Minister Ram Sharan Mahat wrote on his Twitter account.
The quake measuring 7.9 is the strongest to hit the country in 81 years.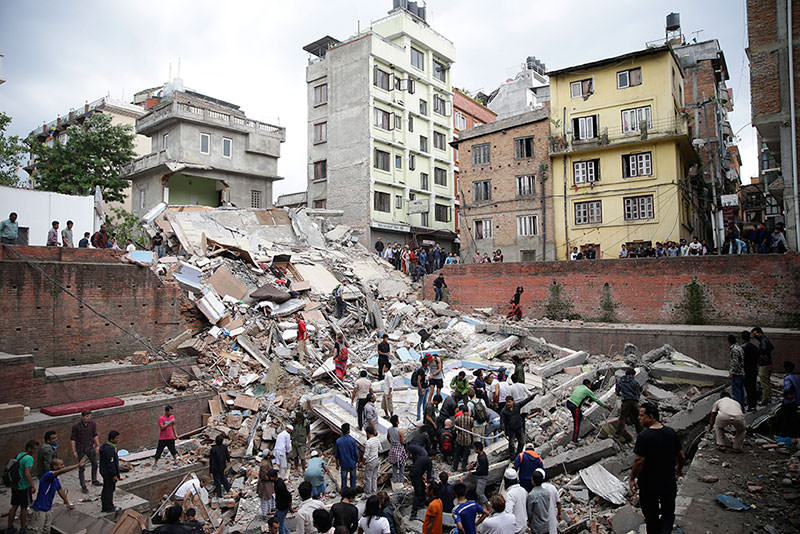 The quake also triggered an avalanche in Nepal and buried a part of the base camp for climbers bound for Mount Everest, killing at least eight people, Nepal's tourism ministry said.
"The toll could go up, it may include foreigners as well as sherpas," tourism official Gyanendra Shrestha said.
Romanian climber Alex Gavan had before said on his Twitter that there had been a "huge avalanche" and "many, many" people were up on the mountain.
"Running for life from my tent," Gavan said. "Everest base camp huge earthquake then huge avalanche."
Everest base camp huge earthquaqe then huge avalanche from pumori.Running for life from my tent. Unhurt. Many many people up the mountain.

— Alex Gavan (@AlexGAVAN) April 25, 2015
Another climber, Daniel Mazur,had said Everest base camp was "severely damaged" and his team was trapped.
"Please pray for everyone," he said on his Twitter page.
A Massive earthquake just hit Everest. Basecamp has been severely damaged. Our team is caught in camp 1. Please pray for everyone.

— Daniel Mazur (@danielmazur) April 25, 2015
Nepal's national radio warned people to stay outdoors because more aftershocks are feared. It is also asking people to maintain calm.
The epicenter is 80 kilometers (49 mile) northwest of Kathmandu. The Kathmandu Valley is densely populated with nearly 2.5 million, with the quality of buildings often poor.
Nepal suffered its worst recorded earthquake in 1934, which measured 8.0 and all but destroyed the cities of Kathmandu, Bhaktapur and Patan.
The Turkish Foreign Minister released a statement on Saturday, noting that Turkey has reached out to some of its citizens in Nepal and no Turkish citizens have been reported in casualties so far.