The Afghan parliament was attacked by the Taliban in Kabul in a series of explosions and gunfire, forcing politicians to evacuate. The Taliban claimed responsibility for the attack.
According to police sources, the attack apparently started when a suicide car bomb exploded outside the parliament building yesterday. Attackers then continued the offensive, firing from a building that was under construction across the street. At least three police officers were injured in the attack, Afghan police said. According to witnesses, at least six explosions were heard in the vicinity of the parliament. Members of parliament were evacuated to safety.
According to Afghan police, the six Taliban gunmen who attacked the parliament have been killed. "One Taliban fighter driving a car detonated a bomb outside the parliament gates and six others took up positions near the building. Afghan forces killed six of them and all lawmakers were safe," Ebadullah Karimi, the Kabul police spokesman, said. According to the U.N., two civilians, a woman and a child, were killed, and at least 40 civilians were wounded in the attack.
The Afghan Vice President Sarwar Danish was at parliament to introduce a new nominee for the defense ministry and the Taliban, in a statement claiming responsibility, suggested this was the reason for the attack. "Suicide bombers attacked the parliament building when they were preparing to give a vote of confidence for a nominee for the Ministry of Defense" he said.
The Taliban spokesman Zabihullah Mujahid claimed responsibility. "We have launched an attack on parliament as there was an important gathering to introduce the country's defense minister," he said.
Lawmaker Farhad Sediqi was among several lawmakers who criticized security agencies for not preventing the attack. "It shows a big failure in the intelligence and security departments of the government" he said.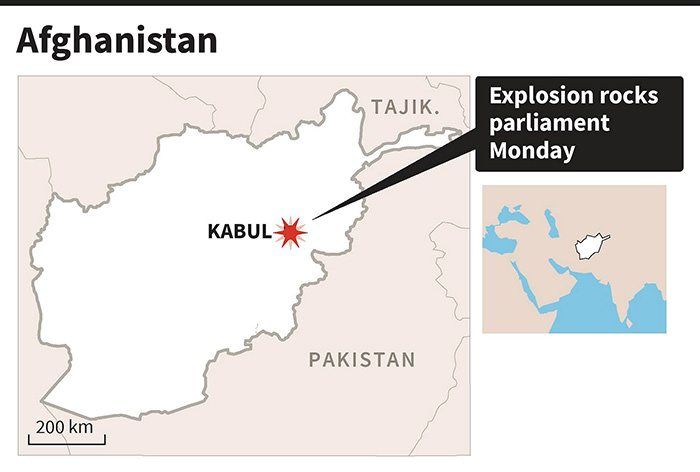 Violence has spiraled in Afghanistan since the departure of most foreign forces. The insurgents are pushing to take territory, more than 13 years after the U.S. led military intervention that toppled the Taliban from power. According to the U.N. the Taliban were responsible for 76 percent of civilian casualties in Afghanistan.

Amnesty International have claimed the Taliban commit war crimes by targeting civilians. As of 2015, tens of thousands of people have been killed in the Afghan war. The United Nations Security Council has established the International Security Assistance Force (ISAF) soldiers and civilian contractors. Over15,000 Afghan national security forces members have been killed. It is estimated that between 25,000 and 40,000 Taliban fighters have been killed and some 19,000 civilians have been killed during the clashes between U.S. forces and the Taliban. Since 2001, more than 5.7 million former refugees have returned to Afghanistan, but 2.2 million others remain refugees. The war in Afghanistan is the longest war in U.S. history.