Attackers set off suicide bombs and exchanged gunfire outside a Starbucks cafe in Indonesia's capital in a brazen assault Thursday that police said "imitated" the recent Paris attacks.
All five attackers and a Canadian and an Indonesian died in the midmorning explosions and gunfire that were watched by office workers from high-rise buildings on Thamarin Street in Jakarta, not far from the presidential palace and the U.S. Embassy, police said. Another 19 people were injured.
When the area was finally secured a few hours later, bodies were sprawled on sidewalks. But given the firepower the attackers carried handguns, grenades and homemade bombs and the soft targets they picked in a bustling, crowded area, the casualties were relatively few compared to the mayhem and carnage caused by the Paris attacks.
"We have identified all attackers ... we can say that the attackers were affiliated with the ISIS group," national police spokesman Maj. Gen. Anton Charilyan told reporters, referring to the Daesh terrorist group.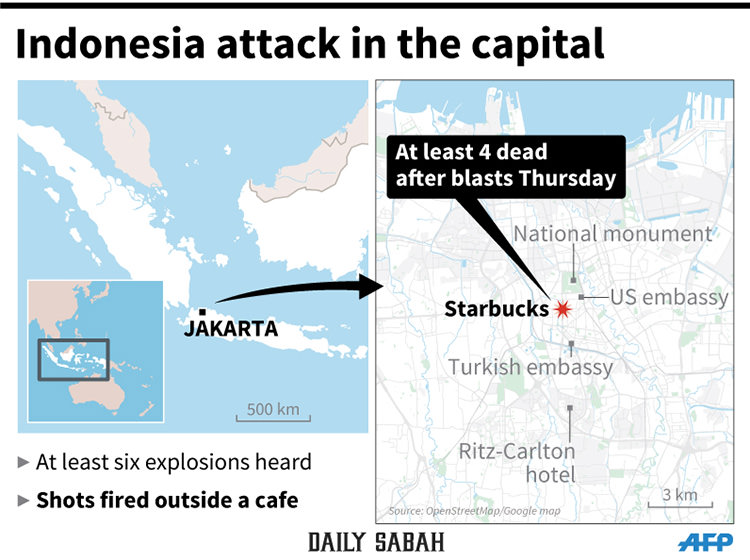 Gunshots were heard after the midmorning explosion in front of the Sarinah shopping mall and a police station. The area also has many luxury hotels, and offices and embassies, including the French. The other set of explosions were in neighborhoods where the embassies of Turkey and Pakistan are located.
Tweets from the account of Jeremy Douglas, regional representative of the United Nations Office on Drugs and Crime for Southeast Asia and the Pacific, described a bomb and "serious" exchanges of gunfire on the street outside his Jakarta office. "Didn't experience this in 3.5 years in #Pakistan," he wrote.
"A massive #bomb went off in front of our new #Indonesia office as @collie_brown & I exit car. Chaos & we're going into lock-down," he wrote. And three minutes later: "Apparent #suicidebomber literally 100m from the office and my hotel. Now gunfire."
About 30 minutes after his first post about the bombing, he posted that things were "quiet. Not comfortable quiet."
Indonesia has been a victim of several bombing attacks in the past, claimed by Daesh-like terror groups.
Last month, anti-terror police arrested nine men and said the group had wanted to "perform a 'concert' to attract international news coverage of their existence here." Police cited a document seized from the group that described the planned attacks as a "concert."
The country has been on high alert after authorities said they had foiled a plot by Daesh terrorists to attack government officials, foreigners and others.
About 150,000 police officers and soldiers were deployed during New Year's Eve to guard churches, airports and other public places.
More than 9,000 police were also deployed in Bali, the site of Indonesia's deadliest terror attack, which killed 202 people in 2002.
National Police spokesman Maj. Gen. Anton Charliyan said security is focused on anticipating attacks in vulnerable regions, including Jakarta.