The outpouring of sympathy generated by the detention and likely deportation of a baby girl born in Australia to Nepalese parents could become a dividing point in public opinion about the country's harsh asylum seeker policies.
Australian officials announced Monday that a baby, seeking asylum after having been brought to the capital city of Canberra from a Pacific detention camp for hospitalization and medical treatment, will be returned to the camp as a message to smugglers, despite protests from doctors and others.
Under Canberra's tough immigration policy, asylum-seekers attempting to enter Australia by boat are being sent to camps in Papua New Guinea and Nauru, where they are held while their refugee applications are processed. They are then blocked from resettlement in Australia even if found to be refugees.
The infant, known only by the pseudonym Asha – Nepalese for "hope" – has put a name to the faces of hundreds of anonymous asylum seekers being faced with deportation from Australia to a detention camp on the South Pacific island of Nauru.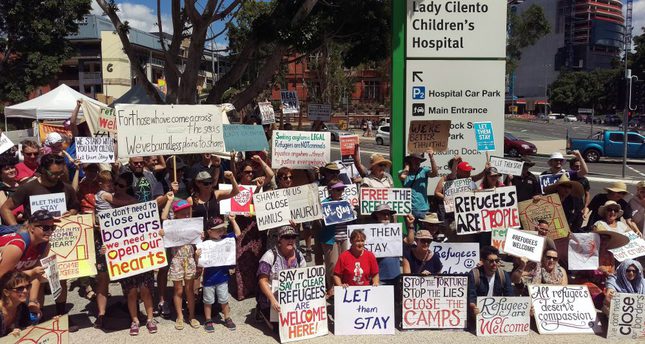 Asylum-seeker advocates outside Brisbane's Lady Cilento Children's Hospital in support of 1-year-old Asha in Brisbane, Australia on Feb. 21.


The case of one-year-old Asha prompted a stand-off between doctors and immigration officials and weeklong rallies held outside of the Lady Cilento Children's Hospital. Medical staff refused to release the little girl until a suitable home environment had been ensured for the little girl, who was brought to Brisbane after suffering burns last month.
The outpouring of public support, which included an overnight blockade at the Brisbane hospital where she was being treated for severe burns, has been compared by some to the shocking images of the young Syrian boy whose lifeless body washed up on a Turkish beach last year.
Supporters credited the week-long protest at the hospital with forcing the hand of Immigration Minister Peter Dutton, who had Baby Asha and her family moved to a local community detention facility yesterday, allowing them some freedom of movement.
"What is resonating is that a lot of people are looking at that baby and thinking 'thiscould be my child,'" said Kon Karapanagiotidis, the chief executive officer of the Asylum Seeker Resource Centre.
People at the blockade carried posters with the pixelated face of the baby girl.The hashtag #BabyAsha was Twitter's fourth highest trending topic worldwide over the weekend when the hospital stand-off reached its climax. Churches, state governments and even New Zealand have offered sanctuary to Asha and the 266 other asylum-seekers also in Australia for medical care.
The number of asylum seekers trying to reach Australia is small compared with those arriving in Europe, but border security has long been a hot-button political issue. The coalition government led by the conservative Liberal Party came to power in 2013 on a campaign to "Stop the Boats," adopting tough measures as a deterrent. Everyone who arrives by boat is detained and sent to Nauru or Papua New Guinea's Manus Island. The government also conducts tow-backs, which refer to turning a boat back to its origin.
The policies have been widely criticized by international human rights' groups and the United Nations. Medical groups have been particularly critical of detaining children in the offshore camps, where abuse has been frequently reported. Doctors at the Brisbane hospital had refused to release Asha.
Still, Australia's High Court this month rejected a legal challenge to the country's right to deport 267 refugee children and their families brought to Australia from Nauru for medical treatment.
Asha, the first baby born while in immigration detention in Australia and to be transferred to Nauru, was flown back to Australia last month for medical treatment after she scalded herself with boiling water while learning to walk in a tent at the detention center. "In terms of a dramatic shift in community attitudes, there is no going back from this one," Ian Rintoul, coordinator of the Refugee Action Coalition, said of the public support for Asha. "I think for a large number of people this has been a turning point."
However, others said any public shift in attitude was unlikely to impact government policy. Immigration Minister Peter Dutton strongly hinted at this in a statement made Monday, when he said that Asha and her family would be returned to Nauru at a later date. "We are not going to allow human smugglers to send the message thatseeking assistance in an Australian hospital is somehow your formula foro becoming an Australian citizen," Dutton told the Australian Broadcasting Corporation. "I couldn't be any clearer – once medical assistance has been provided and the legal issues resolved, people will go back to Nauru."
Australia has also been under fire for its slow response to the Syrian crisis, resettling just 26 Syrian refugees five months after it announced an emergency intake of 12,000 "as quickly as possible."