An earthquake of magnitude 6 hit southern Japan on Thursday, bringing down some buildings, killing nine and injuring dozens of people, local media reported, but the nuclear regulator reported no problems at power plants.

The quake struck at 9:26 pm (1226 GMT) in Kumamoto prefecture, central Kyushu, at a relatively shallow depth of 10 kilometres (6.2 miles), the Japan Meteorological Agency said, which said there was no danger of a tsunami.

"The toll currently stands at nine dead," a disaster management official from hard-hit Kumamoto prefecture on Kyushu island said, after initial reports said two people had died following the quake late Thursday.
The quake was followed about 30 minutes later by a smaller one with a magnitude of 5.7, the agency said.
The stronger quake was measured at 6.2 by the US Geological Survey, which put the second quake at 5.4. Another smaller aftershock followed.
The quake struck 11 km (7 miles) east of the city of Kumamoto, the U.S. Geological Survey reported. It initially said the magnitude was 6.2 but revised it down. Japanese public broadcaster NHK said the quake registered 6.4.
There was no tsunami warning, but Japan's chief government spokesman, Yoshihide Suga, said several buildings had collapsed. He gave no more details.
"We intend to do the utmost to grasp the situation," Prime Minister Shinzo Abe told reporters. "I'm now planning to hear what we have gathered on the situation."
The Kyodo news agency reported that around 40 people were being treated at a hospital in Kumamoto city, some of them seriously injured.
A fire also broke out in Mashiki, a town of about 34,000 people near the epicenter of the quake. NHK broadcaster showed footage of firefighters tackling a blaze at a building.
Some 16,000 households in the area were without electricity and 38,000 homes had no gas supplies in Kumamoto, Japanese media reported.

The Nuclear Regulation Authority said there were no irregularities at three nuclear plants on the southernmost island of Kyushu and nearby Shikoku.
Japanese media showed watermelons falling from shelves at a supermarket in Kumamoto, located around 1,900 km (1,150 miles) west of Tokyo.
At least one aftershock struck the region.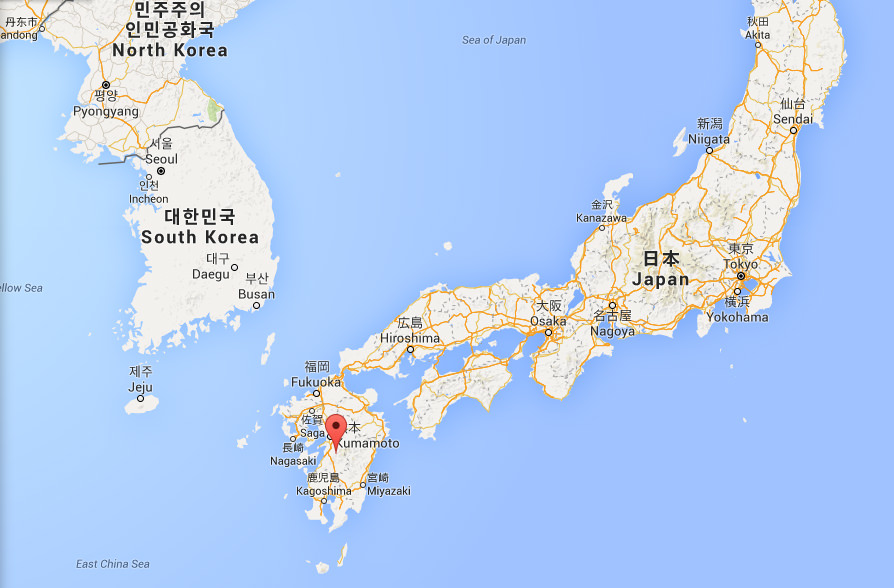 Japanese Chief Cabinet Secretary Yoshihide Suga, the government's top spokesman, said: "We are doing our best for emergency disaster measures by prioritising efforts to save and rescue victims."
"I ask people in the disaster zone to act calmly and help each other."
Japan's public broadcaster NHK also reported that some buildings had collapsed in the town of Mashiki on Kyushu with people possibly trapped underneath.
NHK showed a what appeared to be a house in flames as firefighters attempted to douse it with water.
Cameras showed violent shaking in the city of Kumamoto at the time of the quake, which was felt throughout Kyushu.
Japanese media reported that shinkansen -- bullet train -- services were halted on the island.
NHK also showed some damage including lumps of broken concrete on a street in Kumamoto prefecture. Residents stood outside making calls on mobile phones.
An official at the Sendai nuclear plant in Kyushu, who declined to be named, said the plant was operating normally but that officials were checking for any abnormalities.
NHK showed residents in Kumamoto prefecture taking refuge outside, saying that the quake's shaking was intense and had caused some power outages.
Japan sits at the junction of four tectonic plates and experiences around 20 percent of the world's most powerful earthquakes.But rigid building codes and strict enforcement mean even powerful tremors frequently do limited damage.
A quake of 9 magnitude quake struck offshore north of Tokyo in March 2011, causing tsunami waves along the coast which killed nearly 20,000 people and triggered a meltdown at a nuclear power plant.