Bangladesh hanged Jamaat-e-Islami party leader Motiur Rahman Nizami on Wednesday for alleged war crimes committed during the 1971 war of independence to break away from Pakistan, the law minister said, in a move that drew an angry reaction from his supporters, as well as the international community.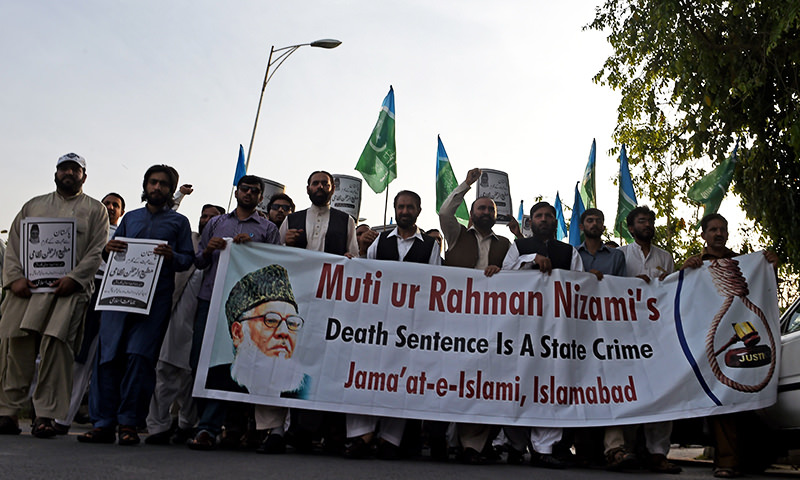 Nizami, 73, was convicted earlier of committing atrocities during Bangladesh's independence war in 1971.

Preparations to execute the Jamaat-e-Islami leader began last Thursday when the country's Supreme Court rejected his request for a review of the death sentence issued against him.
On Monday, the court's final verdict was issued and referred to the prison authorities.
The prison authorities then read the verdict out to Nizami, who was asked if he sought the mercy of President Abdul Hamid, to which Nizami reportedly replied in the negative.
Thousands of extra police and border guards were deployed in Dhaka and other major cities to tighten security.

Nizami had sought a review of his death sentence through the judicial system, but the country's Supreme Court upheld his punishment. on Thursday

Among the three major charges held against him were the killings of 480 people that stemmed from the 1971 war and the killings of dozens of intellectuals, including teachers, journalists and doctors, just two days before Bangladesh gained its independence in 1971.

Nizami, a former government minister, was one of the most important figures to be found guilty.

Nizami is the fifth senior official from opposition parties to be executed since 2013 for war crimes carried out during the 1971 war. Three other senior members of Nizami's Jamaat-e-Islami party and a top leader of the main opposition Bangladesh Nationalist Party led by former Prime Minister Khaleda Zia were also hanged.
In 2014, Nizami was found guilty of allegedly helping Pakistani forces kill some 450 people in four villages in Pabna. Bangladesh's war crimes tribunal was established in 2009 by the ruling Awami League party to investigate alleged crimes committed during the 1971 conflict.

HIS RISE AND FALL
Nizami was born in 1943 in Sathiya village of the district Pabna-north of Bangladesh. His father was Lutfur Rahman Khan. Nizami attended school at a local madrassah.
His political career started with Islami Chatra Sangha-student wing of Jamaat e Islami in the then Pakistan. Later he became the head of the organization of the Pakistan.
Nizami became the head of the Bangladesh Jamaat e Islami in 2001, when the then chief Gholam Azam stepped down.
He was the minister of the country in 2001 to 2006 during the Bangladesh Nationalist Party alliance term. He was also the Member of Parliament from his own constituency Pabna-1 in 1991.
Nizami had to leave Bangladesh after the independence when the then President Sheikh Mujibur Rahman had banned Jamaat for its collaboration with Pakistan army during the war in 1971. He returned to Bangladesh in 1978 when the President Ziaur Rahman's regime.
He is survived by his wife, two sons, their wives, grandchildren.
His body is taken to his village-Sathiya of Pabna for his funeral and burial.

PUBLIC OUTCRY
Jamaat-e-Islami, which has said the charges against Nizami were baseless, called for a nationwide strike on Wednesday in protest. Calling Nizami a 'martyr', it said he was deprived of justice and made a victim of a political vendetta.
Pakistani soldiers, aided by local collaborators, killed 3 million people and forced some 10 million people to flee the country during the nine-month war, the Bangladeshi government says, and 200,000 women were raped during the 1971 war in which some factions, including the Jamaat-e-Islami, opposed the break from what was then called West Pakistan.

What was then known as East Pakistan was renamed Bangladesh after independence in 1971.
The party denies that its leaders committed any atrocities.
International human rights groups say the tribunal's procedures fall short of international standards. The government denies the accusations.

Trying suspected war criminals has posed a major challenge for current Prime Minister Sheikh Hasina, who has faced strong international pressure to stop executing people such as Nizami who acted against the country's struggle for independence.
Amnesty International and Human Rights Watch had protested the death sentence for Nizami. The human rights groups also raised questions about the standard of the trial process.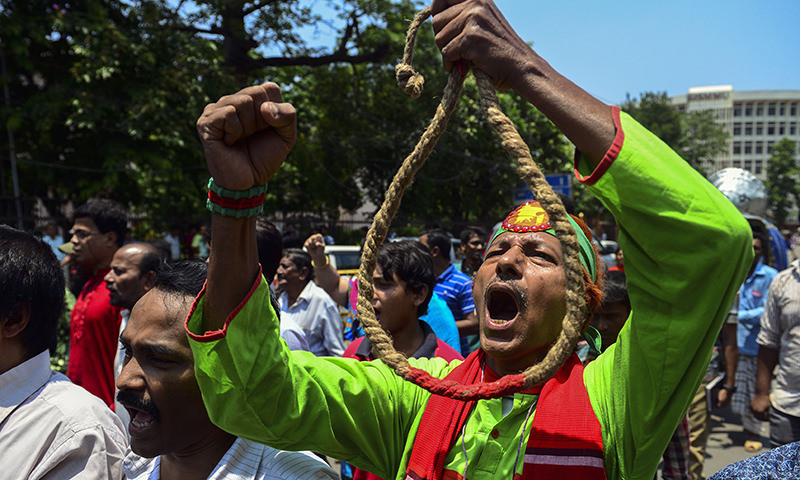 The execution of Nizami "is a deplorable move by the Bangladeshi authorities which will not deliver justice to the victims of war crimes", Amnesty International said

"The death penalty is always a human rights violation, but its use is even more troubling when the execution follows a flawed process. There are serious questions about the fairness of Motiur Rahman Nizami's trial," it added.

Meanwhile in Turkey, a group of Anatolian Youth Association (AGD) members also protested Nizami's execution. The group of over 200 protestors gathered in Istanbul's Saraçhane park and made a statement condemning Bangladesh's execution of Nizami.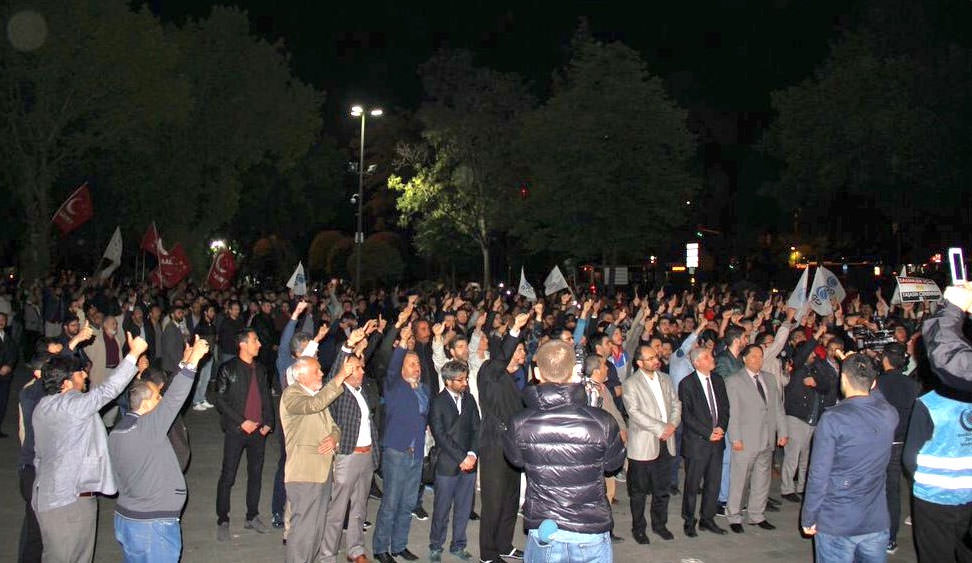 However, Hasina and her colleagues continue to reject claims that the judicial procedures were flawed.
Authorities also rejected opposition claims that Nizami's trial was politically motivated and designed to weaken the opposition, saying the families of the 1971 victims have the right to receive justice for their suffering.
The execution comes as the Muslim-majority nation suffers a surge in militant violence in which bloggers, academics, religious minorities and foreign aid workers have been killed.
In April alone, five people, including a university teacher, two gay activists and a Hindu, were hacked to death by suspected militants.International human rights groups say a climate of intolerance in Bangladeshi politics has both motivated and provided cover for perpetrators of crimes of religious hatred.