Turkey's Foreign Ministry yesterday strongly condemned Bangladesh's execution of the leader of Bangladesh's Jamaat-e-Islami party, Motiur Rahman Nizami. The ministry said in a written statement that it had learned with "great sorrow" of Nizami's execution. "We strongly condemn the execution, since we believe that Nizami did not deserve such a punishment, and we extend our condolences to the deceased." Turkey said it will continue to stand in solidarity with the "brotherly" Bangladeshi people while they work to maintain social peace. The statement said that for three years Turkey has called on Bangladesh to suspend executions, and expressed concerns that they would stoke societal tensions. Nizami was hanged at Dhaka Central Jail on Wednesday.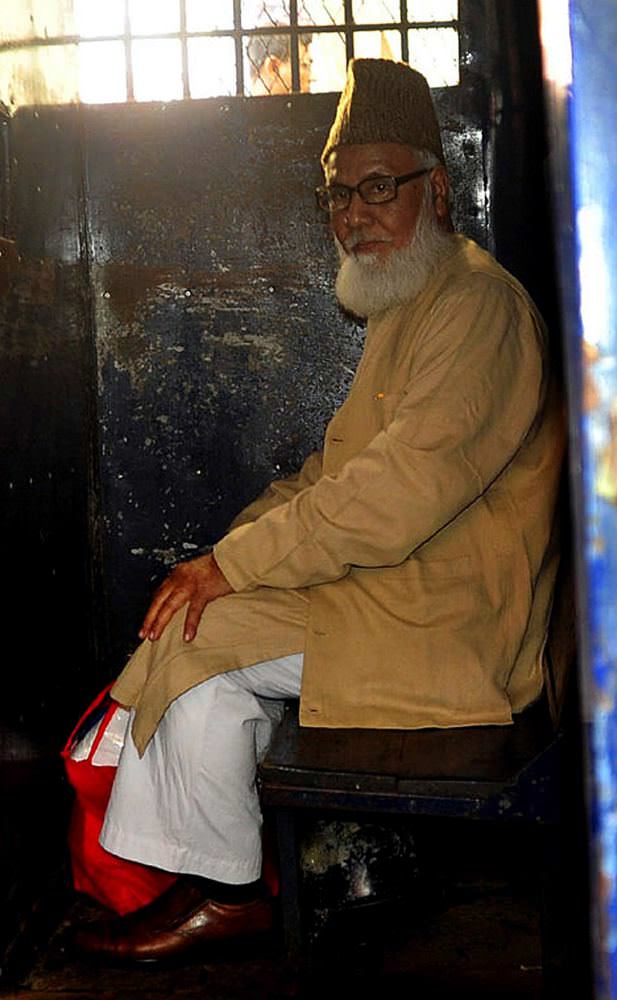 In October 2014, he was convicted by Bangladesh's International Crimes Tribunal for atrocities committed during Bangladesh's 1971 War of Independence from Pakistan, and sentenced to death. Preparations for the execution began last Thursday, when Bangladesh's Supreme Court rejected Nizami's request for a review of his death sentence. On Monday, the court's final verdict was issued and referred to the prison authorities.

Hundreds of Turks connected to several Turkish NGOs gathered overnight in Ankara to protest the execution of Nizami , and protested in front of the Bangladeshi embassy late on Tuesday, while members of the Anatolia Youth Association (AGD) gathered to loudly voice their objections in a park in Istanbul. "Oh Muslims don't sleep, protect your brother," some yelled, while others chanted "Hell awaits the wrongdoers." AGD head Hasan Karaman called the death sentence "unlawful," adding that a prerequisite of Islamic faith is to cherish human life. "Law cannot be implemented in the most brutal manner against the legitimate demands and choice of the people. Oppression cannot continue forever," he told Anadolu Agency (AA). "It is clear that peace and tranquility cannot be maintained in Bangladesh under the shadow of an oppressive regime, one that makes no legitimate claims, and has no conscience or mercy."

The U.S. and Pakistan also condemned the execution. The U.S. State Department said on Tuesday that despite improvements to the tribunal process that has tried those accused of committing war crimes during the war, more work needs to be done to "ensure these proceedings meet domestic and international obligations."

"Until these obligations can be consistently met, we have concerns about proceeding with executions," spokeswoman Elizabeth Trudeau told AA. "We support bringing to justice those who committed crimes during the war of independence, but we also have remaining concerns about proceeding with executions under these conditions which we will raise with the government of Bangladesh." Pakistan's Foreign Ministry in a statement, said that "Pakistan is deeply saddened over execution of Nizami. His only sin was upholding the constitution and laws of Pakistan." Pakistan's National Assembly on Wednesday passed a resolution denouncing Nizami's execution. Presented by Minister for Defense Production Rana Tanvir Hussein, the resolution described the execution as unjust and called upon the Bangladeshi government to desist from bogus trials and executions in the name of so-called war crimes. "This act [the execution] is aimed at sprinkling salt on 25-year-old wounds," the resolution said.

Thousands of Pakistanis also gathered to condemn the execution. Pakistani rights activists and politicians denounced last night's execution, fearing the move would only serve to deepen polarization in the impoverished nation.

"First of all, I am totally against capital punishment; secondly, due justice has been denied [in the case of Nizami and others executed for alleged war crimes]," Asma Jehangir, a senior lawyer and former head of the Human Rights Commission of Pakistan (HRCP), told Anadolu Agency. Jehangir led the well-known "lawyers movement" in 2007 that resulted in the reinstatement of then-Chief Justice Iftikhar Chaudhry, and is among four Pakistanis to have received a "Friend of Bangladesh" award by Prime Minister Sheikh Hasina Wazed in 2013 for her opposition to Pakistan's 1971 military action in Dhaka. "Bangladesh should go for reconciliation rather than revenge," she said, going on to warn that executions would only serve to aggravate extremism in Bangladesh. "Otherwise, I see deep polarization in Bangladeshi society," she asserted. Jehangir added: "This is natural that when you oppress a certain group of society for their political and religious beliefs, there is always a backlash. Politics is not justice, it is a way to create an atmosphere where everyone can live in peace and harmony."

Intekhab Alam Suri, chairman of Pakistan's Human Rights Network, described the execution of Nizami and others for alleged war crimes as "a mockery of justice. There was everything in Nizami's trial except justice. It was a bogus trial on the basis of cooked-up evidence after a period of 45 years. It seems the Hasina government has decided in principle to hang her political opponents in the name of war crimes."

Siraj-ul-Haq, the chief of Jamaat-e-Islami Pakistan, blamed what he called "criminal silence" by the Pakistani government for Nizami's execution. "If the [Pakistani] government had been active and approached the United Nations and other international forums, it could have stopped the Hasina Wajed government from executing Maulana Nizami."

Home Minister Asaduzzaman Khan said Motiur Rahman Nizami, the 73-year-old leader of the Jamaat-e-Islami party, was hanged at 12:10 a.m. on Wednesday inside Dhaka central jail, amid tight security. The execution came a few hours after Nizami's family visited him for the last time. His body was handed over to his family for burial in a family graveyard in the northwestern district of Pabna, his ancestral home. "We buried him in the morning," said Abdullah Al Mamun, Nizami's cousin. Nizami refused to seek presidential clemency to commute his death sentence.

Nizami is the fifth senior official from Bangladesh's opposition parties to be executed since 2013 for war crimes carried out during the 1971 war. Three other senior members of Nizami's Jamaat-e-Islami party, and a top leader of the main opposition Bangladesh Nationalist Party led by former Prime Minister Khaleda Zia, have also hanged. Trying suspected war criminals has posed a major challenge for Prime Minister Sheikh Hasina, who has faced strong international pressure to stop executing people such as Nizami, who acted against the country's struggle for independence.