A B-52 bomber was left a fiery wreck after crashing at a US airbase on the Pacific island of Guam Thursday but all seven crew escaped unharmed, officials said.
The giant B-52H Stratofortress went down at Andersen Air Force Base at 8:30 am (2230 GMT Wednesday) with photos showing flames and thick black smoke billowing from the plane, which was completely destroyed.
"All seven aircrew members have safely egressed the aircraft," the US Air Force said in a statement issued from the base. "No injuries have been reported. Emergency responders are on scene."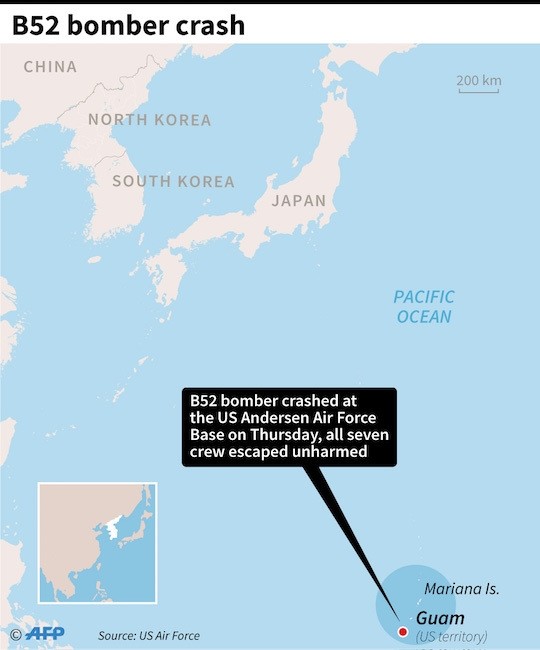 The plane, part of the 69th Expeditionary Bomb Squadron, was deployed to Andersen from Minot in North Dakota and was performing a routine training mission. It was not clear if it was carrying weapons or munitions.
Reports said it aborted take-off before crashing.
"The incident is under investigation and measures to mitigate possible environmental impacts are being taken," added the statement.
Local fire crews were called to help tackle the blaze and the Pacific Daily News cited Guam Fire Department chief Joey San Nicolas as saying it appeared to be an accident.
"We assure the public this does not appear to be an attack, and we highly discourage anyone from spreading assumptions, or any information that does not come from (the Office of) Civil Defence or the military itself," he said.
Guam is a US territory and considered a key military hub by Washington, boosting its security presence in the Asia-Pacific, with the long-range B-52H seen as its most combat capable bomber.
"The B-52 is a symbol and a strategic projection of power," said Major Luke Dellenbach, the 69th Expeditionary Bomb Squadron's assistant director of operations when his team deployed to Andersen in March.
"There are a lot of individuals in the squadron that have not had the experience flying a long range distance over oceanic waters, so this will be a great opportunity for them."
The B-52 is a long-range, heavy bomber that has the capability to launch ballistic and cruise missiles and has been in service since the 1950s. It became a symbol of US might during the Cold War and was used to conduct carpet bombing in the Vietnam War.
It is not the first accident on Guam, with an American B-52 crashing off the territory in July 2008, killing all six crew on board.
This followed a B-2 stealth bomber going down near Guam after taking off from Andersen Air Force Base in February that year. All crew survived.