North Korea is mobilizing to deal with a disastrous flood that killed more than 130 people, destroyed tens of thousands of homes and crippled infrastructure in its northern-most province.
Brigades of soldiers from around the country have been enlisted to help victims of the flooding, which began Aug. 29 and was caused by Typhoon Lionrock.
According to a U.N. report issued by the Office for the Coordination of Humanitarian Affairs, the floods displaced tens of thousands of people and destroyed homes, buildings and critical infrastructure. North Korean media said it was the worst single case of downpours and high winds since 1945, though that claim couldn't be verified.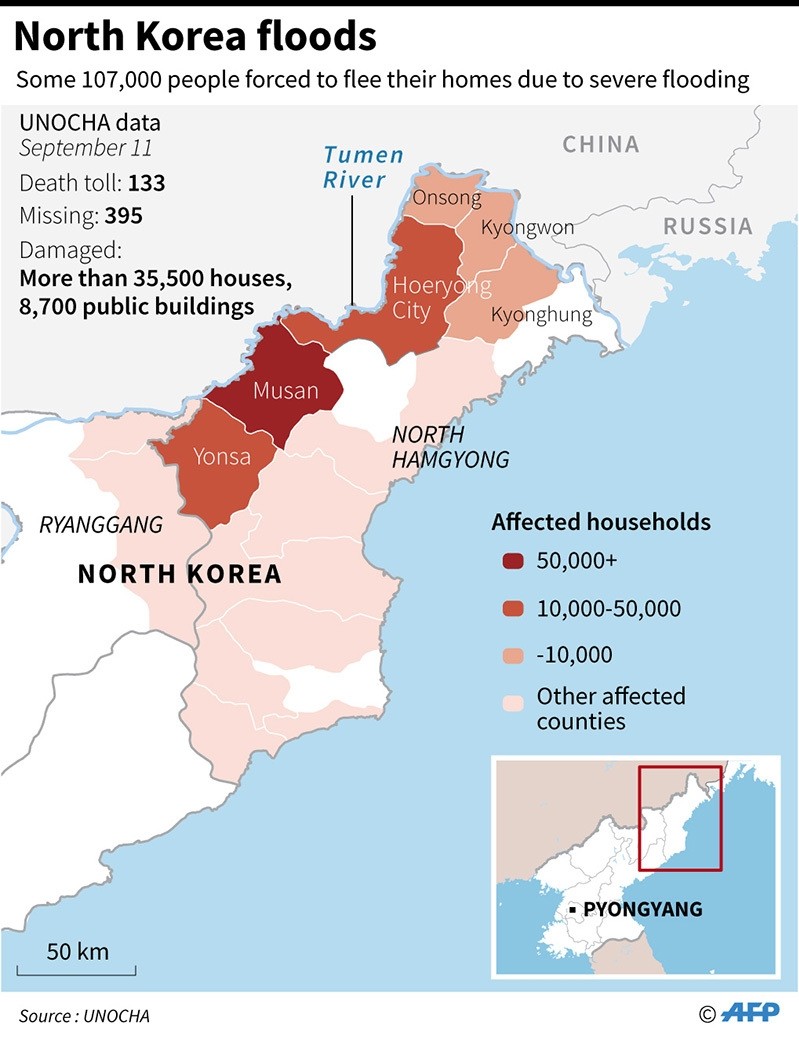 The report said the government has confirmed 133 people were killed and another 395 missing. It said more than 35,500 houses, schools and public buildings were damaged, with 69 percent completely destroyed. It reported widespread inundation of farmland and at least 140,000 people in urgent need of assistance.
The hardest-hit areas, parts of which remain inaccessible, are Musan and Yonsa counties near the Chinese border in the northern tip of the country.
North Korea's state media reported Sunday that high winds and heavy rainfall swept over several cities and counties, causing buildings to collapse and leaving railways, roads, parts of the electric power system, factories and farmlands destroyed or submerged.
It said a mass recovery effort has been launched.
On Monday, North Korea reported construction units were arriving in the flood-hit areas from all over the country, including the capital, Pyongyang.
"The country's manpower and material and technical potentials are now concentrated on the flood damage rehabilitation," the Korean Central News Agency said. It said the ruling party has urged citizens to "achieve the miraculous victory of converting misfortune into favorable conditions ... with the tremendous might of single-minded unity!"
The North Korean media also said the focus of a 200-day "loyalty campaign" already underway to mobilize the nation behind leader Kim Jong Un in a mandatory show of devotion has been switched to a call for all citizens to support the recovery effort.
The U.N. agency said humanitarian agencies have released relief materials from their stockpiles inside North Korea, including food, shelter and kitchen kits, water purification and sanitation supplies and emergency health supplies.
The U.N. report said the government is "urgently working" to reopen roads, distributing relief goods and preparing to rebuild 20,000 houses by early October, before the onset of North Korea's bitterly cold winter.
It added that the government had allowed U.N. agencies, the North Korean Red Cross and International Federation of the Red Crescent, along with private international aid groups to conduct a joint assessment of needs in the affected areas last week, but they were unable to access Musan and Yonsa.
The flooding occurred around the Tumen River, which runs between North Korea and China.

North Korea experiences frequent natural disasters which are more devastating because of its often problematic infrastructure and lack of civil engineering projects designed to mitigate damage.
In August last year, major downpours followed by flash floods killed at least 40 people and devastated parts of the Rason area, near the Russian and Chinese borders where a key special economic zone is located.
A series of floods and droughts were a contributing factor in the disastrous famine years of the 1990s — called the "arduous march" in North Korea — that nearly brought the country to economic ruin.