An overnight passenger train derailed in southern India, killing at least 32 people and injuring 50 others in the latest accident to hit the country's massive, disaster-prone rail network.
Seven coaches of the Hirakand Express were thrown off the tracks around midnight Saturday, some landing on a goods train that was on a parallel track, said Divisional Railway manager Chandralekha Mukherji.
Rescue workers were trying to cut open the mangled coaches Sunday morning near the Kuneru railway station in the Vizianagram district of Andhra Pradesh state. The train was traveling between Jagdalpur in Chhattisgarh state to Bhuvaneshawar in Orissa.
J.P. Misra, the chief press officer of the East Coast Railways, said that the toll could rise further as many people were still trapped. An investigation is underway.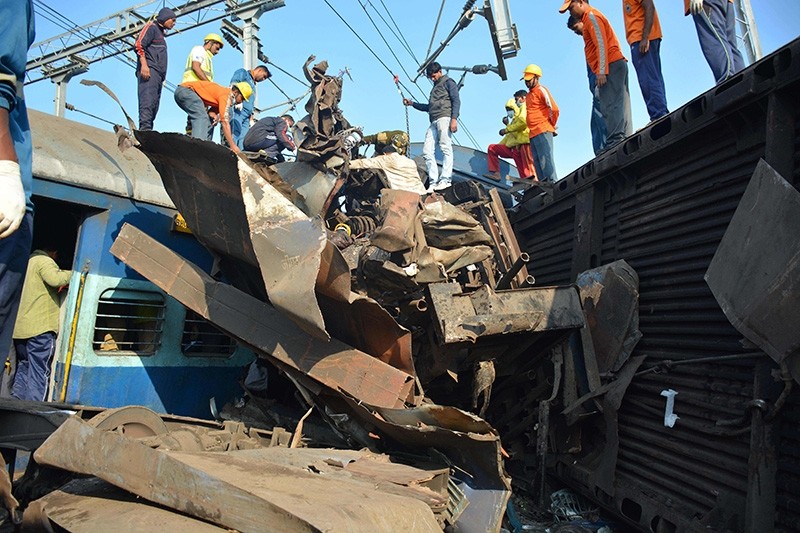 (AFP Photo)
In November, 146 people were killed when a packed passenger train derailed near the town of Kanpur in Uttar Pradesh in the deadliest rail accident in the country in at least five years.
India's railway system is the world's third largest, but is severely hampered by a lack of modern signaling and communication systems as well as poor maintenance of tracks and equipment. Manual signaling is still used at several places, raising the risk of human error.
According to a government report in 2012, about 15,000 people are killed every year in train accidents. The worst occurred in 1981, when a train fell into the Baghmati River in northern India, killing nearly 800 people.
Prime Minister Narendra Modi pledged last year to invest $137 billion over the next five years to modernize the railway network, which is used by about 23 million passengers a day.
On Sunday, Modi tweeted his condolences for those killed in the most recent accident and said that the railway ministry was monitoring the situation closely.