A powerful 6.5-magnitude earthquake rattled the central Philippines Thursday, U.S. seismologists said, revising an earlier figure of 6.9.
The quake hit at a depth of around six kilometers (four miles), on the central island of Leyte, the U.S. Geological Survey said. It said it was centered near Masarayao in Leyte province at a depth of 6.5 kilometers (4 miles). Shallow earthquakes generally cause more damage on the Earth's surface.
The epicenter of the tremor was located near the town of Jaro in Leyte province, about 558 kilometers south-east of Manila, according to the Philippine Institute of Volcanology and Seismology.
"We are expecting damages and aftershocks," Linel Villalobos, a research assistant at the institute, told Manila radio station DZMM. "There is no tsunami threat."
Villalobos said the earthquake was felt at the strongest intensity of 5 in the nearby cities of Tacloban, Palo and Cebu.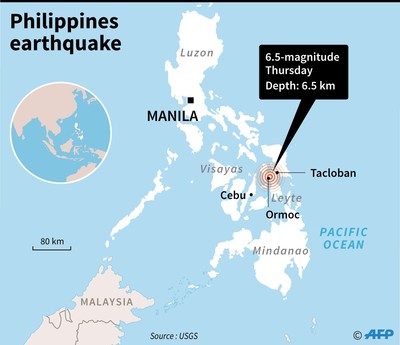 There was no immediate warning of a tsunami, the Pacific Tsunami Warning Center said.
Large parts of the island of Leyte were devastated by super typhoon Haiyan in November 2013.
Huge tsunami-like waves devastated the city of Tacloban and nearby areas, leaving 7,350 people dead or missing.
In February, a 6.5-magnitude quake killed eight people and left more than 250 injured outside the southern city of Surigao.
The following month a 5.9-magnitude tremor killed one person there in March.
Before the Surigao quakes, the last lethal earthquake to hit the country was a 7.1-magnitude tremor that left more than 220 people dead and destroyed historic churches when it struck the central islands in October 2013.
The Philippines lies on the so-called Ring of Fire, a vast Pacific Ocean region where many of Earth's quakes and volcanic eruptions occur.