A passenger ferry sank off the Philippines' eastern coast on Thursday after being battered by huge waves, leaving four people dead and seven missing.

The ferry was carrying 251 people when it left the nearby port of Real for Polillo Island, a trip that takes nearly three hours.
"About one hour after we left port, huge waves began to batter the ferry," Donel Jade Mendiola, one of those rescued, told Manila radio station DZMM.
"The boat started to take in water in front and the passengers rushed to the side," he added.
Mendiola, who was travelling home for the Christmas holiday, said life vests were distributed among the passengers before they left port, but he saw some people struggling in the water.
"There were a number of elderly people who were dead," he added.
The rescued passengers included an Australian national, 61-year-old Roland Kempt, who lives with his wife in the province of Laguna, the coast guard said.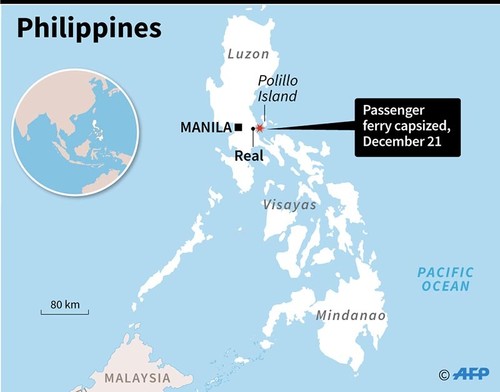 Map locating the area where a ferry capsized in the Philippines

Rescuers were continuing to scour the waters between the coast of Dinahican and the ferry's destination, Polillo island, to find the missing, it added.
"The coastguard . will immediately conduct investigations to identify the cause of the incident and to verify possible oil spills," spokesman Commander Armand Balilo said.
There was no storm signal warnings over the area, so vessels were allowed to sail, but conditions have been poor in past days due tropical storm Kai-Tak, which left more than 50 people dead in landslides in the central Philippines.
A new storm, Tembin, was barrelling towards the southern Philippines and expected to make landfall Thursday night or Friday morning, the weather bureau said.
Tembin was packing maximum sustained winds of 85 kilometres per hour (kph) and gusts of up to 120 kph as it moved west at 19 kph.
Storm warnings were raised over nearly 20 provinces in the southern region of Mindanao, and weather forecasters urged residents to stay alert.
"Let's not sleep too soundly because you might be surprised that the storm has already hit land," said chief weather forecaster Esperanza Cayanan.
"We have to monitor, take the necessary precautions and prepare because this storm is no joke," she added. "This tropical storm will bring strong winds and heavy rain."
Sea travel is a key mode of transport in the Philippines, an archipelago of more than 7,000 islands. Accidents are common and are often blamed on poor safety standards and overloading.
The Philippines is the site of the world's worst peacetime shipping accident when a passenger ferry collided with an oil tanker in 1987, killing more than 4,000 people.