A Japanese soldier was killed on Tuesday after a volcano erupted near a popular Japanese ski resort, sparking an avalanche that left several injured and scores stranded up a mountain, officials said.
Footage broadcast on Japanese television showed thick black smoke interspersed with falling rocks sliding down the snow-covered side of the volcano towards a ski slope.
"One of the six members of the Self Defense Forces [injured in the incident] has died after being caught up in an avalanche," a defense ministry spokesman said.
Nine civilians were injured by volcanic rocks, while six people were hit by an avalanche, according to fire department and defense officials.
Five of the civilian skiers suffered serious injuries such as broken bones, but none of the injuries were life-threatening, said a regional fire department official, Hayato Tobe.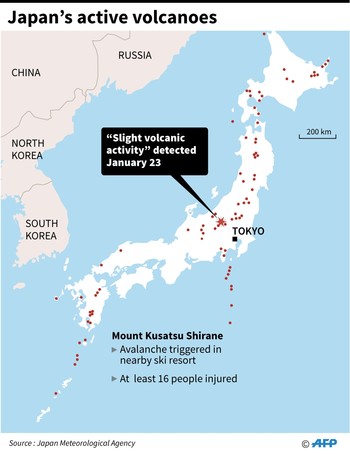 Defense Minister Itsunori Onodera told reporters that the seven people trapped by the avalanche near a ski resort were all rescued, but some of the six soldiers suffered broken bones. Defense officials said six soldiers, who were among 30 conducting ski training, were buried by an avalanche about half an hour after the eruption, but they and the seventh skier had all been pulled out of the snow.
About 80 skiers are taking refuge at a gondola station at the top of the ski slope, where the gondola has been suspended since the eruption, according to Tobe, the fire department official.
He said rescuers are considering using snowmobiles to bring down the stranded skiers, but it may take time to figure out how safely they can operate on snowy slopes filled with volcanic ash and rocks.
Earlier there were unconfirmed information that one or two of the injured were on a gondola when the window was shattered by volcanic rocks, and the others were believed to have been hit by rocks while on the slopes, Makoto Shinohara, an official in Kusatsu town.
The Japan Meteorological Agency said Mount Kusatsu-Shirane erupted around 10 a.m. Agency officials said the eruption and the avalanche could not be linked immediately.
A rest house at the resort was hit by volcanic rocks, but the extent of damage was not known, resort official Yasuaki Morita said.
Aerial photographs showed a large swath of the snowy volcano covered by dark gray ash.