A volcano in Japan erupted on Thursday, shooting clouds of smoke and rocks into the sky, and prompting authorities to ban access to the peak, but there were no reports of any damage or casualties.
The eruption of Io Yama, a 1,298 m (4,258 ft) high volcano on the southernmost main island of Kyushu, was the latest in a series of eruptions in Japan this year.
Television footage showed grayish smoke jetting from several spots on the side of the mountain in the Kirishima range, in a rural area about 985 kilometers (616 miles) from Tokyo.
A warning level for Io Yama was raised to "3" from "2" on Japan's 5-level scale, with the Japan Meteorological Agency warning that volcanic rocks could be hurled as far as 2 km (1.2 miles).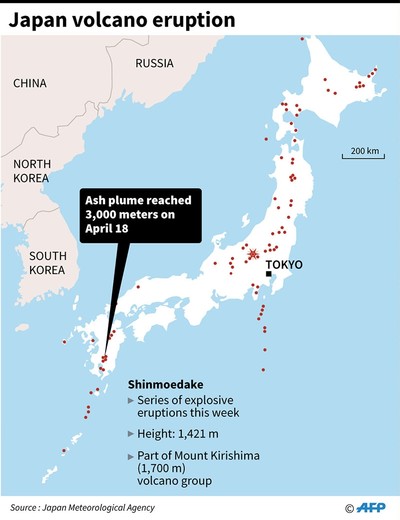 "It was confirmed that rocks fell because of the eruption" near Mount Io, part of the Mount Kirishima group of volcanoes, said Makoto Saito, an official of the meteorological agency.
"There is a possibility that (the volcano) will become more active," he told reporters, warning people to stay away from the volcano as major ash deposits spread from the crater.
There were no immediate reports of injuries, Chief Cabinet Secretary Yoshihide Suga said, adding that the government was "taking all possible measures" to prevent damage and casualties.
In January, a member of the military was killed and 11 people injured, some critically, when Kusatsu-Shirane volcano rained rocks down on skiers at a resort in central Japan.
Two months later, Shinmoedake - a volcano which featured in a 1960s James Bond movie "You Only Live Twice", and in the same Kirishima range as Io Yama - shot smoke and ash thousands of meters into the sky.
On September 27, 2014, Japan suffered its deadliest eruption in almost 90 years when Mount Ontake, in central Nagano prefecture, burst unexpectedly to life.
An estimated 63 people were killed in the shock eruption which occurred as the peak was packed with hikers out to see the region's spectacular autumn colors.
Japan is located on the so-called Pacific Ring of Fire, known for frequent earthquakes and volcanic eruptions. The country is home to 110 active volcanoes and monitors 47 of them around the clock. In September 2014, 63 people were killed on Mount Ontake, the worst volcanic toll in Japan for nearly 90 years.