For 43-year-old taxi driver Haziq, who refrained from giving his last name, it is the fate of Malaysia and the countries that it shares maritime boundaries with to go through "ups and downs." Whenever a country goes through hardships, the days that follow will sooner or later bring ease and today, it is time for Malaysia to see the "up," Haziq believes.
May 10, the morning after the 14th general elections in Malaysia, is tantamount to a milestone in the eyes of Malaysians who think like the hopeful taxi driver. It is a day when the Pakatan Harapan (PH) coalition swept into power by defeating the ruling Barisan Nasional (BN) coalition after securing enough seats in the lower house of Parliament.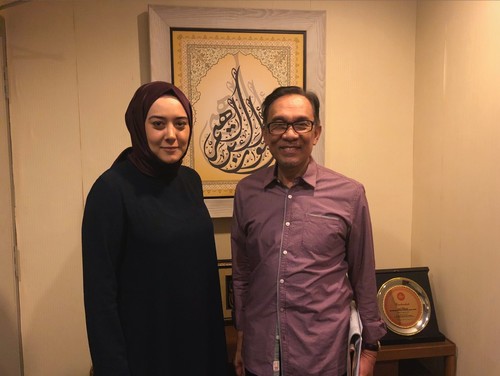 Daily Sabah's Özge Bulur (L) with Anwar Ibrahim in his office, Kuala Lumpur on May 31.
It was a first in Malaysian history when the uninterrupted rule of the United Malays National Organization (UMNO), which had been the governing party of Malaysia and its predecessor state, Malaya, for 61 years since the country's independence in 1957, ended.
The newly elected ruling coalition Pakatan Harapan, the aptly named Hope Coalition, is believed to have brought immediate results for Malaysia, as it marked another historic moment for the Southeast Asian country with the release of Anwar Ibrahim.
The leader of the Pakatan Harapan, Ibrahim, walked free from prison with a royal pardon after three years. His political career, full of success, was first derailed in 1998 and ever since he has gone through his own ups and downs, but mostly the latter. Today, however, Ibrahim is expected more than ever to carry the torch for Malaysia in the near future.
Once serving as prime minister for 22 years under the UMNO-led Barisan Nasional from 1981 until 2003, the world's oldest leader, Mahathir Mohamad, 92, made a comeback after 15 years. Mohamad became prime minister once again, this time under the anti-Barisan Pakatan Harapan banner through an alliance with Ibrahim, whom Mahathir said would gain prime ministerial status in two years.
A uniting figure for the then-opposition and currently for the ruling PH coalition and an influential politician charged with three separate prison sentences and 11 years in jail, Anwar Ibrahim gave an exclusive interview to Daily Sabah. The former deputy prime minister gave in-depth remarks on his life, his country's future, Malaysia's ties with global powers in general and with Turkey in particular.
Back home after all those years
When asked how he feels after all he has gone through, Anwar Ibrahim paused for a few seconds and said that he was "jubilant" for "being free at last." A father of six and a grandfather of nine, the newly released politician said everyone was "happy" when he came back home and he finally could taste freedom.
"There was a feeling of rejoicing at home," he said with a delicate yet resilient voice.
Before starting a political career, Anwar Ibrahim was a student activist in several Muslim youth groups, advocating Malay educational rights in the late 1960s and early 1970s. Arrested in 1974 during student protests against hunger and rural poverty, he was sentenced to 20 months in jail.
Joining Malaysia's ruling party UMNO in 1982 at the invitation of Prime Minister Mahathir Mohamad, Anwar Ibrahim served in various ministries (Minister of Culture, Youth and Sports; Minister of Agriculture; Minister of Education; Minister of Finance). He was deputy prime minister from 1993 until 1998 when he and Mahathir started to fall out.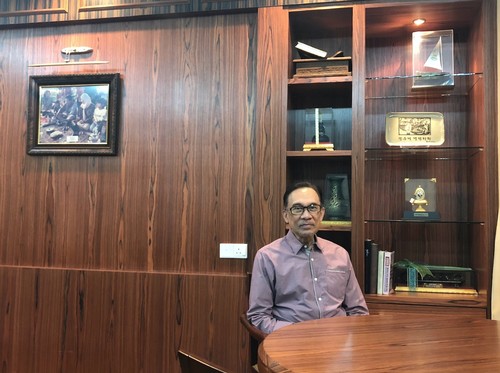 As Anwar denounced cronyism and campaigned against the corruption and nepotism of Malaysia's business and political elite, Mahathir called him unfit to be a leader and removed him from his post. Arrested in September 1998, Ibrahim was sentenced to six years in jail in April 1999 for abuse of power and received a second, consecutive nine-year prison term in August 2000 on a sodomy charge.
In September 2004, Anwar was freed from jail, yet he was banned from legally seeking office until April 2008, the year when the 12th general elections were held in the country and Ibrahim ran as the opposition leader.
Two years later, however, he was put on trial again for sodomy charges, and the hearings continued for two years until he was finally acquitted. Running once again as the opposition leader in the 2013 elections, Ibrahim showed a strong performance against Najib Razak and won the popular vote. Threatened by the strong stance of Ibrahim, a powerful figure in the opposition, Razak engineered his jailing in 2015 by politically motivated sodomy charges.
Anwar Ibrahim stayed behind bars for three years until he was finally given a full pardon on May 16 this year. Even a short summary of his political career shows what catastrophic times he has been through. The freed Malaysian icon, who has always stood his ground despite all of the allegations and political turmoil he has faced, is back in politics because he "believes in a cause."
Now that his wife Wan Azizah Wan Ismail is the deputy prime minister, Ibrahim said, "I have to take care of the house, because Dr. Azizah is busy." He expressed how pleased he is by the fact that wherever they go as a couple "people announce the arrival of Deputy Prime Minister Dr. Wan Azizah Wan Ismail, accompanied by Anwar Ibrahim."
When he came out of Cheras rehabilitation hospital in Kuala Lumpur where he was recovering from an operation on his shoulder while serving his sentence, the reformist politician had hailed "a dawn for Malaysia" with his release, and similarly during this interview he said, "People demand change," before naming the policies that need reform.
Principles of a new, better Malaysia
Anwar Ibrahim pointed to a start-from-scratch strategy for the betterment of the country with the ruling Pakatan Harapan coalition under the leadership of Mahathir Mohammad. The Prime Minister-in-waiting said, "We inherit a very corrupt authoritarian regime," citing the UMNO's decades-long rule, and proposed, "Malaysia has to go back to the basics of democratic life."
With the objective that press freedom is one of the pillars of democracy, Anwar urged, "The media must be given the space to express their views freely," following Najib Razak's era when free media was destroyed with the strengthening of the Sedition Act in 2015. From then on, tougher penalties were implemented for journalists who criticized the corruption scandal involving the state investment vehicle 1Malaysia Development Berhad (1MDB).
"Respecting the rule of law" is another principle Ibrahim believes that needs to be maintained for "new Malaysia." Having suffered for many years due to the erosion of the rule of law in his country, pro-democracy leader Anwar Ibrahim was the very victim of politically motivated charges imposed on him by those who abused the country's legal system.
That is why, maybe more than anybody else in the current political arena, he argues that the "judiciary must be independent." These comments came even after all the moves made at every turn against him climbing up the ladder to victory.
Najib Razak's multi-billion-dollar scandal at state fund 1MBD is seen as the root cause of UMNO's massive fall from power. When Mahathir came into power with the May 9 elections, he reopened investigations about the scandal and barred the former prime minister from leaving Malaysia.
Malaysian police seized 114 million ringgit ($29 million) in cash and over 400 luxury handbags from Razak's home and his son's apartments as part of the anti-graft investigations. With questions accumulating each passing day about the sides involved in the scandal and the scale of money siphoned out of the state fund, Ibrahim said, "Corruption must be fully investigated," while speaking about the new coalition's priorities.
"Housing and economy cannot be squandered by the few," he added.
Malaysia is the 4th largest economy in Southeast Asia; however, its economic growth slowed down in the first quarter of 2018, standing at 5.4 percent, compared to a 5.9 percent growth in the previous three months.
Although the decrease in growth does not seem like much, Malaysia's objective to be a high-income country still seems like a remote possibility due to the economic disparity.
For Anwar Ibrahim, the fact that only some people "have billions, can't continue like that. No country can sustain its development with that."
Najib Razak claimed last year that Malaysia's per capita income had risen since 2010, from 28,000 ringgit to 36,000 ringgit a year; however, the country's Gini coefficient, a way to measure the statistical dispersion of income between the rich and poor, is still among the highest in Asia.
With the account deficit widening to 15 billion ringgit in the first quarter of this year from 13.9 billion ringgit in the previous three months, Mahathir Mohamad announced on May 23 that the country's debt, which amounts to 1 trillion ringgit, is 65 percent of the GDP.
Similarly, Anwar Ibrahim, when asked about Prime Minister Mahathir Mohamad's call for canceling a proposed multibillion-dollar high-speed railway link to Singapore in a bid to cut costs, he said, "Some megaprojects like highways and railways are important, I do not dispute this because I was a finance minister, but then these projects you announce are 40 billion [dollars], 100 billion [dollars], no country can sustain that given this period," and asked, "Who is going to pay for it?"
Turkish-Malaysian friendship, in good and bad times
What can bond two countries that are miles and miles away from each other? Just as any other two powers that maintain diplomatic relations, Turkey and Malaysia have been in touch since 1964, sharing almost identical stances in international organizations including the U.N., Developing-8 (D-8) and the Organization of Islamic Cooperation (OIC).
The number of high-level visits between Ankara and Kuala Lumpur has shown some strengthening in the last few years, mainly since the beginning of the Justice and Development Party (AK Party) era in Turkey.
"During the AK Party, the relations with Malaysia got very strong," Ibrahim said, stressing how close economic ties, in particular, have started to become. "On the small level, for instance, I have never seen Turkish delight being sold in shops before."
For him, there is a growing mutual interest; however, in the areas of "trade, investment, culture, education and technology," there should be further cooperation, he underlined. Turkey and Malaysia signed a bilateral Free Trade Agreement (FTA) only in 2015, which was the first time Turkey signed an FTA with an Association of Southeast Asian Nations (ASEAN) member. The level of trade volume between the two "friendly countries," in Anwar Ibrahim's terms, is $2 billion.
"There is a growing interest in Malaysia [for Turkish goods] and we need to support this," he added.
With the principle that "a friend in need is a friend indeed," Turkey in a way distinguishes its true friends with their assistance in the country's full-scale fight against the Gülenist Terror Group (FETÖ), which orchestrated the July 15, 2016 coup attempt. Malaysia has been one of those countries that have passed the litmus test by extraditing three members of the group from Malaysia to Turkey last year in June.
When asked about the possibility of any further cooperation on the issue under the rule of Pakatan Harapan, Ibrahim said, "For this government, of course we will have to look at it. … Turkey is a close, brotherly nation."
Standing all together for humanity
Beyond common interests that interconnect countries at diplomatic levels, common worries are also, maybe even to a greater extent, what unite them. In Turkey and Malaysia's case, Anwar Ibrahim believes that these two brotherly nations see eye to eye on the future of humanity.
Regarding the ongoing crisis in Rakhine state, where Myanmar's violence has prompted thousands of Rohingya Muslims to flee to Bangladesh, Ibrahim said, "The Rohingya crisis has been there for decades. Even Suu Kyi betrayed the cause of freedom human rights by ignoring the plight of the Rohingya. It is a shame," while denouncing those who remain silent on such humanitarian crises.
"Nobody speaks up, everyone is afraid to say anything," he said.
"The method of Turkish effort was the most efficient," he added, talking about Turkey's help of the Rohingya, Syrians and the Palestinians, especially "since President Recep Tayyip Erdoğan took over."
With an emphasis that President Erdoğan is significantly known in Malaysia thanks to his stance on humanitarian issues, Ibrahim said, "I also see the relations among the Muslim world. He is the leader who has courage to say something."
For him, the Turkish president is "one Muslim leader who has the courage to stand up to Israel and the Americans."
Regardless of all the difficulties he has experienced since his engagement in politics or even before that, Malaysia's future leader, Anwar Ibrahim, still adheres to the principle he adopted since day one. "Fighting for people," he said, will continue to be one of his priorities while dawn is about to break over Malaysia.